Who Has the Best Packaging? Winners of the PACK Design Awards Announced in Ceremony Aug. 11
There's still time to vote for your favorite packages for the People's Choice Award. Voting closes Aug. 10. Awards are announced Aug. 11 at 11:00 a.m. PST.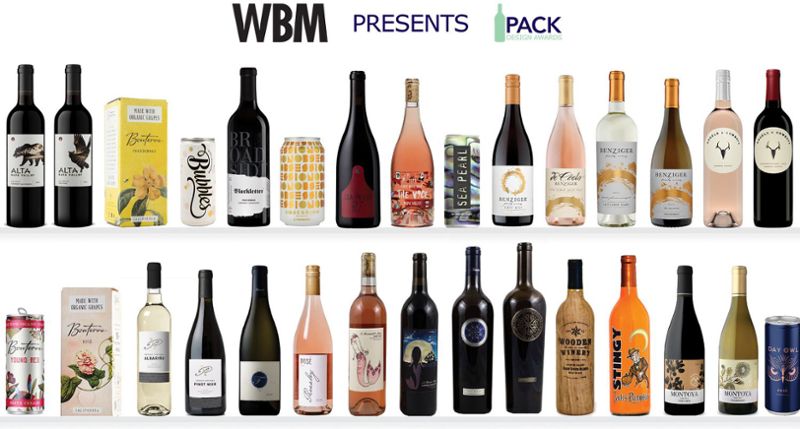 SONOMA, CA (August 5, 2021) – Join the Wine Business Monthly team for a special announcement of the winners of the 2021 PACK Design Awards, an annual wine industry competition meant to cultivate fresh ideas and perspectives about new packaging designs.
On August 11, 2021 at 11:00 a.m. PST, join Wine Business Monthly managing editor Erin Kirschenmann and Wines Vines Analytics editor Andrew Adams as they reveal the first, second and third place winners in five packaging categories—Classic, Luxury, Series, Redesign and Alternative—plus the winners of the People's Choice Awards.
Register to attend the ceremony here. All members of the wine and packaging trades are welcome, and registration is complementary.
Voting for the People's Choice Award at Wine Business Monthly's PACK Design Awards is still open. For the first time in its eight-year run, the PACK Design Awards is held fully online. Now, as a fully digital event, those who submitted entries were asked to upload images of their packages, rather than ship bottles to Wine Business Monthly, as in previous years. WBM has partnered with Outshinery to create fabulous images for all participants, to ensure an even and fair online judging.
How to Vote:
Log in with your winebusiness.com/winejobs.com account (the account you use to subscribe to the Daily News Email or post a job listing).
Click on a package for a bigger picture, additional photos, notes, and comments from the judges.
Browse all 5 categories—Classic, Alternative, Luxury, Redesign and Series—and submit your vote for your favorite package in each.
You may only vote once per category but may change your vote as much as you want at any time through August 10, 2021.
The PACK Design Awards aim to serve as a platform to celebrate those who are already thinking outside the bottle, and to create an environment of shared creativity among industry peers that will stimulate continued success in sales and market strategies. For more information, visit www.wbmpack.com.
About Wine Business Monthly
Wine Business Monthly (WBM) is the leading information and services provider for the global wine industry. Publishers of winebusiness.com, the leading news source for the trade, and Wine Business Monthly, the premier print publication for wineries and growers, WBM is dedicated to meeting the wine industry's needs for information, analysis, resources and tools. WBM has put together a suite of products that bring to the industry practical information, cutting edge research, recruiting tools, daily news services and a comprehensive directory. For more information, visit winebusiness.com. Wine Business Monthly is owned by Wine Communications Group, which also produces the Wine Analytics Report and other data products and services. For more information, visit winesvinesanalytics.com.