Virginia Vineyards Association Holds In-Person Summer Technical Meeting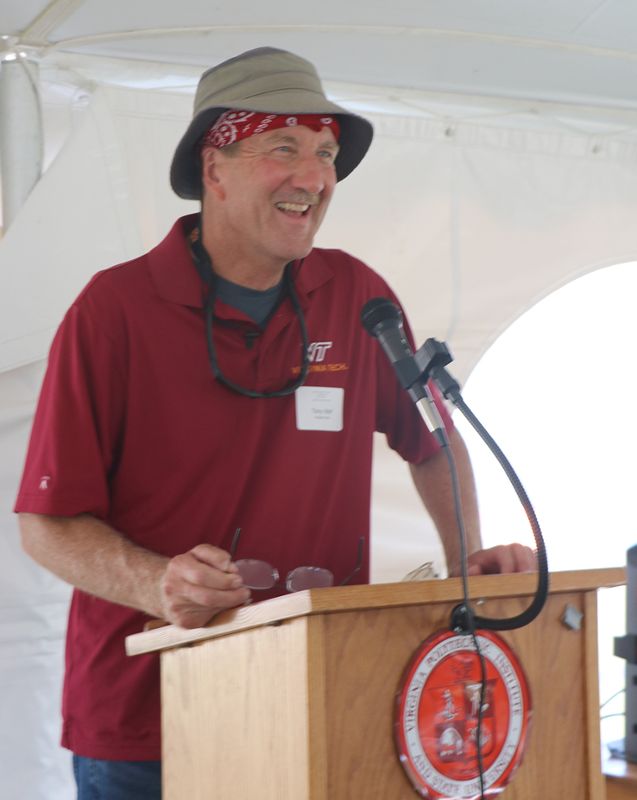 Wednesday July 28 was your typical late July day in Winchester, Virginia – sunny, temperatures in the 90s, some afternoon clouds that in places became thunderstorms later in the day. However, this Wednesday was different, because the Virginia Vineyards Association Summer Technical Meeting at the Agricultural Research and Extension Center (AREC) was held in person. For many attendees this was the first meeting in more than 15 months that wasn't on zoom or some webinar format.
Viticulture research projects at Virginia's AREC
The first sessions took place in AREC's research vineyard, located high on a hill overlooking the Center's main building. Dr. Tony Wolf, professor of viticulture at Virginia Tech, and Tremain Hatch, research and extension associate at Virginia Tech, reviewed some of the research projects they are currently working on. One is a Specialty Crop Research Initiative grant, funded by the U.S. Department of Agriculture/National Institute of Food and Agriculture, titled "High resolution vineyard nutrient management."
Washington State University is the primary contractor for this grant. Virginia Tech is one of four other state viticulture programs – in Oregon, California, and New York – that are involved with the four-year project. Benchmark data on plant tissue analysis and cane pruning weights were collected in the 2020 growing season and research data will be collected during the growing seasons in 2021, 2022 and 2023.
While Chardonnay is being used as a common denominator in all five states, Virginia is the only state including a hybrid grape variety in their work. Chardonel, a cross of Seyval and Chardonnay, was introduced by the New York State Agricultural Experiment Station at Cornell University in 1990. Chardonel grapes are grown at Star-in-the -Valley Vineyard in the Shenandoah region of Virginia, and the second experimental site for Chardonnay research is at Bozzo Family Vineyard in Purcellville, Loudoun County, VA. Both vineyards were selected for being relatively low-vigor vineyards, primarily because it is easier to implement a range of nutrient levels with a low vigor vineyard.
Some of the questions Virginia Tech is researching include:
What is the quantitative relationship between tissue nitrogen concentration and vine capacity, as shown by crop yield components and vine pruning weight?
Does Chardonel differ from Chardonnay, the benchmark vinifera variety, with respect to this relationship?
Can veraison YAN levels be used as an overall indicator of vine nitrogen status?
Does the time of day for tissue sampling impact vine tissue nutrient concentration, especially nitrogen?
Which tissue, leaf petioles or leaf blades, better reflects a range of applied nitrogen fertilizer?
How does N fertilizer, especially foliar N, qualitatively and quantitatively impact specific amino acids? The impact on wine aroma may also be evaluated.
These experimental vineyards in Virginia will also serve as test sites for ground-truthing of remote sensing work by other team members on this project.
A second project at the AREC is the evaluation of 12 wine grape varieties that were planted in 2020. The red varieties being tested include:
Gamaret: a cross of Gamay x Reichensteiner in 1970.
Garanoir: a sibling of Gamaret that may have lower acidity in the fruit and the wine than Gamaret.
Marselan 980: a cross of Cabernet Sauvignon and Grenache made at the Institut National de la Recherche Agronomique (INRA) in France.
San Marco: a cross of Teroldego and Lagrein that was released by Marco Stefanini of Italy's Foundation Edmund Mach. It was first imported into the United States by New Jersey's Outer Coastal Plain Vineyard Association and planted as ECO1 at the Rutgers Agricultural Experiment Station.
Saperavi 04.1: the most widely planted black-skinned variety in the country of Georgia.
Teroldego 05.10.1: an old variety from Trentino in northeast Italy, the grape is related genetically to Syrah and Refosco. It has performed well in Maryland and Ohio.
The white varieties being tested include:
Chardonel: the original cross was made in 1953 and was evaluated by the Virginia AREC in the late 1980s. Chardonel is included in this project as a benchmark comparison for novel varieties.
Fleurtai 01: the variety resulted from a cross of Tocai-Friulano and Kozma in 2002 by grape geneticists in Udine, Italy.
Soreli 01.1: this grape is similar to Fleurtai, although the wines are somewhat more neutral.
Itasca: this cold-hardy variety was the result of a cross of Frontenac Gris and MN 1234 at the University of Minnesota in 2002. Named in 2016, it is thought to have "low acidity" fruit.
SK-77-5-3 (Petra): the interspecific cross of Kunbarat and Pinot Noir was made in Serbia in 1977
Verdejo 01.10.1: Possibly a sibling of Godello, the variety is from Rueda in the north-central region of Spain and the vines are grafted onto C-3309.
Virginia Tech's research team at the AREC has also conducted experiments to determine if an application of abscisic acid (ABA) in the Fall will delay bud break the following April. Data gathered by the team over the winter of 2019-2020 and again in 2020-2021 in a Cabernet Sauvignon vineyard showed that applying ABA provided a modest delay in the timing of budburst: there was a 9-day delay in the cool spring of 2020, and a 3-day delay in 2021. ABA would not be an effective tool to protect a vineyard from a mid-May frost in northern Virginia.
Disease management research
Dr. Mizuho Nita, extension specialist and associate professor of plant pathology at Virginia Tech, reported on several field trials of different products for various vineyard problems.
Efficacy testing of two Syngenta products, Aprovia Top and Miravis Prime, against grape powdery mildew, black rot and Phomopsis focused on early season application. All treatments resulted in numerically lower powdery mildew than the control, sulfur #5, and all products were significantly lower than the negative control where vines only received Revus and Ranman. Both Miravis Prime and standard treatment resulted in a significant reduction in the incidence of Phomopsis than the negative control.
In efficacy trials for "additives" to enhance the management of ripe rot, researchers focused on nutrients and plant defense activators. They found that Kendal (3-0-15) and Actigard (which is not yet registered for grapes) significantly reduced ripe rot in 2020. Kendal and Lokomotive were found to cause phytotoxicity on leaves in studies in 2021, and it was noted that additional potassium may not be welcomed.
In another study in 2019-2021, the application of a protective fruit zone shield at mid-season, between fruit set and bunch closure, successfully reduced ripe rot and injury caused by grape berry moth. Another project is to generate data for a new biological control agent, ARK-1, that can suppress crown gall formation up to 90%. Researchers are conducting an inoculation assay on graft wounds to see if the biocontrol agent can prevent gall formation.
[Author's note: This is the first of two articles on the Virginia Vineyards Association Summer Technical Meeting held on July 28.]