Purfresh Ozone Container Trials Show Promise for Smoke-Affected Winegrapes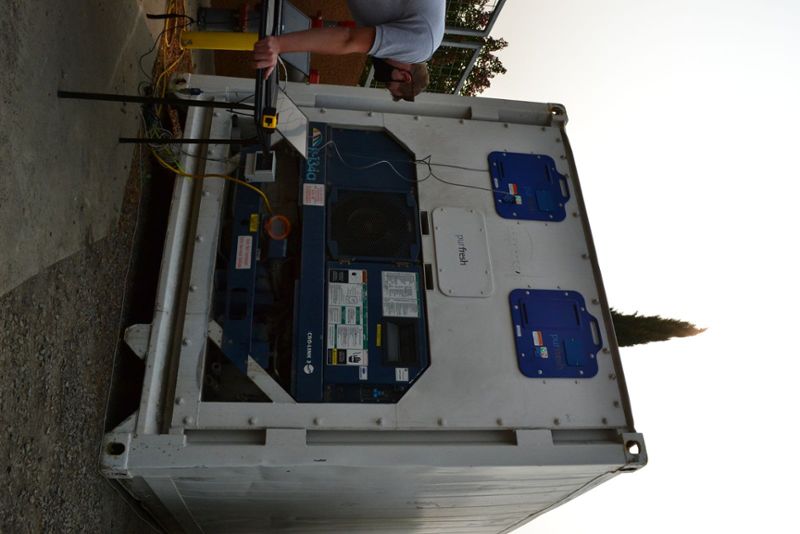 Trials conducted during the 2020 harvest with smoke-exposed winegrapes using controlled ozone (O3) treatments in shipping containers indicate such pre-crush treatments can mitigate and reduce levels of smoke-related volatile phenol (VP) compounds from grapes and produce resulting wines with more favorable sensory and quality characteristics.
Purfresh Wine of Hayward, California (formerly branded as Purfresh Clean) supplies shipping containers in 20-foot and 40-foot sizes outfitted with add-on systems that provide temperature control and controlled ozone dosing within the enclosed container. During the 2020 harvest Purfresh delivered and setup containers for cooperative trials to Napa County wineries Quintessa Vineyards, Hall Wines and Porter Family Vineyards; to Sonoma County wineries Benziger Vineyards and Towle Wine Company; and to Shea Wine Cellars in Oregon.
Purfresh Background and Process
Purfresh Wine CEO Christian DeBlasio said the use of ozone with fresh fruit has been developed and researched over the past 15 years to preserve freshness during shipping and storage and to extend product shelf-life. In addition, ozone has shown to provide other benefits on different fruits by killing mold and unwanted microorganisms and by the removal or reduction of pesticides and fungicides. Based on ozonation experience with table grapes over five years to reduce pesticides and preserve freshness, Purfresh expanded into treating winegrapes and discovered ozone can potentially mitigate impacts from wildfire smoke exposure. According to Purfresh, "At specific concentrations ozone can delicately permeate the skin of the grape or other fruit, react with and reduce volatile compounds caused by smoke."
Based on current knowledge, Purfresh Wine promotes the following potential benefits of its system with winegrapes: removal of sulfur, pesticides and fungicides pre-crush; reduced sulfur dioxide (SO2) needs post-crush; reduction of unwanted microbial organisms and molds from the field including Brettanomyces; prevention of stuck and sluggish fermentations; enhanced tannins, anthocyanins and stilbenes for wine quality; improved wine sensory attributes; and removal or reduction of smoke taint compounds pre-crush.
DeBlasio said most wineries have used the 40-foot size "Purfresh Titan Containers." The 20-foot size may be better for facilities with more limited crush pad space. On average, a 40-foot container can process about 22 tons of grapes per day when full, although processing volumes have ranged from 5 to 26 tons per container per day.
Harvested grapes are placed in half-ton plastic "MacroBins" that have slots in the sides and bottoms, that are then stacked inside the container. The ozonation process uses a chimney effect, with on-demand ozone generation that feeds ozone gas with high airflow into the bottom of the container that permeates through the stack of bins in a controlled amount. Generally, a rate of 1 ppm ozone for a 24-hour treatment cycle provides good results. Purfresh assists users with setting up the system, and based on experience, can adjust application rates to individual customers based on grape variety and other factors. DeBlasio cautioned that using the proper ozone rate and maintaining the same rate is critical. "If you apply too little, it does nothing, and if you apply too much it can cause unwanted damage to the fruit," he said.
Based on the 2020 West Coast winery trials, DeBlasio said, "All the wineries, based on taste profiles and sensory evaluation, preferred the treated lots over the untreated lots, at different wine processing stages--in barrel, at blending and at bottling."
Although some of the wineries did lab testing for smoke compounds to compare treated vs. untreated grapes, and to compare VP levels before and after treatments, some reported that analytical data was variable and inconclusive. Lab analysis of samples taken before and after treatments commonly showed reduced levels of guaiacol and 4-methylguaiacol, although the amount of reduction was highly variable.
Towle Wine Company Trials
Towle Wine Company in Glen Ellen processed a total of 146 tons of smoke-exposed Napa Valley Cabernet Sauvignon using two, 40-foot Purfresh containers with grapes picked the second week in October 2020. Winemaker Joe Uhr, who makes wines at the facility for the Abbot's Passage brand and for custom crush clients, said these grapes were placed in half-ton plastic bins with slots and processed following Purfresh recommendations for a 24-hour cycle with up to 20 tons per container at a time.
Uhr said comparison trials were not done under well-controlled experimental parameters, but he believes the treatments provided benefits, and likely work better when grapes have lower levels of smoke exposure. In sensory evaluations of resulting wines done by internal winery personnel in addition to external evaluators, the treated wines were preferred over the untreated wines. The wines were produced for a custom crush client and will be used for the same markets and price points as past vintages.
Uhr said, "This was my first go-round with this process, so it was a learning process in a difficult year to fully discern what was happening. However, I can't argue with the results, and I would use it again." Uhr believes ozonation could also provide benefits for non-smoke impacted grapes as a tool for fermentation in general to address volatile acidity (VA) issues, and eliminate unwanted microflora for winemakers that want a more pure effect from inoculation with added yeast strains. The containers can also provide clean storage and refrigeration of grapes for an extended time period if the winery does not have capacity to crush and ferment loads soon after delivery.
Shea Wine Cellars Trials
Shea Wine Cellars in Newburg, Oregon had vineyards exposed to about 10 days of low hanging thick smoke from Willamette Valley wildfires prior to harvest in 2020 according to winemaker Dana Booth. After harvest began, a Purfresh container was brought in and used to treat 50 tons of the winery's estate Pinot Noir, while another 50 tons picked previously went untreated. Although Booth said he did not initially notice significant differences between the treated and untreated wines right after fermentation, he said after post-malolactic fermentation (MLF) in January and February there was a noticeable difference between the wines. "The treated wines in barrel were fresher and more fruit forward, and they had a lesser degree of smoky notes than the untreated wines," Booth said.
Booth said the Pinot Noir from this vineyard traditionally has a good phenolic profile and this was better expressed in the treated wines. The untreated wines were sold on the bulk market. The treated wines are still in the cellar, and may go through some additional mitigation processing, such as reverse osmosis (RO). But Booth said the treated wines are on track to go into the winery's estate blend that is bottled and sold for each vintage.
Booth said, "I'm pleasantly surprised how the wines have responded to the treatments and how well they are showing given the degree of smoke exposure." He summarized, "As a winemaker, I would personally use the technology again if needed. I think there are a number of variables we could have addressed to improve and fine-tune the process to improve results in the future, but I think it's a very promising technology."
Molecules Research Paper
Purfresh cites several research studies regarding the benefits of ozone to treat winegrapes. A recent research study performed on smoke-exposed Merlot grapes in Australia during the 2019/20 growing season using ozone applied in controlled cold room conditions by researchers from Australian and Italian institutions, including the Australian Wine Research Institute (AWRI), was published in March 2021. The research paper, "Potential Mitigation of Smoke Taint in Wines by Post-Harvest Ozone Treatment of Grapes," was published in Molecules, Issue 26, 1798, an international peer-reviewed, open access journal of chemistry. The harvested grapes were treated with 1 or 3 ppm of gaseous ozone for 24 hours, or 12 hours prior to winemaking using similar treatment methods to the Purfresh Wine system.
Under "Conclusions" in the Molecules paper, the researchers stated: "This study demonstrated the potential for post-harvest O3 treatment to be used to mitigate the intensity of taint perceived in wine made from smoke-affected grapes. Differences were observed between the concentration of volatile phenols (VPs) (in both free and glycoconjugate forms) in smoke-affected grapes with and without O3 treatment. At lower dose rates (i.e., at 1 ppm) ozonation gave significantly lower VP glycoside concentrations, which resuted in a perceivable improvement in wine sensory properties, i.e. less apparent smoky, medicinal, burnt rubber and ashy characters. The O3 dose rate may, however, influence the efficacy of treatment, such that higher doses induce cellular defense mechanisms to oxidative stress that negate or hinder any mitigation of smoke taint.
"Furthermore, the timing of O3 treatment after grapevine smoke exposure may be important, with results suggesting free VPs are more susceptible to the effects of O3 (presumably oxidation) than their glycosylated forms. Further research is needed to optimize the timing, dose rate and duration of O3 treatment of smoke-affected grapes, and to fully understand both the chemical and biochemical consequences of ozonation (including any potential impact on wine color and mouthfeel properties due to the effects of O3 on biosynthesis of phenolic compounds). However, collectively, the results presented here demonstrate the efficacy of post-harvest ozone treatment as a promising new strategy for mitigation of smoke taint in wine."
Purfresh Wine can supply, deliver and set-up containers for treatments at wineries for the 2021 harvest. New options for 2021 include four different types of bins, available through a lease arrangement with the bin supplier, based on the grape variety and the winery's needs. More information is available at www.purfresh.com