Larger-than-life Performance Actor George Webber Retires from Role as Count of Buena Vista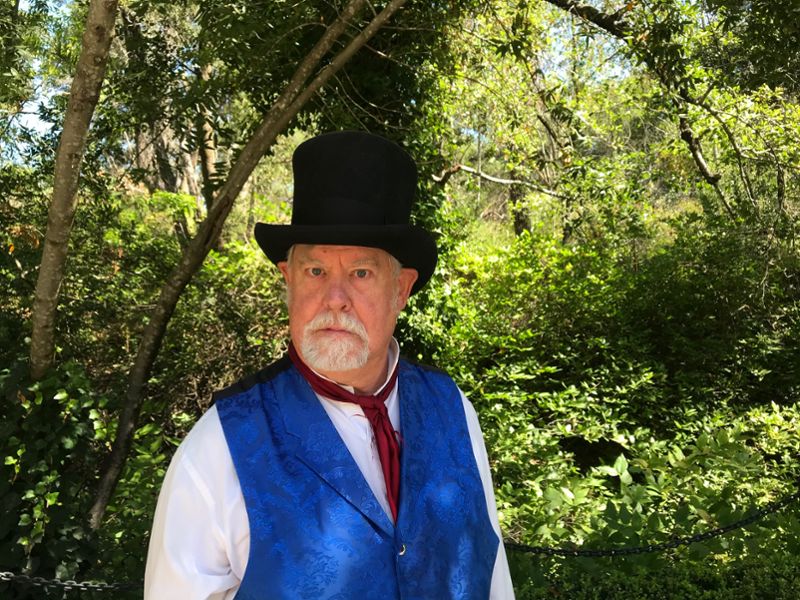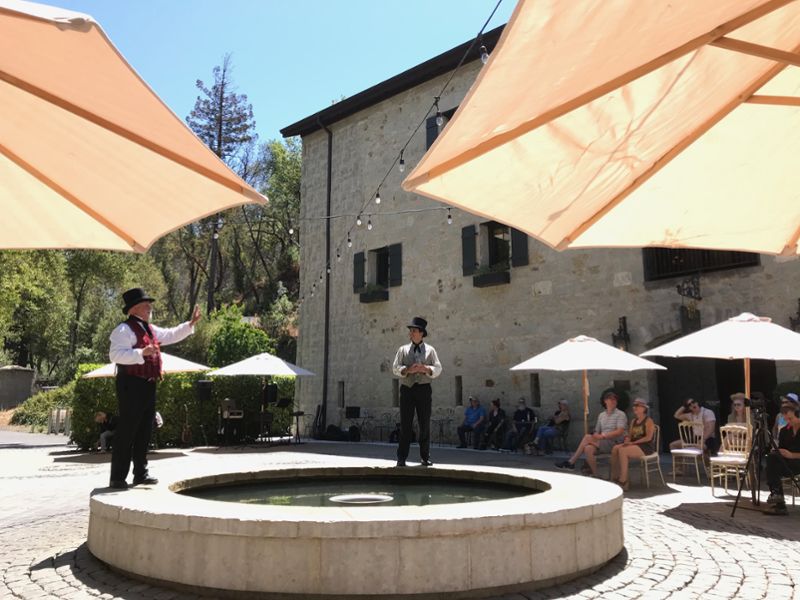 For a decade, George Webber came to work to Buena Vista Winery as "Count" Agoston Haraszthy, the Hungarian immigrant who pursued his dream of making great wine in America and founded the Sonoma winery in 1857.
Beginning this week however, Webber will spend more time in cargo shorts. At 67, Webber is retiring from his 40-hour-a-week job as the Count of Buena Vista, top hat, vests, cane and all, to slow down a tad.
As the brand ambassador for Buena Vista, Webber - a.k.a. The Count of Buena Vista - crisscrossed the country to represent the winery at tastings, winemaker dinners and special events. He's led virtual wine tastings during the pandemic and managed the winery's social media presence. Webber has also portrayed other historical characters, depending on the special event.
"It's been a great ride," said Webber on Saturday, dressed in full Count regalia, as he greeted guests at the winery before leading a lecture, "How Count Haraszthy & Charles Krug Created Wine Country." Buena Vista's History Day also featured a fast-paced, multi-act play in the courtyard with Webber portraying the Count of Buena Vista and K-8th grade teacher Carlo Ligotti as Charles Krug.
Buena Vista owner Jean-Charles Boisset recruited Webber in 2011, shortly after acquiring the historic winery. The 'interview" was off the Sonoma Plaza, where Webber, a former child actor and stock trader, led walking tours portraying various historical characters.
"I'm very grateful to the Jean-Charles (Boisset) and the Boisset team," Webber said.
Patrick Egan, vice president of marketing and communications at Boisset Collections, praised Webber's passion for history and his love for theatrical performances.
"The Count can never die," Egan said in jest at the end of Saturday's play.
Will the winery be left with no Count? "We don't know yet," said Egan, one of two narrators during the play – a Webber creation. "How do we replace Mr. Webber?"
But there may be a search for a new Count, Egan said. "It's kind of a dream job to be the Count," he noted
Saturday's audience included actor Jeffrey Weissman, a Petaluma-based actor who has participated in re-enactments with Webber. "He knows his stuff," Weissman said, referring to Webber. He and his wife are sad to see him go as the Count, however. "It's the end of an era," Weissman said.
Webber, however, will not completely retire. He plans to teleport about 2 miles, to Sonoma Plaza, to lead historical walking tours again as General Mariano Vallejo, William Tecumseh Sherman, Mark Twain and…as George Webber.
His eldest daughter, Violet, cheered her father Saturday. She supports her father's retirement as the Count of Buena Vista. "He deserves it," she said. "He's been working really hard."
A native of Des Moines, Iowa, Webber said people have asked him "'How did you make your ideal life come true?'"
"The answer is: devote everything you have to it," Webber said. "Never give up. And even when you have not a dime, keep going forward. And believe in yourself," he added. "It's all about fortitude."
Saturday's play chronicled the friendship and collaboration between the Count and Krug, a Prussian immigrant, and their contributions as Wine Country pioneers. Both men were devoted to creating successful wineries both in Napa and Sonoma, Webber said during his lecture. "We're not separate," Webber said, referring to the two counties.
He'll be "happy" to never hear that "stupid" joke, he said, referring to comic Tommy Smother's line that "'Sonoma is for wine, Napa is for auto parts.'"
Smothers did not copyright the joke he had written for Robert Mondavi 75th anniversary, Webber noted. Smothers never got a dime for it, he said.
During his lecture, Webber said Krug borrowed a press from Krug to make wine in Napa. In 1861, Krug founded the Napa Valley's first winery on land he had received when he married Carolina Bale. Bale's dowry that included 540 acres of land. The press remains at Krug Winery.
Haraszthy had had multiple reincarnations during his journey in America. He was the first assayer at the US Mint in San Francisco, where he hired Krug as a clerk after meeting him in Crystal Springs in San Mateo County. Haraszthy was also a state legislator who proposed the establishment of a wine / viticulture research station. When the UC Davis' enology department visited Buena Vista a few years ago, Webber, as the Count, reminded the group that the research station had been his idea. "They were all very grateful," Webber said.
A modern-day dad, Webber mentioned that his youngest daughter, Emily, who is 22, recently graduated from UC Davis with a degree in genetics. "She will be able to get a job!" Webber added to loud cheers.
Haraszthy's ambitions were dashed in the mid 1860s when phylloxera started killing his vines. By 1866 half of his vineyards were dead, Webber said. The winery's shareholders fired him. In 1868, the Count, his wife, Eleonora, and a son, Geza, moved to Nicaragua where the Count sought to reinvent himself as a rum producer with the hopes of rebuilding his fortune. However, in 1869, he was killed when he fell into a river full of crocodiles.
In the Napa Valley, Krug's winery grew. By the mid 1880s, Krug winery was the biggest in the valley. In 1882, Krug opened the Wine Country's first tasting room.
In 2007, both Krug and the Count of Buena Vista were inducted in the Culinary Institute of America's Vintners Hall of Fame.