Warehouses and New Road Envisioned for Hess Vineyards near American Canyon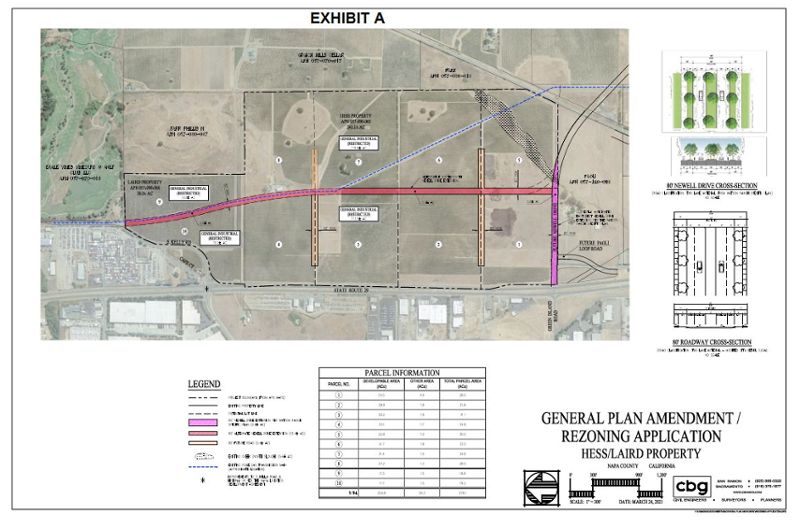 Warehouses and a new road may one day be built on Hess Collection Winery's vineyards near American Canyon in south Napa County. The new road would parallel Highway 29 in an effort to alleviate traffic congestion.
The Napa County Board of Supervisors on June 22 unanimously voted to initiative a general plan amendment that would re-designate about 300 acres of vineyard land industrial. The application affects about 241 acres that belong to Hess Collection as well as another 38 acres owned by the Laird family. The properties are now zoned "agriculture, watershed and open space."
Hess Collection and the Laird family, who seek zoning change, said in their application the land could be developed with up to 4.5 million square feet of "industrial uses," generating up to 1,250 jobs.
The new designation would also allow the extension of Newell Road east of Highway 29, from American Canyon north. The new roadway would parallel to Highway 29. The road begins at American Canyon Road and ends south of a new subdivision known as Watson Ranch.
The city is about to celebrate the groundbreaking of the first of 98 houses at the new subdivision. Eventually, Watson Ranch is expected to include more than 1,000 homes as well as apartment units, a hotel, school and stores. Newell Road.
American Canyon residents and commuters have complained for years about traffic congestion in south Napa County. On June 22, Napa County supervisors said the idea to extend Newell should be considered.
The supervisors noted the properties had not always been zoned for agriculture. From 1983 to 2008, the land was designated for "urban uses," according to a county report. Its zoning re-designation is not subject to county-wide voter approval as the land was not zoned for agriculture in 1990 when Measure J was approved.
Supervisor Belia Ramos, who represents American Canyon, noted that her drive from American Canyon to Napa has taken her three hours on "numerous occasions" when Highway 29 is closed. American Canyon is about 9 miles from Napa.
Supervisor Ryan Gregory wondered how long the Newell extension project could take. Construction on Devlin Road, another alternative to Highway 29, a north-south road west of the highway, started years ago. The last segment is under construction near Green Island Road this year.
Ramos, however, said she was confident the road can be built "efficiently."
Longtime American Canyon resident Barry Christian questioned the idea of building Newell Road's extension through the Hess property. He argued that the road will not alleviate congestion on Highway 29, noting that the new commercial uses will exacerbate traffic. He doesn't "get the point" of the route, said Christian.
Instead, Christian said Highway 29 should be widened to three lanes, from Paoli Loop on the northern edge of American Canyon to South Kelly Road.
Christian also questioned the conversion of 300 acres of vineyard land to industrial use in Napa County. "I'm not sure it's wise policy to convert 300 acres of vineyards into general industrial anywhere in Napa County," Christian said.
Another resident, Eve Kahn, said the land could be used for other agricultural uses other than grape growing. "Agriculture can be other than grapes," said Kahn, who is familiar with other vineyards that are no longer profitable. "Is changing this parcel going to open Pandora's box," Kahn asked, referring to the Hess Collection land.
Like Christian, Kahn predicted more traffic once the land is developed. "If that's industrial, it's going to be filled with trucks and it's going to defeat the purpose of getting people in and out to Watson Ranch," Kahn said, referring to the new subdivision on the west side of Highway. 29
The extension of Newell Drive has been contemplated for years. American Canyon Vice Mayor Mark Joseph last week said the extension was discussed when he served as American Canyon's city manager, beginning in the early 1990s. Joseph doubts Caltrans would pay for a third lane on Highway 29.