Spirits Expands Lead in Sales Growth
June 24, 2021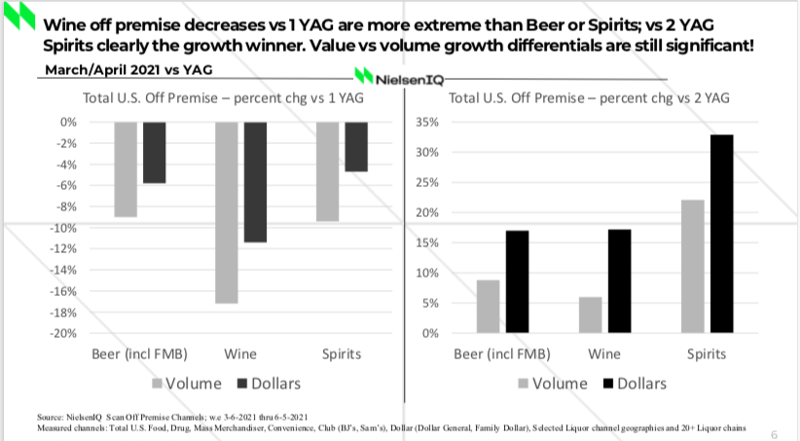 Wine sales in the major off-premise channels continue to decline when compared to the same time in 2020 yet remain stronger than in 2019.
According to data by NielsenIQ, the total value of wine sold through the Memorial Day Holiday period (two weeks ended June 5) was 11% less than in 2020 but 14% more than in 2019. The same trend held true for spirits, beer and all other goods tracked by the market research firm.
But as the market readjusts after the pandemic, it is becoming clear spirits is losing less against last year and gaining nearly twice as much compared to two years ago. In March and April of 2021, the total sales value of spirits was down 5% compared to last year and beer was down 6%. Wine sales, however, plunged by 11%. Compared to the same two-month period in 2019, spirits sales value was up by more than 30% while the sales value of beer and wine were only around 17.5% more.
Market analyst Danny Brager noted the current sales drop versus 2020 is hardly surprising but the decline in wine sales was "much more significant" than compared to spirits and beer, which is bolstered by sales of hard seltzers.
There is growth in retail wine sales, and it continues to be at higher price points. "In particular, higher end wines continue to perform well in retail off-premise, with sales expanding even further versus the hyped-year ago levels," Brager wrote in a monthly report on off-premise sales. "It's likely that some Napa and other premium wineries had shifted allocations to off-premise during COVID and both retailers and consumers were delighted to sell and buy them."
Brager also tracks winery direct-to-consumer (DTC) shipment data as reported by Wines Vines Analytics/Sovos ShipCompliant. That channel saw a more dramatic volume decline in May as shipments fell by 13%, yet the value of all winery shipments was 4% higher than in May 2021.
The strength of shipment value compared to volume indicates the channel is shifting back to its pre-pandemic normal in which growth is driven by higher priced wine club shipments. Overall, the DTC shipment channel is up by more than 25% in both value and volume compared to 2019.
"A major change is that less expensive price tiers ($20 and below) volume has declined compared to last year, whereas more expensive price tier ($50 and above) volume is up double digits," Brager noted. "It's likely that some consumers who may have come into the DTC market at lower price tiers may have now shifted back to the retail market for their wine purchases."
The DTC and Nielsen data are now part of a comprehensive report that provides a detailed look at the off-premise market. For more information, contact Brager at danny.brager@nielseniq.com