Domestic Wine Sales Increase 23% in May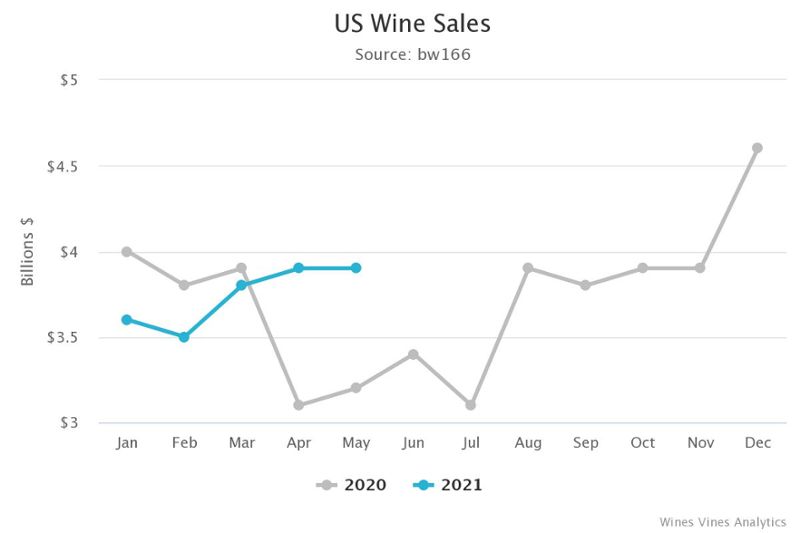 Compared to the same time last year, sales of domestic wines were up 23% to $3.9 billion as the industry inches closer back to normal.
The dramatic jump is in comparison to the initial months of the pandemic when the on-premise sector was widely shut down across the United States. As that part of the industry revives, it is lifting the total U.S. wine market back to normal.
According to data by market research firm bw166, consumer spending on domestic wine (including bulk imports) in the 12 months ended May came to $48.5 billion. The total US wine market in the same period came to $69.4 billion, which is 2% less than in the 12 months ended May 2020.
The total market data is part of the Wine Industry Metrics featured each month in the Wine Analytics Report that was released on June 15.
Other metrics tracking declines in activity represent a return to pre-pandemic business as usual.
The volume of winery direct-to-consumer (DTC) shipments also fell 13% compared to May 2020 but that was to be expected compared to the surge in additional DTC shipments during a peak period of regular wine club shipments.
Compared to two years ago, value is up 25% while case volumes increased 26%, indicating a comfortable gain versus pre-pandemic levels.
Winery hiring also remains dramatically above where it was at this point last year, with the Winery Job Index (tied to postings on winejobs.com) up 154% in May compared to last year.
The Wine Analytics Report is a monthly, digital report on the U.S. wine industry produced by the editorial team at Wines Vines Analytics and based on information from proprietary databases and data supplied by partner research firms. The report and Wines Vines Analytics are part of the Wine Communications Group that also publishes Wine Business Monthly.