Napa County May Consider Fire Sales Tax In 2022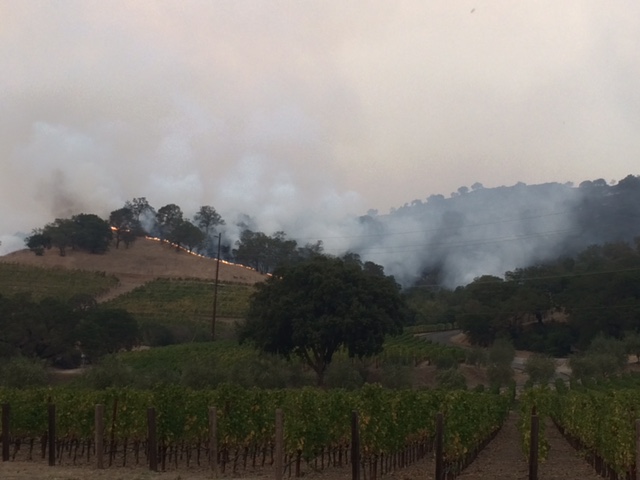 Napa County voters may consider a new quarter-cent sales tax on the June 2022 ballot for 10 years to fund wildfire prevention programs such as fuel breaks and brush removal.
The Napa County Board of Supervisors on Tuesday voted to explore the placement of the tax proposal on the ballot to fund long-term fire prevention measures estimated to cost $42.4 million over the next five years. The supervisors' vote to explore a possible sales tax was unanimous.
"We need a sustainable funding stream to keep our community safe," said Alfredo Pedroza, who chairs the Board of Supervisors.
Napa County Chief Geoff Belyea said a 10-year plan to address the wildfire issue in Napa County is under development. The Board of Supervisors set aside $5.4 million to fund one year of fire prevention projects. No money had been identified to pay for the next four years' worth of projects listed in the 5-year vegetation management plan that was presented to the board on April 6.
"We know that we need to provide that sustainable funding source to be able to continue to move forward with these projects," Belyea said.
The recommendation from an ad hoc committee on fire preparedness was to pursue a sales tax, Belyea said. The sales tax would generate about $10 million a year.
Supervisor Ryan Gregory served with Pedroza on the ad hoc committee that made the recommendation to pursues a sales tax.
Visitors, tourists, city and county dwellers will all pay for fire prevention, Gregory said, referring to the possible new sales tax. "We all have a skin in the game when we have a fire..and then the smoke that comes with it," he said.
Before the vote, Supervisor Belia Ramos suggested using excess Educational Revenue Augmentation Fund monies instead of a new sales tax to fund the projects quickly. The California State Legislature in 1992 created the funds known as ERAF to shift local property tax dollars to schools.
Napa County, a county with high property values, has excess ERAF as its student population has been decreasing over the years. These excess ERAF dollars can be used for other noneducational purposes. For instance, in 2020, Napa County decided to use excess ERAF dollars to fund a portion of its new $128 million jail. In the end, she voted with the majority.
However, other supervisors casted doubt on the long-term availability of excess ERAF dollars.
Supervisor Diane Dillon said she supports the ad hoc committee's recommendation to explore a possible sales tax. "I believe that we need a stable, reliable source and that is not excess ERAF," Dillon said. "We cannot depend on it."
"We have to have some assurance that this work is going to get done every year so that we can plan for it," Dillon said, adding there will be competition for contractors who do this work.
County staff now has to gauge public opinion on the tax, work with the county's executive office, auditor-controller, county council as well as fire representatives to develop a draft of the ballot measure. The Board of Supervisors could vote in the fall to place the measure on next summer's ballot.
This year, among other fire prevention projects, crews have created 2.5 miles of shaded fuel breaks at Circle Oaks, a subdivision east of Napa, according to Belyea. Crews have also removed fuel vegetation along 7 miles of county right-of-way in the community of Angwin.
Napa County has sustained a series of large wildfires since 2017. In August 2020, the LNU Lightning Complex burned more than 360,000 acres in Napa, Lake, Sonoma and Solano counties; about 1,500 structures were destroyed. Then in September 2020, the Glass Fire broke near Dear Park east of St. Helena. The blaze scorched more than 67,000 acres in Napa and Sonoma and destroyed more than 1,500 structures. More than two dozen wineries were either damaged or destroyed, including Burgess Cellars, Castello di Amorosa and Chateau Boswell.