How Hiring Managers Are Getting Employees in the Door in 2021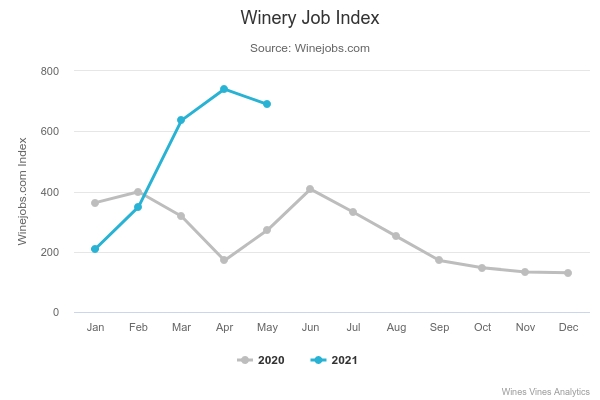 There has never been a better time to find a job in the wine industry. The Winejobs board is full of openings and more keep popping up every day.

That said, some jobs are more open than others. From May 1 through 14 of this year, 18 jobs for winemakers, assistant winemakers or enologists were posted, and 13 jobs for viticulturists or viticultural assistants. That's a good number, but not unprecedented.

However, for marketing and sales, there were 117 jobs posted, spread out all over the country. And for tasting room and retail sales, there were 234 jobs posted in just two weeks. Many companies, including Gallo and Duckhorn, were offering sign-on bonuses. In a famous Internet ad this spring, Applebee's restaurant offered job applicants free appetizers. Duckhorn offered $1000: you can buy appetizers with that.

Some hiring managers shared stories of the efforts they have made to get employees in the door.

"We're going to have to raise bottle prices next year because wages are increasing," said Jennifer Hunt, director of DTC operations and hospitality for Starfield Vineyards in El Dorado County. "We have to raise the amount we pay to attract people. I've changed how we hire. I've definitely loosened the qualifications in what we look for."

For tasting-room positions in particular, many wineries are looking outside the wine industry to people with restaurant experience. But they are also competing with thousands of reopening restaurants as well as hotels that are rehiring -- the high-end hotel chain Montage had 555 openings on its website in mid-May.

"We had someone move from Yellowstone Club in Montana, the Wynn in (Las) Vegas, and a California tasting room," said Briana Seeley, sales and marketing director for Argyle Winery in Willamette Valley. "We're challenging ourself in a big way in finding more diverse candidates: diverse in ethnicity, but also background."

Seeley said Argyle tried hiring through university career days but didn't find anyone. She did find some candidates through a job board called The Roots Fund, a nonprofit set up to help people of color find jobs in the wine industry.

A big problem for many wineries is that they are located in rural areas, which limits the number of potential candidates because there simply aren't many neighbors.

"The main things we noticed were how many fewer resumes we saw," said Maggie Tillman, owner of Alta Colina in Paso Robles. "We're not a power-hiring company. We've probably had 25 people in 10 years cycle through. This was unlike anything else I've experienced. At Indeed (job website), we were seeing people from all over the place, geographically. We're not in a position to pay moving expenses. We ended up upping the starting pay. We ended up giving everyone a raise, which feels good and bad all at once. I want to take care of my team, but I know what payroll looks like."

Tillman said that her winery had usually used an informal local network to find people for part-time jobs like dishwasher, asking around among nearby wineries if they knew someone.

"Everyone we talked to was looking as well," Tillman told Wine Business Monthly.

Pay is an issue, just as it is in the restaurant industry. Wineries are finding that it's not easy to get workers in for the same wages they might have paid two years ago. But as tasting rooms have shifted to a sit-down model, tasting room workers now get tips, and personnel managers say those can easily exceed the worker's actual salary.

"My guy in the tasting room is making more than I do. He's making $50 to $75 an hour with tips," said Alexandra Cohn, owner/CFO of Jeff Cohn Cellars, which is moving its tasting room to Healdsburg. "Maybe people are just more generous right now with the pandemic."

Cohn said she had to ask the assistant winemaker to work the tasting room for several weeks because she couldn't find employees.

"One thing I see on Winejobs is people are offering signing bonuses," Cohn said. "I can't compete with that. I want people to work for me because they want to work for me. How long are they going to work for me?"

Tillman said she lost one job candidate "we all loved" who said she had two other interviews set up, and ended up taking one of those offers instead.

"People have options right now," Tillman said. "It does make us think about what we can do. We look at the salary surveys. We just aren't in a position to come in above those ranges. Knowing we're in the middle of what seems appropriate, and we're not in a position to say, we have the best medical benefits and retirement plan. It's hard."

Hunt said one problem she faces is advertising locally in the Sierra Foothills, where population is sparse and spread out.

"I used to have really good luck with Facebook but Facebook changed all their requirements," Hunt said. "Because it's alcohol you have to be over 21 to serve. Facebook won't post that anymore because they say that's discrimination. When Facebook turns down your ad, they give you a chance to dispute it. Every time I posted an ad, they turned it down, and every time I disputed it, but they denied it."

Hunt says she uses Indeed, but has had little luck with Zip Recruiter, Winejobs and Craigslist. And even when she does find a candidate, often they ghost her.

"Almost every interview we set up, we get no calls and no shows," Hunt said. "I'm having better luck hiring 18- and 19-year-old bussers right out of high school then I am hiring seasoned professionals. We're mostly only getting local candidates. I used to live and work in Napa. I respect Napa immensely and it helped me get where I'm at. Every time I hired someone from Napa it hasn't worked out. I actually had one man say that our guests were beneath him."

Hunt is hiring people now even without hospitality experience, but she says restaurant workers are the best, if she can find them, because of the new model where tips play such a large role.

"The restaurant people tend to figure it out the quickest," Hunt said. "The restaurant people, once they figure out how much can be made, they really hustle. Our schedule is much better than a restaurant. We have a long day, but we close at night."

Most time-travel fantasies involve real estate (if only my parents bought that vineyard ...) Craig Becker, director of winemaking at Somerston in St. Helena, said that if he could go back in time, he would have hired earlier.

"We should have gone hiring the second the shutdown happened," Becker said. "Us, like everyone else, tried to hire as soon as the shutdown ended. Talent is about curating and managing and teaching people, and keeping them happy. We did keep on most of our staff in the first part of Covid. We laid some of them off and then brought them back as soon as we could. Then in December when we had the second shutdown, we kept them all on. But we should have hired more."