A Virtual Tasting of New Jersey Blaufränkisch Wines
Wines from five wineries show stylistic variations between two regions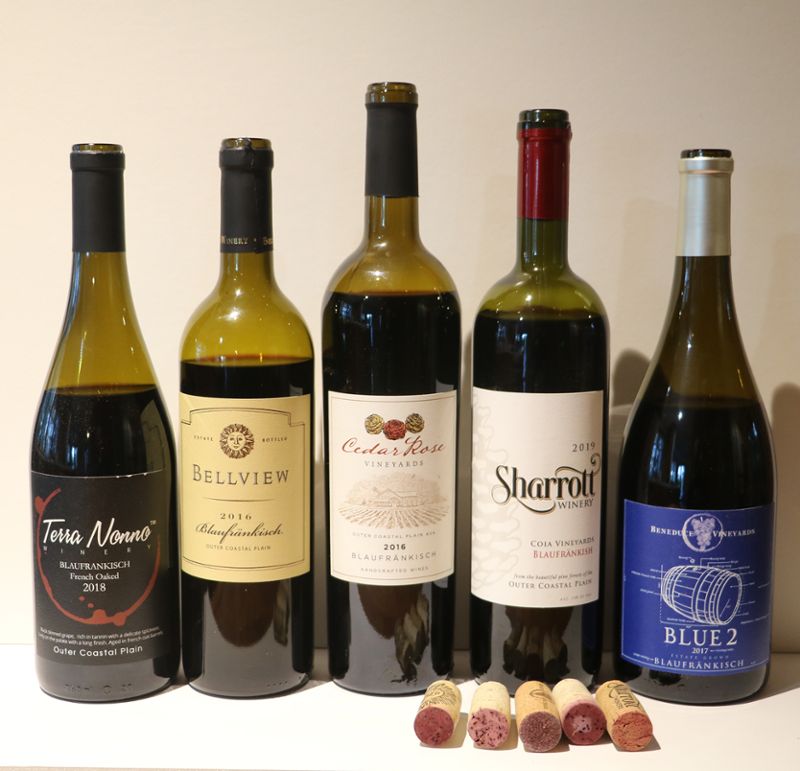 One positive outcome from this past year's pandemic has been the implementation of virtual wine tastings that can bring speakers and attendees together from many different locations to experience a selection of wines. The Garden State Wine Growers Association (GSWGA) took advantage of this concept and scheduled a tasting of five New Jersey Blaufränkisch wines on April 30. Tom Cosentino, executive director of the GSWGA, asked the noted Swiss grape geneticist, Dr. José Vouillamoz, to introduce this different grape variety. Vouillamoz trained under Dr. Carole Meredith at the University of California, Davis and specializes in the origin and parentage of grape varieties through DNA profiling. He is also noted for co-authoring the 2012 edition of Wine Grapes with Jancis Robinson and Julia Harding.
With Cosentino and writer-marketer David Furer as moderators, Vouillamoz spoke on the heritage of Blaufränkisch. After a short lesson on grape genetics and the difference between grape cultivars and grape varieties, he looked at the history and origin of Blaufränkisch grapes. The first mention of Blaufränkisch was in 1862 in Vienna, Austria. By 2016, the grapes were planted in 15 countries, with Hungary, where the grape is known as Kékfrankos (the translation of Blaufränkisch into Hungarian), having 17,940 acres, more than any other country. Austria was second; in third place was Germany, where it is called Limberger (or Lemberger), a name that came from the name of the place in Austria where the grape was thought to have originated.
Through genetic analysis, researchers first learned that one parent of Blaufränkisch was Gouais Blanc. More recently, geneticists discovered by using DNA analysis that Gouais Blanc crossed with a female grape, Blaue Zimmettraube, that was not found in Austria. It is therefore most likely that Blaufränkisch originated in Slovenia, the home of Blaue Zimmelttraube.
The Tasting
Blaufränkisch grapes were probably named "Blau" because of the blue tint to the grapes, a trait that is part of the genetics of the grape. Bud break for the grapes, according to Vouillamoz, is early, which makes it challenging in areas subject to Spring frosts. It also ripens late, and often requires a warm climate – but not too warm – or "you will lose the balance with the acidity and end up with a heavy example of varietal Blaufränkisch."
Four of the wineries whose wines were tasted are located in the Outer Coastal Plain AVA (American Viticultural Area) that encompasses southeastern New Jersey from the Delaware Bay to Cape May and up the coast of the Atlantic and includes the sub-region, the Cape May Peninsula AVA. The region has sandy or sandy loam soils and a relatively long growing season. The Atlantic Ocean and Delaware Bay help to moderate the climate.
The one winery outside the Outer Coastal Plain, was Beneduce Vineyards, located in Pittstown in Hunterdon County, which is west of New York City and not far from the Delaware River. The land has rolling hills that are more similar to the Lehigh Valley on the Pennsylvania side of the Delaware River than to the flat, sandy soils of southeastern New Jersey.
Terra Nonno Winery & Vineyard 2018 Blaufrankisch (12% Alc.)
Adamo Pipitone and his family planted grapes on his grandfather's farm in Rosenhayn in 2014 (Terrra Nonno means "grandfather's farm" in Italian) and bottled their first wine in April 2018. Vouillamoz commented that he found flavors of mulberries, with good acidity, and subtle bitter chocolate tones on the finish. Another taster said the aroma reminded her of her grandmother's applesauce cake with its spices and raisins. I thought the wine, ruby red in color, had a fruity, blackberry nose, which followed in its taste. It was a lighter style of wine but matched very well with some chocolates that we had for dessert later that evening.
Bellview Winery 2016 Blaufränkisch (14.4% Alc.)
Bellview Winery, located in Landisville, is the oldest of the wineries that participated in this tasting, as Jim Quarella started the winery in 2000. His son Scott commented that they did some research before planting grapes and determined that their climate in New Jersey appeared to be most similar to that of Austria. Consequently, the Quarellas planted Blaufränkisch as one of their red varieties, with encouragement from Dr. Joe Fiola, who at that time was the small fruit extension specialist at Rutgers University. After losing some vines to frost, they planted more Blaufränkisch in 2014 and now have approximately 5 acres. The total vineyard acreage for Bellview Winery is now 45 acres.
The Bellview 2016 Blaufränkisch wine had the deepest red color of the five wines in the tasting. It was very ripe on the nose, with strong blueberry aromas, that were followed in the taste of dried blueberries and currents. Vouillamoz described the wine as having "more ripeness and sunshine in its taste." A full-bodied wine with 14.4 % alcohol (the highest of these five wines), with velvety tannins, it would definitely go well with food, and the caudalies lingered in the mouth long after the wine was swallowed.
Cedar Rose Vineyards 2016 Blaufränkisch (12.6% Alc.)
Located in Millville, Cedar Rose Vineyards opened in 2016. Dustin Tarpine, the owner and winemaker at Cedar Rose, commented that the wine was actually made from fruit grown at Terra Nonno, and that the grapes came from the same block as the 2018 Blaufränkisch from Terra Nonno that we had already tasted. The grapes were from very young vines, as the Pipitones had only planted them in 2014. The two wineries are less than five miles apart, and Tarpine and his staff have helped the Pipitones to install and manage their vineyards.
Tarpine also commented that while Blaufränkisch is a later variety to ripen in Austria, in New Jersey it is one of the first reds to be picked. Blaufränkisch, along with Chardonnay, is one of the first to go through bud break in the Spring, but he usually picks it the first or second week in September, which is quite a bit earlier than Cabernet Franc, Chambourcin, and Cabernet Sauvignon that are harvested in early October. Fermentation takes place in open top fermenters and, under normal circumstances, is finished in about two weeks.
Vouillamoz noted that the color was dark red. The nose was very fruity with a gooseberry aroma, which mixed the fruitiness with the acidity he perceived in the wine. The wine also had typical Blaufränkisch aromas of blackberries and black pepper. In the mouth the wine was juicy and round, and "it makes you salivate, which is always a good sign because when you salivate, you want to take another sip." The wine had a significant amount of acidity, which helps make the wine drinkable. He added that all these Blaufränkisch wines from New Jersey were much more fruit-driven than similar wines in Austria.
Vouillamoz stated that in Austria, the Blaufränkisch wines are usually light to medium in body but can be made into many different styles of wine, from light, fruity wines that are easy to drink, oaked wines made to be aged, or really dense wines with a firm structure. It depends on the yields and the vinification. I especially liked this wine, because the blackberry aromas jumped out of the glass, and followed in the taste, along with a pepperiness, and an excellent fruit-acid balance.
Sharrott Winery 2019 Coia Vineyards Blaufränkisch (13% Alc.)
The largest of the five wineries in this tasting, with a production of 10,000 cases a year, Sharrott Winery was opened by Larry Sharrott in 2003 in Blue Anchor, NJ. The 2019 Sharrott Blaufränkisch was the youngest wine in the tasting, and Vouillamoz thought the wine was really too young. He noted that it was a bit lighter in color than the other wines and also was a lighter style red wine. On the nose he found menthol aromas, toasted bread, some vanilla, and some ripe cherries, and thought that the oak "was still too important on this wine" – it needed more time to integrate that oak into the wine. In the mouth, the wine was round, filled the mouth, and had good structure. He could still taste the bitterness of the oak, but felt the wine had good potential because of its acidity, the fruitiness of ripe cherry flavors, and also the bitterness of ripe cherries, which is a good sign to him of the wine's potential.
Larry Sharrott commented that the fruit was grown at Coia Vineyards and 2019 was the first time they had made a Blaufränkisch wine. They treated it much the same way that they do Cabernet Sauvignon and Cabernet Franc; the wine was on about 30% new oak, with the rest on one, two or three years old oak, for about ten months. In retrospect, he thought they would "dial back the oak" as it (Blaufränkisch) doesn't have the same structure as Cabernet Sauvignons that can take a little bit more oak. From a consumer standpoint, the wine was very popular and is currently sold out. Vouillamoz added that in Austria, a winery will often make an unoaked version of Blaufränkisch for drinking when the wine is young, and an oaked version for aging.
Beneduce Vineyards 2017 Blue 2 (13.5% Alc.)
Beneduce Vineyards' "Blue 2" wine was the only Blaufränkisch from outside of the Outer Coastal Plain AVA. Vouillamoz described the color as being a nice blood red, which he found to be really attractive. On the nose he could smell the ripe fruitiness of plums and dark cherries, some bacon, and some cold ashes, which he described as being a very elegant aroma to find in a wine. On the palate, it was very fresh, elegant, smooth, silky on the mouth. It also was juicy, which made him salivate, a trait he mentioned previously that he "cherishes" in a wine, had positive acidity and a very long persistence of the flavors of blackberries.
Mike Beneduce noted that it is very difficult in a state like New Jersey, where the climate varies as it does from the warmer coastal region to the cooler areas to the northwest, to find one variety that can grow well and make excellent wine in more than one region. He spent some time in Austria with producers of Blaufränkisch and found that they fell into two different camps. One group treated the grapes as they would in Burgundy, where it was a more delicate grape, with shorter maceration times, less new oak, andmore focus on elegance and aromatics. That is more like the style of Beneduce's wine, because their location is cooler. The other camp was treating the wine more like a Bordeaux grape, with heavier extraction times, longer maceration, much more new oak, and darker riper fruit.
Beneduce believes that Blaufränkisch, because of the two different styles of wine that can be produced from those grapes, has a huge potential for success, both north and south in New Jersey. The wines would be stylistically different, but he thinks consumers can appreciate that variety.