The Recent Advances in Viticulture and Enology conference was held virtually this year
The Recent Advances in Viticulture and Enology (RAVE) seminar, held virtually on April 7 and 8 from the University of California Davis campus, was moderated by extension specialist Dr. Anita Oberholster. The two days of sessions included 10 presentations by faculty at UC Davis and 13 flash talks by graduate students and post-doctoral fellows. The presentations covered a number of general topics about how grapevines and wines are affected by rising climate temperatures, soil composting, investigation of physio-chemical processes through mapping and the analysis of fermentations.
See Part 1 of RAVE Highlights here.
Fermentation Mapping and Development of Redox Potential Analysis for Wine Longevity
Dr. Ben Montpetit, associate professor of yeast biology in the department of viticulture and enology, is investigating gene expression that profiles the genetic signature of a vineyard site into wine fermentation outcomes. The basis of this research focuses on the multitude of elements that can influence a winery fermentation, as viewed in Figure 7. The study has shown a 92% accuracy in predicting the AVA of a wine fermentation, and they have a 71% accuracy in predicting the vineyard location. These results come from analysis of a multitude of sites with replicate fermentations, time points, vintages and 6,000 genes from yeasts. These analyses looked at differences in nitrogen limitations, ammonia metabolism, responses of specific bacteria and non-saccharomyces yeasts, coupled with sulfur and fluoride stress. All of these elements are coupled with specific winery protocols. As shown in Figure 7, an accurate understanding of fermentation results can be evaluated and, when compared with others, show differences that can identify where a specific wine was processed.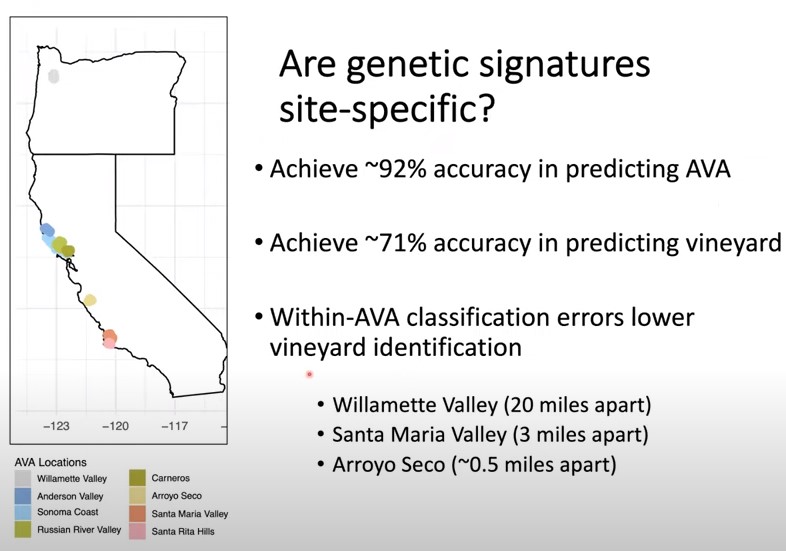 Dr. Andrew Waterhouse, professor of viticulture and enology, is attempting to create new assay for measuring a wine's potential for oxidation. His presentation described the current methods of measuring the Redox potential of a wine with many of the competing reactions that detract from the wine's true Redox potential. Current assays provide an approximation of that potential, but reversable reactions make the determination difficult and not precise. The goal is to find an assay that does not have the problems of reversable reactions with antioxidants in wine, such as what happens with SO2. Current methods use a free radical such as DPPH or FRAP, but both of these tests are somewhat compromised by reversible side reactions with compounds such at SO2 and ascorbic acid. Although not explicitly delineated, Waterhouse says that there are promising prospects on the horizon. (Figure 8)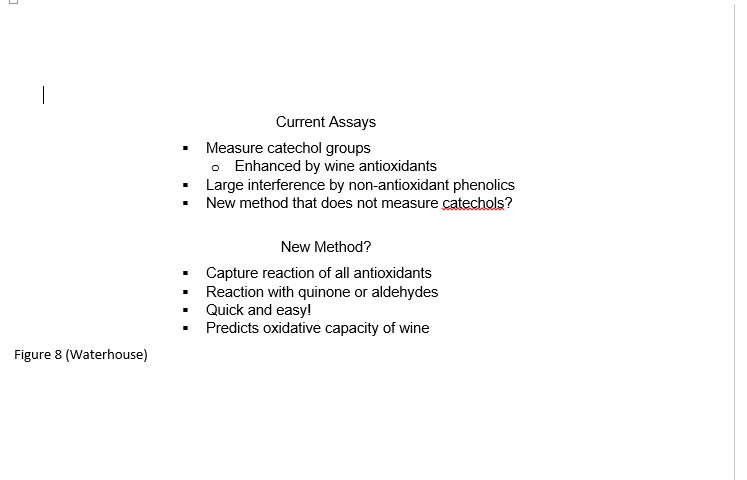 Fire Impact Update
Dr. Anita Oberholster, who moderated the conference, reported an update on fire effect mitigation research. She made three important take-away points:
For analysis of smoke taint, one must analyze both free and bound volatile phenols, no matter the cost, to have an accurate understanding of the impact of fire damage.
Next, measure an unaffected wine's volatile and bound phenol content to estimate how much actually needs removal.
Finally, the most effective means of moderating tainted wine that is better than reverse osmosis treatment is the use of molecular imprinted polymers. This is a material specifically constructed to bind a unique molecular structure in its voids and then be physically removed. Unfortunately, it is not currently an approved mechanism for removing smoke taint.
Breeding for Disease Resistance
The final faculty presentation was a retrospective of Dr. Andy Walker's 30+ years of research as professor of viticulture on developing grapevines resistant to Pierce's disease and the evolution of that research to other diseases such as downy and powdery mildew. With his retirement coming in a few months, Walker is laying out the work that his successors at the department can continue, including Fanleaf expression and looking at root stock development. He noted that rootstocks have a very narrow genetic base (Figure 9). All this shows that adding more functional traits conferred by rootstocks is going to take time and attention. Some of the elements he is proposing for further investigation include salt and drought resistance, nematode resistance, and gene mapping to allow stacking of traits into target rootstock cultivars.