Trends in Winemaking: Two New Approaches to Smoke Taint Mitigation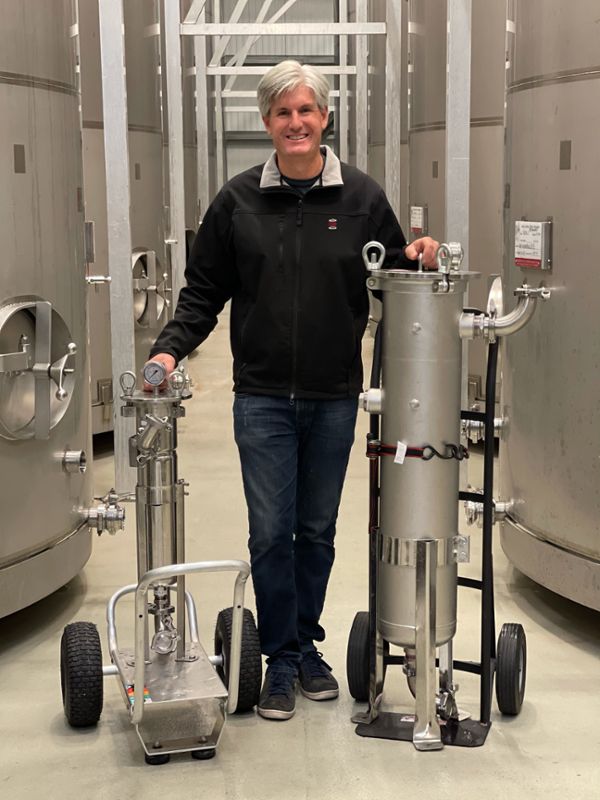 As winemakers work with smoke exposed wines hoping for the best possible outcome and companies invest in developing treatments, they're learning that the most commonly used markers for so-called taint aren't necessarily responsible for off flavors and aromas, that there's a disconnect between what's being tested for and what they're tasting. The challenge continues to be to determine how to remove certain compounds to some degree, others completely - and to figure out what those compounds actually are - while leaving others in place.
At least two ventures are seeing encouraging preliminary results with new approaches deployed over the past few months.
One involves using a new food-grade fining resin designed specifically for components thought responsible for mouthfeel issues.
Another involves using membrane separation and pairing it with solid phase absorption.
Jeff Murrell, director of research for StaVin, also runs a wine analytical lab, VinSci, from Safe Harbor Wine Storage in Napa. He created a targeted fining agent, and tried it with smoky 2020 wines, doing sensory evaluation on different iterations of the resin and making changes to the formulation along the way. He's developed a resin and wine column for treating mouthfeel issues associated with smoke taint.
The SRx wine column, as it is called, is already getting some buzz with winemakers in Napa, Sonoma, as well as Willamette Valley and is simple enough it doesn't require a specialty operator. Wine passes through a stainless steel housing with resin inside and remediation occurs. There's no membrane technology, separation or vacuum distillation.
Murrell sent the resin to the FDA for food-grade approval. He said and it falls under TTB guidelines for resins that can be used in wine. He said winemakers can use it during tank-to tank-transfers, barrel-to-barrel transfers - pretty much any iteration of transferring wine will work with the setup. He's treated a few hundred thousand gallons of wine so far in trials with Safe Harbor, Martin Ray, Pine Ridge, Chalk Hill, Seavey, Sokol-Blosser, Vintage Supply Partners, Antica, Towle Wine Company, and Francis Ford Coppola Winery.
Murrell told WBM he's going after the mouthfeel component of smoke taint whereas most efforts focuss on aromatics. "I want to leave your aromatics as close as possible to what they originally were because most of the wine - greater than 90% of the (smoke exposed) ones that I've tried on a daily basis are fine aromatically."
"If you have a really destroyed wine that tastes like campfire, and you can smell it across the room and it tastes like liquid smoke, this technology won't get all of this smoke disruption now," Murrell said. Those wines are few and far between, he said, because they tend not to be harvested. "Most of the wines I've treated have been transformed back into a wine that is extremely high quality and saleable."
Consulting winemaker Jeff McBride said trials of 2020 wines showed the SRx approach doesn't necessarily work with aromas, which Murrell freely admits, but that it seems to make a difference on the flavors and in getting rid of ashy bitterness. McBride treated smoke-exposed 2020 Russian River Valley Pinot Noir. He said gentle extraction, a little less skin time, and pressing at different points helped mitigate some of the issue and that since the wine went through the SRx treatment, it is a "completely full and pure wine."
"He's really got a tiger by the tail here," McBride said. "It's different than using RO and different than using tannins to mask smoke. If you hit the right zone, you're just stripping the smoke components or pulling them out and exposing more fruit."
Francis Ford Coppola winemaker and chief executive Corey Beck said he's optimistic about conducting trials with SRx early and will ramp up as wines develop over the course of the next 18 to 24 months. "We've been pretty impressed. Initial trials are looking good."
Murrell recently discussed SRx on the Inside Winemaking Podcast.
A Complete, Permanent Solution
Mavrik North America, a leader and early adopter of using Reverse Osmosis to mitigate smoke, recently announced "a quick, complete, and permanent solution to smoke tainted wine."
See the press release here and an FAQ with the details and latest from Mavrik here.
"We found we could remove the smoky flavors pretty quickly and reveal the fruit of the wine, and so on. But when you got right down to trying to get every last little bit of that rough palate that comes with smoke taint out – that took a really long time," Mavrik North America president Rob Kreisher told WBM.
This year Mavrik combined a more selective membrane treatment with a potato protein fining product from ATP. "We've focused on not trying to get the mouthfeel resolved - not trying to pass those components into permeate as much," Kreisher said. "We're focusing purely on the smoky flavors and aromas - getting those into the permeate so we can get them out, and are letting the fining take care of that last little bit of mouthfeel."
Greg Kitchens, winemaker for Don Sebastiani & Sons told WBM he's had good results with Mavrik. He said Don Sebastiani & Sons was aggressive about not accepting smoke exposed fruit in 2020, screening wines with micro-ferments, etc., but that in one case purchased a large lot of very-smoke-exposed Suisun County Cabernet at a discount because the grower was in a bind and didn't have insurance. After two passes, the wine went from having a "nasty, medicinal finish" to having a "really beautiful fruity finish." Kitchens said the wine could ultimately still be declassified, but that it's viable now and he has the option of using it.
Coppola's Beck said the 2020 vintage is "absolutely incredible" in terms of berry quality, color, tannins and anthocyanins if one takes smoke out of the equation. He said most wineries did a good job of selectively keeping smoky grapes out of the cellar in 2020 so aren't sitting on all that much wine with smoke flavors or aromas to clean up.
As research institutions in America and Australia continue to focus on understanding smoke taint, other companies offering solutions include Winesecrets, Conetech, and VA Filtration, in addition to suppliers such as Enartis, Scott Labs, and ATP.
Take a deeper dive: See "Grapes, Wine and Smoke Taint: How to deal with the ashtray in your grapes or bottles," in the January 2021' Wine Business Monthly.
Further Reading
Wineries Deploy Ozone to Clean Smoke Exposed Grapes
Eight Approaches to Reducing, Mitigating or Eliminating Smoke Taint