Winery DTC Shipments Up 16% in Value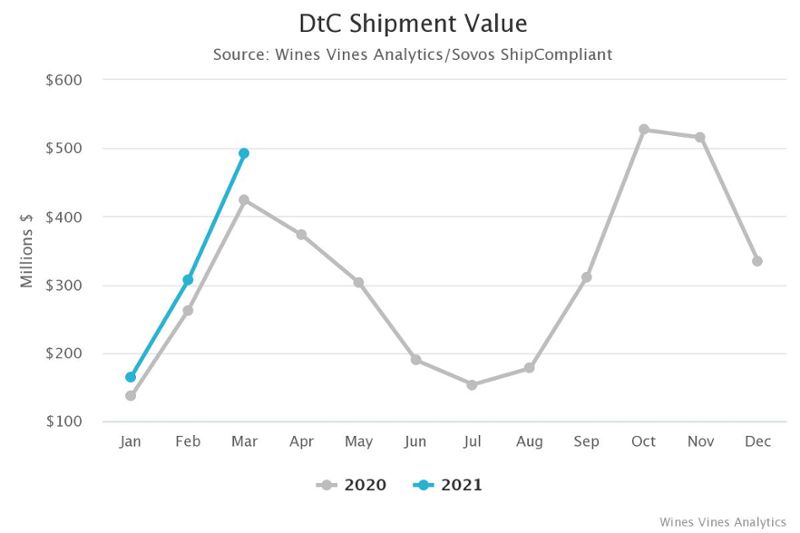 The total value of winery direct-to-consumer shipments in March came to nearly $500 million or 16% more than in March 2020.
Shipment volume in March totaled 919,069 cases, which is 10% more than in March of last year. March is typically a high point of shipment volume and value prior to a decline in DTC activity through the warmest months of the year. The DTC data is included in the regular Wine Industry Metrics reported in the monthly Wine Analytics Report that was released April 15.
The value gain reported in March was consistent with the past 12 months, which saw shipment value increase 17% to $3.8 billion. However, the composition of those shipments reflected a broadening of the channel, with case volume up 27% versus a year ago in the latest 12 months to 8.7 million cases. While club shipments sustained the increase in value seen in March, the moderation in case volumes relative to the 12-month tally heralds a potential moderation as purchasing and consumption set a new, post-pandemic normal.
The average bottle price of shipments increased 6% in March to $44.71. However, the latest 12 months saw average bottle price decline 9% to $36.98. Drilling into the major varietals, while all saw shipment value increase over the period, all but rosé saw average bottle price decline. Rosé bucked the trend with a 6% increase to $20.56 a bottle. This was the lowest average of any wine type, however.
By contrast, the most expensive wines posted the greatest declines in average bottle price, with Cabernet Sauvignon falling 11% to $62.54 a bottle, red blends also down 11% to $41.33 and Pinot Noir in between with an average bottle price of $42.83, down 8% from last year. Chardonnay declined 8% to $31.27 and sparkling wine — which saw a 48% increase in shipment volume to more than 320,000 cases in the past 12 months, declined by 4% to $29.24.
As winery DtC shipments remain higher than in 2020, retail off-premise sales as tracked by NielsenIQ fell 14% compared to last year when the "pantry stocking" phenomena of the early pandemic months started to take effect. Off-premise sales of domestic table and sparkling wines tracked by Nielsen came to $956 million in March while volume fell 19% to 9.7 million cases.
In another promising indicator of growing momentum for a wider pandemic recovery, winery hiring activity was quite strong in March. Based on an index tied to postings on Winejobs.com, the overall index rose 100% compared to March 2020 and the gain was even stronger for DTC positions. The DTC index shot up by 210% while the sales and marketing subindex improved by 119%.
The Wine Analytics Report is a monthly, digital report on the U.S. wine industry produced by the editorial team at Wines Vines Analytics and based on information from proprietary databases and data supplied by partner research firms. The report and Wines Vines Analytics are part of the Wine Communications Group that also publishes Wine Business Monthly.