NielsenIQ Beverage Alcohol Update - Week ending March 27, 2021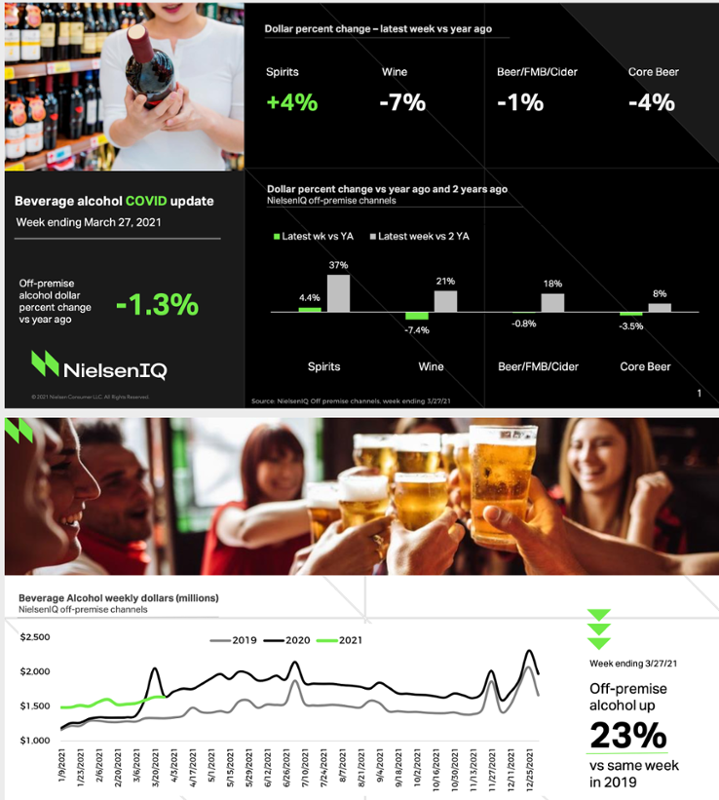 Unless otherwise noted, data and insights below are for the week ending March 27, 2021, compared to the same week last year in NielsenIQ off-premise channels.
For the latest week ending 3/27/21, total off-premise alcohol dollar sales declined by 1.3% compared to the same week last year. Spirits led growth, up 4.4% in dollars. Beer/FMB/cider and wine categories experienced declines for the latest week, down 0.8% and 7.4% respectively.
Despite declines compared to last year, dollar sales for off-premise alcohol remain far above the normal range. When comparing the latest dollar sales to the same week two years ago in 2019, total off-premise alcohol is up 23%, with spirits up 37%, wine up 21%, and beer/FMB/cider up 18%.
Beer/FMB/Cider
For the week ending March 27, 2021, many large segments in beer experienced declines; however, there were some strong performers with growth in emerging segments. Premium lights were down 7.6%, below premium -12.1%, cider -11.7%, craft -6.5%, and FMBs (excluding seltzer) -7.1%. The super premium segment was close to flat (+0.3%), imports +9.5% and hard seltzers +27.8%. Hard tea (+44.1%) and no-alcohol beer (+41.0%) experienced the strongest growth rates in the category for the latest week in off-premise channels .
Spirits
Last year at this time, off-premise spirit dollars grew by 31.4% compared to the previous year. So it is all the more impressive that off-premise dollar sales are up again this year, surpassing sales from one of the big pantry-loading weeks last year. Tequila was the biggest growth driver, up 32.8% compared to last year. Other strong performers included ready-to-drink cocktails (up 194%), cognac (+37.2%), and whiskey (+4.0%), with scotch up 27.% and Japanese whisky up 61%. American whiskey was flat for the latest week.
Wine
Total wine declined by 7.4% this week, driven by table wine (-11.5%), while sparkling wine was up 19.3%. Sparkling wine growth could reflect the influence of an early Easter as well (Easter fell a week earlier in 2021 vs 2020). It's important to note again that trends vs. two years ago were still strong, up 21.1% (compared to 3/30/19). We continue to see polarizing trends from a price perspective, with all segments under $15 declining, and all segments $15+ growing. Within packaging, cans (+52.8%) and tetra (+18.2%) are still driving growth, as well as smaller formats, with 375ml up 37.4%.
The Food channel is still seeing the sharpest declines (-16%) compared to last year's surge, but both Convenience and Liquor channels are showing growth this week, up 8.8% and 8.7% respectively.