Napa County officials plan to spend $42.5 million over five years to reduce the risk of wildfires.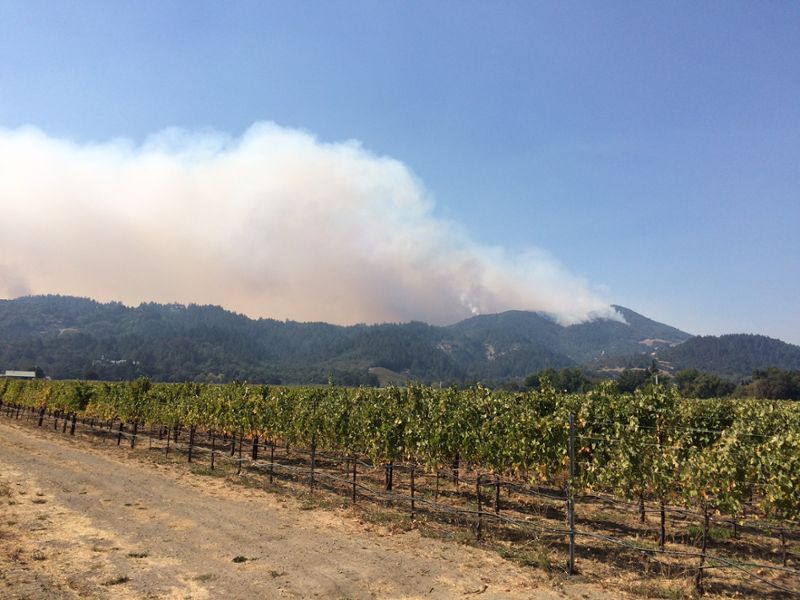 On Tuesday, the Napa County Board of Supervisors unanimously endorsed a proposal to reduce fuel – and fire risks in a county where deadly wildfires have destroyed houses, wineries and other properties.
The Napa Communities Firewise Foundation, a volunteer organization whose members include firefighters, vintners and other business leaders, commissioned the 18-month study that used remote sensing technology called Lidar to predict fire behavior given the county's fuel conditions.
The document, known as the Napa County Community Wildfire Protection Plan, has led to the development of a 5-year vegetation management plan, including the construction and maintenance of fuel breaks. It is a tool the county can use to apply for state and federal funding.
"Napa will burn again. We now have a plan of action and we need funding," said Christopher Thompson, president of the Napa Communities Firewise Foundation.
Thompson noted the Hanley Fire in 1964 reached Santa Rosa in four days. It only took the Tubbs Fire four hours in 2017. Both had ignited near Calistoga. "Our environment is changing," Thompson said.
The plan maps out how "we are going to respond to that change," Thompson said. "We need funding and we need lots of it."
"Everyone understands what fire has done," Thompson said.
Quoting Napa County Fire Chief Geoff Belyea, Thompson said "'If you want to change fire behavior, change the fuels."
Belyea asked for $6.4 million for starters. That includes $5.4 million worth of projects based off the Community Wildfire Protection Plan. Supervisors supported his request.
"This is not an option," Napa County Supervisor Chairman Alfredo Pedroza said, adding millions are spent after disasters. "This is about investing proactively to minimize the threat, to manage our community to keep it safe," Pedroza said. "While this is a bold ask, I think this is a very appropriate ask."
Supervisor Ryan Gregory agreed with Pedroza. "I'm not sure we have a choice. I think we've got to figure a way to accomplish that this year as hard as it might be," he said. Sources of funding may include the recently approved American Rescue Plan and balance on the PG & E settlement agreement, he noted. PG& E last year agreed to pay Napa County $34 million for the damaged caused by the 2017 wildfires that hit Napa County.
The county needs a sustainable source of funding for these projects, Gregory said. "I do think we need to start talking about what that looks like," he said, adding that could be a sales tax, parcel tax or something else. "We've got to take control of our destiny."
The initial projects that would be undertaken the first year entail building fuel breaks near Angwin, home to Pacific Union College, the Circle Oaks east of St. Helena , the Silverado Country Club near Napa and the Berryessa Highlands subdivision near Lake Berryessa. It also includes $1 million for vegetation removal along evacuation routes in the Angwin area.
Most of the fuel break work will be "shaded fuel" breaks to lower wildfires' intensity. That includes removing smaller trees and underbrush as well as spacing trees out. Vegetation and grass are left for soil stabilization, he said. These shaded fuel breaks are not "denuded" swaths of land, he stressed.
Members of the wine industry voiced strong support to fund Napa County's fuel mitigation program. "We appreciate the board's leadership and commitment to address prevention and strategic actions that are critical for the long-term health of our community," said Michelle Benvenuto, executive director, Winegrowers of Napa County, adding the issue has "widespread support."
Napa Valley Grapegrowers' representative Molly Moran Williams urged the county to fund the fuel management plan outlined Tuesday. "This type of plan is long overdue for our community," she said.
Rex Stults, vice president of industry relations for Napa Valley Vintners, also urged the supervisors to fully fund the first year of the action plan and start a dialogue for a "long-term sustainable source of funding."
Vintner Stu Smith of Smith-Madrone Vineyards praised the "terrific plan." "You should be proud and congratulations," Smith told Belyea and Thompson. Like the other speakers, he hopes the proposal is fully funded. The Firewise Foundation should take the lead in coordinating the work, he also said.
Mike Hackett, a retired airline pilot and an environmentalist based in Angwin, and Vintner Randy Dunn also urged the county to consider supporting volunteer efforts to lease BOSS rapid-response firefighting planes that would be based in Napa County. The money would be fundraised.
Ryan Klobas, executive officer for the Napa County Farm Bureau, said his organization supports increased funding to address fuel reduction and vegetation management in Napa County. Napa County should also create its own department with a fire chief who reports to the Board of Supervisors which would give the county better control in the decision-making process. Napa County contracts with Cal Fire for fire protection un unincorporated areas.
Belyea said Cal Fire has invested an additional $3 million in Napa County this year. The money is to fund a firefighter hand crew – 46 firefighters who build fire lines in areas bulldozers and fire engines cannot reach and to assign a helicopter that can drop up to 1,000 gallons of water per drop. There are 1,700 water sources in the county, he said.
The Napa County Community Wildfire Protection Plan can be read at: https://bit.ly/3mpvIXn