Discussing DTC Success in the Central Coast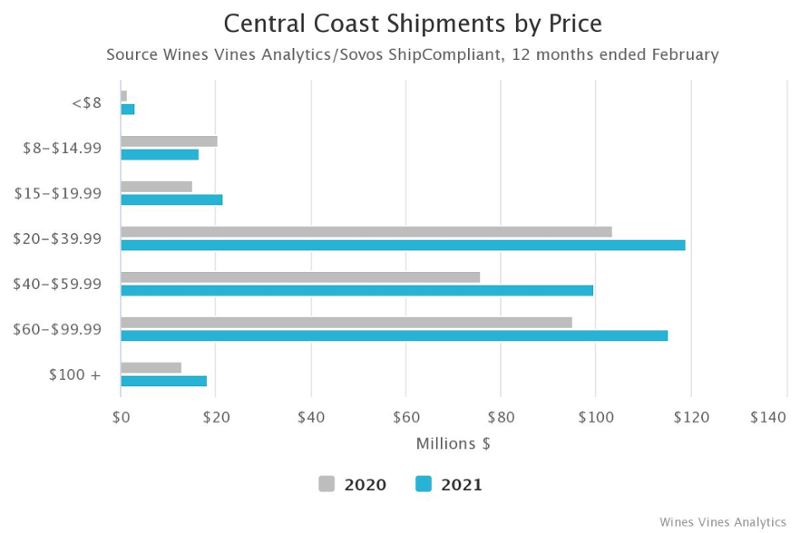 The Central Coast was the only major region to post significant gains in both the value and volume of winery direct-to-consumer shipments in the past year while also enjoying an increase in the average bottle price per shipment.
During the DTC surge of 2020, most regions saw their average bottle prices plummet as consumers bought more wine that was often lower in price than what's been typical. Based on data in the annual DTC report by Wines Vines Analytics and Sovos/ShipCompliant, the average bottle price for shipments from Sonoma County declined 10.3%, Napa County was down 8.6% and Oregon fell 2%.
The average bottle price for shipments from the Central Coast, however, grew by 1.6% to more than $34. That average price increase came with a 17% increase in shipment value to more than $382 million and shipment volume grew 15% to more than 935,000 cases in 2020. In the 12 months through February 2021, shipment value and volume were up 21% and 18% respectively.
Shipments by Central Coast wineries accounted for more than 10% of the $3.7 billion of wine sold DTC in 2020. Overall, the entire channel grew by 27% as homebound consumers purchased significantly more wine.
A panel of DTC experts will discuss how they navigated the new DTC market and what they think the coming year will bring at the upcoming Central Coast Insights show. Hosted by Wine Business Monthly, the half-day, online show features several sessions examining key issues for the Central Coast wine industry.
DTC proved to be a lifeline of crucial revenue with tasting rooms and the rest of the on-premise sector closed. The DTC panel includes Denner Vineyards general manager Carol Rounsaville, Adelaida Vineyards general manager Jude Radeski and Jennifer Warrington with the WISE Academy. The group will discuss what worked for them in 2020 and then delve into the key DTC trends for the rest of the year.
The Central Coast Insights event will also feature a keynote by WarRoom Cellars president Andrew Nelson who will be discussing his company's acquisition of Bonny Doon Vineyard and the mergers and acquisitions market in the Central Coast.
Turrentine Brokerage's Audra Cooper and William Goebel will provide an update on the bulk wine and grape market in the region. A session on the growth of e-commerce and how wineries are boosting their e-comm sales will feature Albertsons Companies beverage alcohol group vice president Curtis Mann, Presqu'ile Winery president Matt Murphy and Foxen Winery director of marketing Jenny Williamson Doré.
For more information or to register visit: https://na.eventscloud.com/website/4856/