CK Mondavi and Family Launches Color-Changing Labels to Celebrate 75th Anniversary
The thermochromic labels change color when the bottle is chilled and ready to drink.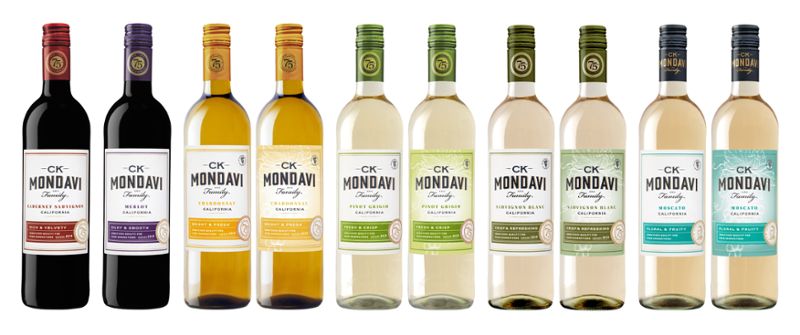 In celebration of its 75th anniversary, CK Mondavi and Family released a set of wines with thermochromic labels that use temperature-sensitive ink to change color as the bottle becomes colder. Once chilled to approximately 55 degrees Fahrenheit, the light, cream-colored labels transform into brighter hues—the Chardonnay turns orange, the Sauvignon Blanc and Pinot Grigio become different shades of green, and the Moscato to teal—and a new design appears in the background.
"We're always on the lookout for new ways to make our wines really pop at retail, and also give our fans even more reasons to reach for CK Mondavi and Family," said Riana Mondavi, a fourth-generation family member and director of chains, western region. "These color-changing labels really meet both needs. They stand out in cold-cases and are a really fun, interactive way of answering that question, 'What's the best temperature to serve this wine?'"
"You can look at your bottle across the room and see if you need to rechill it. If the color has changed, maybe it's getting a little warm," explained Randy Herron, winemaker at CK Mondavi. "It can tell you if you overchill the wine; it gets really dark. If it's not ready, you can pull it out of the fridge and see that it's not ready, that it maybe needs to sit another hour. It helps with some guidelines for what temperature you should taste at."
This is the same technology that Coors has used for more than a decade to turn its mountains blue, signifying the beer is cold—but the wine industry has been slow to adopt it. Treasury Wine Estates was the first wine brand to use temperature-sensitive ink in 2016 for its New Zealand-based brand Matua's Sauvignon Blanc and Rosé. On the label, a snowflake and the Ta Moko tribal symbol changed color.
Then in 2017, G3 Enterprises launched proprietary G INKs for wine capsules and labels. In addition to thermochromic ink, G3 launched photochromic ink (activated by exposure to UV or sunlight) and bichromic ink, which shifts colors when viewed from different angles. For the temperature-sensitive ink, the temperature at which the colors change can be customized by the brand.
CK Mondavi Family trialed the technology last year on its pink Moscato label, which naturally, turned pink. "We tested the technology on a limited release last year and the feedback was fantastic from trade and consumers," said Mondavi. "We wanted to evolve in a way to better attract the consumers who shop based on visuals. The thermochromic ink was a natural fit for the white wines because it's fun and celebratory, but also makes a small part of wine education approachable."
The 75th anniversary presented the perfect occasion for a wider launch and while the brand isn't actively advertising that the labels change colors (like with neckers, for instance), it stands to be a nice surprise when consumers take the bottle out of the fridge.
As for cost, Herron insists it's not a huge barrier, especially compared to other consumer-engaging labels like augmented reality. "It is a little more expensive, but it's not that bad," said Herron. "It's not like doubling the cost of the labels or anything like that, and if more people do it, pricing will probably come down."