Channel Shifting, E-Comm Power Global Off-Premise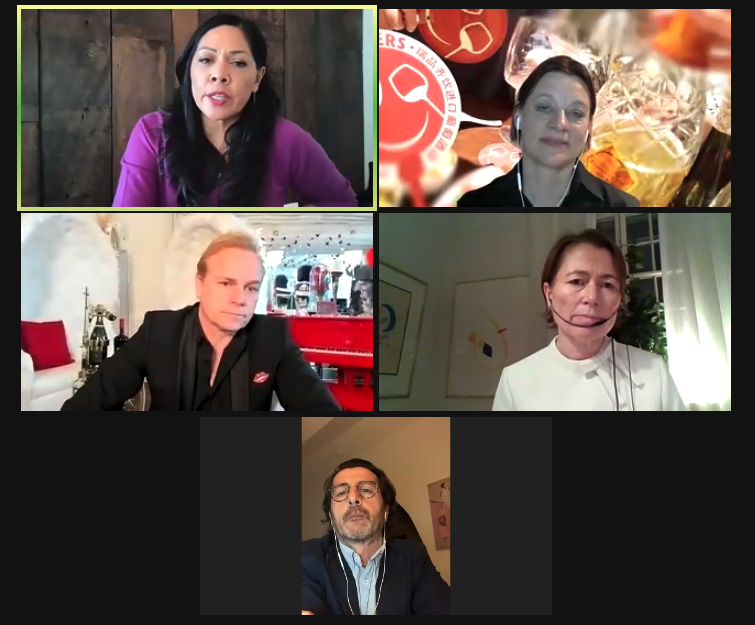 Similar to what played out in the U.S., wine consumers around the world shifted their wine spending to e-commerce and delivery as they stayed home because of the pandemic.
Leading wine retailers from Europe and China and a leading vintner from the United States all recounted seeing similar trends in demand during the past year and agreed social media and digital communications have been invaluable in maintaining consumer engagement while face-to-face business has been curtailed. Consumers also gravitated toward wines produced from their home nations or regions as well as sought out smaller producers through e-commerce channels.
The remarks on global trends in the off-premise channel came during a panel discussion of the global Wine Future conference that is being held online this week.
Annette Alvarez Peters, who recently retired from managing Costco's $2 billion wine program and was a 2020 recipient of Wine Business Monthly's Leadership Award, moderated the panel that included Claudia Masüger who immigrated from her native Switzerland to China in 2008 and has since established the Cheers line of wine retail stores.
She said the company had already integrated its operations with food delivery in 2019 as well as multiple apps to facilitate sales and delivery orders so it was well positioned for the pandemic related boom in online orders and delivery.
Orders come through online apps and are delivered within 20 minutes. She said some store owners have even taken to sleeping in their stores to facilitate orders 24 hours a day. "To conquer this new channel it was not easy," she said. "It was all about understanding and learning an algorithm and placing very specific advertisements at the right time."
Sales of product made in China, such as the nation's favorite liquor baijiu, have been through the roof and she said home cooking has also become newly popular. "That was a huge shift, that has never happened in China before now, the trend is people are staying at home, cooking at home and drinking at home," she said.
In Europe, Bernard de Raimond who is the head of buying for the German-based global wholesaler Metro said premiumization has been a driving trend followed by growing demand for local or "indigenous" products and white wines in general.
He said rosé wines have been particularly strong in Germany and other key markets although less so in France where they still account for about 31% of all sales. The wines of Champagne did not do well in the past year, losing market share to lower-priced sparkling wines from the world's other leading regions. He said half bottles and bag-in-box wines have also been selling quite well.
Sara Norell, vice president and director of purchasing for Systembolaget, which is Sweden's government-owned national chain of beverage alcohol retail stores, also said smaller bottle sizes and bag-in-box wines, especially at higher prices, have been selling strongly in Sweden.
Consumers in in the Nordic nation have also shifted their spending online as they have also been buying wines at higher-than-normal prices and getting them delivered. She said the shift to e-commerce has actually helped wineries producing at smaller volumes gain consumer awareness.
Helping to drive e-commerce sales around the world have been virtual tastings and other digital outreach, and Jean-Charles Boisset, president of the Boisset Collection that includes several wineries in the United States, said such efforts have paid off dramatically for his family's company.
Boisset has been hosting regular interviews with celebrities and top members of the wine trade and he said such outreach has helped the wine company maintain relations with existing customers and connect with new ones, especially younger people and social media influencers.
Online communication has also helped maintain and improve relations with the company's distribution and retail partners. "We've really engaged ourselves in a very powerful digital marketing campaign across all cylinders," he said. "I'm very bullish about this digital revolution and where it's taking us."