California Crushed 3.4 Million Tons of Wine Grapes in 2020
Napa Grape Prices Fall By 20 Percent -- Napa's Cab Crop Down 42 Percent
February 10, 2021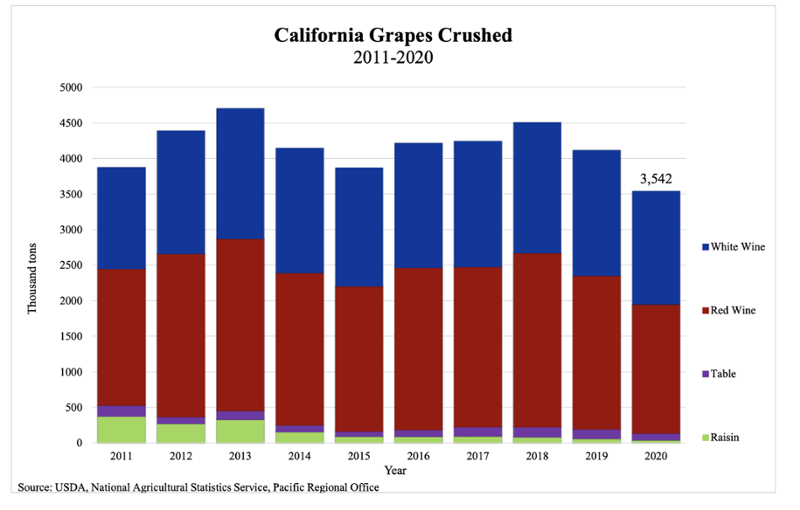 California Crushed 3.4 Million Tons of Wine Grapes in 2020
Napa Grape Prices Fall By 20 Percent – Napa's Cab Crop Down 42 Percent
In its preliminary crush report released today, the California Agricultural Statistics Service said 3.4 million tons of wine grapes were crushed in 2020, down nearly 13 percent when compared to 2019, and in line with industry expectations.
California Crushed about 3.9 Million Tons of winegrapes in 2019
CASS said the total crush including table grapes and raisin-type was 3,542,038 tons, down 13.9% from the 2019 crush of 4,115,413 tons. Red wine varieties accounted for the largest share of all grapes crushed, at 1,813,964 tons, down 15.9% from 2019. White wine varieties crushed totaled 1,590,335 tons, down 9.8% from 2019. Tons crushed of raisin type varieties totaled 42,425, down 30.5% from 2019, and tons crushed of table type varieties totaled 95,315, down 29.1% from 2019.
The 2020 average price of all varieties was $674.72, down 16.8% from 2019. Average prices for the 2020 crop by type were as follows: red wine grapes, $791.33, down 22.4% from 2019; white wine grapes, $554.74, down 5.9% from 2019.
Grapes produced in District 4 (Napa County) received the highest average price at $4,577.62 per ton, down 20.7% from 2019. District 3 (Sonoma and Marin counties) received the second highest average price at $2,417.48 per ton, down 15.1% from 2019.
The report indicates that in Napa, 46,903 tons of Cabernet Sauvignon was crushed compared to 81,810 tons in 2019, a 42 percent decrease.
It indicates that in Sonoma, 28,771 tons of Pinot Noir was crushed, down from 47,178 tons in 2019, a drop of 39 percent.
Check back for updates.