Interview: Corey Beck on one of the most challenging vintages in recent memory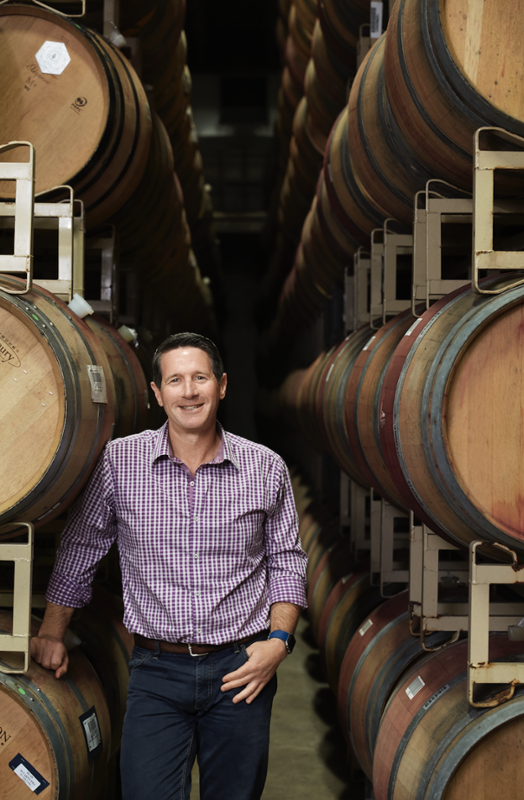 When the Coppola family purchased Chateau Souverain in Geyserville, Calif., in 2006, Corey Beck was tapped to be the new property's director of winemaking and general manager, helping to transform the property into a top destination for wine country tourists and film enthusiasts. Beck guided Francis Ford Coppola Winery into one of California's largest wine companies — it is regularly among Wine Business Monthly's Top 50 — and was promoted to the position of president in 2014, while also maintaining his role as director of winemaking. He was named CEO in 2016. In addition to his work at the winery, Beck is a past president of the Sonoma County Vintners, is active with several industry groups and has been named an industry leader by Wine Business Monthly.
Under Beck and Coppola's leadership, the company has been successful in the premium side of the business — Coppola restored the historic Inglenook name to his iconic Napa Valley winery, founded in Rutherford in 1879 — while its wines have also become a mainstay of grocery store shelves. The Coppola company purchased the former Geyser Peak production facility in 2013 and entered Oregon with its purchase of the Vista Hills winery in 2018 (since renamed Domaine de Broglie), the same year Beck was promoted to the position of CEO.
Beck spoke with the Wine Analytics Report in early December about the challenges of 2020 and the silver lining he sees in COVID-19-related disruptions.
Q: How did you handle one of the most challenging vintages in recent memory?
Corey Beck: Starting back in 2017, we had worked with all of our growers and encouraged them to get crop insurance. I think 95% of our growers have crop insurance, and it's great because it made our conversations in the vineyard a lot easier. We ended up roughly rejecting about 30% of our contracted fruit from different areas of California (about 4,000 tons in total), and most of it being on the coastal regions. What we left in the vineyard we knew had excessive levels of smoke taint that we did not want to bring to our consumer. The varietal that probably suffered the most would be Pinot Noir because it's thin-skinned and it's very transparent. It shows everything. For example, we didn't take any Russian River Pinot Noir, and that's the first time since 2005, when we started our Pinot program. Was it a difficult vintage? Absolutely. Did we, now more than ever, lean on our partnerships with our growers to make good decisions? Absolutely.
Q: Are you doing anything in the cellar now, either with oak chips or other remediation efforts, to try to mitigate any smoke contamination?
Beck: We definitely are. We've been working with a doctor that works at StaVin, named Dr. Jeff Murrell. Since the fires, he has been developing a polymer to treat smoke contamination, and we're one of 10 wineries that started off with him. It has been unbelievable. Without getting too much into it — because it's his proprietary knowledge — we are working with his lab on a real viable way to take smoke taint out without having to strip the wine or run it through a reverse osmosis machine or any of that. We are extremely encouraged by this.
Q: The consensus among experts appears to be that California's fire season is only going to get worse in coming years. If we then consider smoke and fire to be a risk of every vintage, what are you doing in the vineyard or cellar to mitigate that risk?
Beck: We've diversified our vineyard portfolio from the northern half of El Dorado County (in the Sierra Nevada foothills) all the way down to Santa Barbara County. At a larger scale of production that's probably the best thing you can do, is just diversify your vineyards. In the cellar, I really believe that we are onto something with this additive, this polymer that Jeff's group is working on. It's a game changer just as reverse osmosis was to high VAs (volatile acidity) back in the late '90s. If you are an estate, say a 50-acre vineyard in Napa Valley, in terms of what do you do in your vineyard? Honestly, there's not a whole lot you can do.
Q: This past year didn't just bring challenges in the vineyard, but a completely disrupted market. How have you navigated those challenges?
Beck: Before 2020, the U.S. wine market was relatively flat. As baby boomers move on and millennials come on, it was basically a one-for-one. Spirits have also been taking a little bit of our market share and also taking a portion of the beer share as well. We had already kind of been dipping into a little bit of a recession with wine. Then COVID hit, and for the restaurant sector it has been devastating. We're part of that. We have a restaurant here at the winery. We were closed 75 days, actually, and that doesn't include the most recent shut-downs. The restaurant business has been terribly hit. We were able to make up what we lost in the restaurant business for the increase in our off-premise sales through grocery. We're fortunate enough that we have a pretty trusted, iconic brand out there.
The other thing COVID has done (is) it has really gotten people — and when I say people, I mean younger consumers — drinking wine. Just think about the college kids, right? All of those kids out there who had to leave school in spring, and then for the most part start the fall semester or quarter at home. At a time when they would have been out drinking White Claw, or beer, they're locked in home with their parents. What do you do? You have wine with Mom and Dad. That is a story I have heard throughout the country.
Q: As the market moves into recovery, how do you expect wine to stay competitive in the overall market and specifically with products such as hard seltzers?
Beck: Prior to COVID, if you and I were to have this conversation, one of the first topics we would be discussing is, what is the hard seltzer business doing in the wine business? You can look at it two ways: "poor me," or focus on it taking a big bite out of beer. But the other way to look at it is, what could wine companies do to capture that hard seltzer drinker when they wanted to move on to something more flavorful? That's where, as an industry, we have gotten better and still need to get better. We're developing products right now that we've done in a can or even in a bottle where we're showing the caloric content, because health is top of mind for people in their concerns. We're wanting to make sure that we can capture the health aspect of it, but then give them something that's wine-based, and of course it's in a can. It's a Sauvignon Blanc that is 78 calories and with lower alcohol but completely dry with lots of flavor, and it's called Pool House and named after our beautiful pool. You also see this with the newfound love of 375s. The 375 market is really exploding. We just launched our Diamond Cabernet in a screw cap in a 375-ml bottle.
Scores aren't as important as they once were. They're still important if you're paying $200 a bottle, I get all of that. But for the most part, social media influencers are huge. And so how are the Gen Xers and Gen Zs getting their data? The content needs to be precise and let them know what we have to offer That's where we as an industry need to really look, and we can get better.
When I was growing up, it was the wine cooler Bartles & Jaymes (introduced in 1981), and that was something that got people who didn't really want a beer, right? But then, what was there when you wanted to move on from Bartles & Jaymes? Then Kendall-Jackson started their Chardonnay in the early '80s and, all of a sudden, they hit it. They hit those consumers, baby boomers that when they graduated from Bartles & Jaymes or those flavored drinks, Chardonnay was right there. That's what we need to do with the seltzers.
Q: Can you tell me more about the need for precise digital communication and how that has changed with the huge shift we've seen to e-commerce?
Beck: One of the things that we were able to do during this pandemic is partner with companies like wine.com. We did a virtual tasting, Francis was on one and I was on, and we had an hour with questions and answers, and I think they had 2,000 viewers. So that was 2,000 people that we would not have been able to connect with prior to something like this.
Drizly has been a big one with the home delivery. We've done a lot of work and continue to do a lot of work with them. It goes back to these younger, newer consumers, Gen Z specifically with their attention spans of eight seconds. I mean, think about it that way, an eight-second attention span. If that person is looking for a Cabernet online, and if you're not on that first page or screen, there's no way they're going to page two.
Q: Do you expect once things are, for lack of a better term, back to normal, consumers are still going to get wine delivered directly at the rates that they have been through 2020?
Beck: I think that number will slow a bit, because the growth rate has been unprecedented and a lot of it is where you literally can't leave your house. Right? But I think that moving forward with the consumer, it's the same kind of way that I think about massive office buildings and large cities. Do we really need all of those? You've seen companies already come out and say, "You know what? Moving forward, even after the pandemic, people that can work from home, they're going to work from home." And so I think that that's where that philosophy, that mindset, will not go away. Will it have the same growth rate? No, I don't believe that it will, but I still believe that there's going to be a large amount of people that will be getting their groceries, their things to them, at home because it's been made so easy.
Q: How about the company's strategy long term? Are you planning any acquisitions of brands, vineyards or wineries?
Beck: We're not into buying brands. Francis is into creating brands, so those have always been off the table. I think we've done a pretty decent job over the course of the years. Our last one was in 2018, when we bought Domaine de Broglie up in Oregon. So now we've got 43 acres of Pinot up there that we're working on and developing that brand, that domain. (We did not pick any Pinot Noir at our property in the Willamette Valley or Dundee Hills in 2020; they unfortunately got hit hard with smoke.)
Q: What are your thoughts on the coming year?
Beck: I think for the restaurant side of it, our heart goes out to everybody with that, and hopefully we can get back up and running as quickly as possible. Looking at the off-premise and the retail side of things, I do think that some of the roads that have been paved here during the last nine to 10 months have been good for them. Overall silver lining through COVID, I think that the wine business has benefited in some areas without question. More importantly, if you look at 2020, I think I'm going to go look back and say, "You know what, in 2020 we got better as an industry. We got better on learning how to market to the people who are buying online, because it forced us to do it." Right? Before it was like, Oh yeah, people will be buying online. Well, guess what? Tell them they can't leave their home, and then that's going to force them to do it. It forced us to do that. We also got better in the quality aspect of things with the fires. What we've learned in prior years and how we were able to react this year, our industry got better in that aspect as well. That's how I'm going to look at our industry when it's all said and done this year, and how we were able to put our one step forward here, not one step back.