DtC shipments rebound in December
January 26, 2021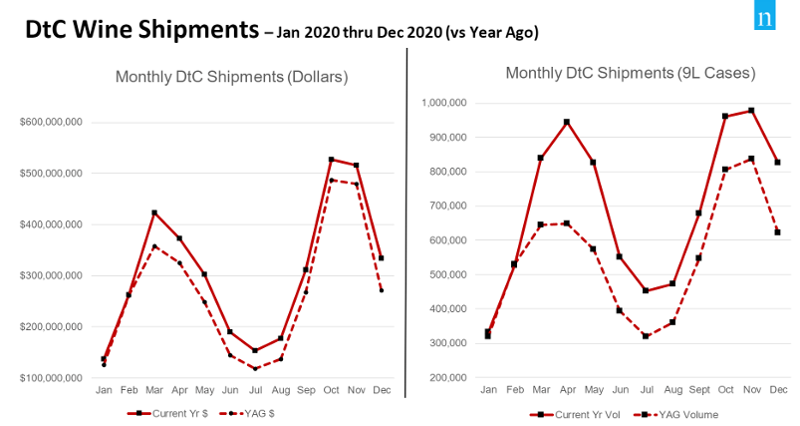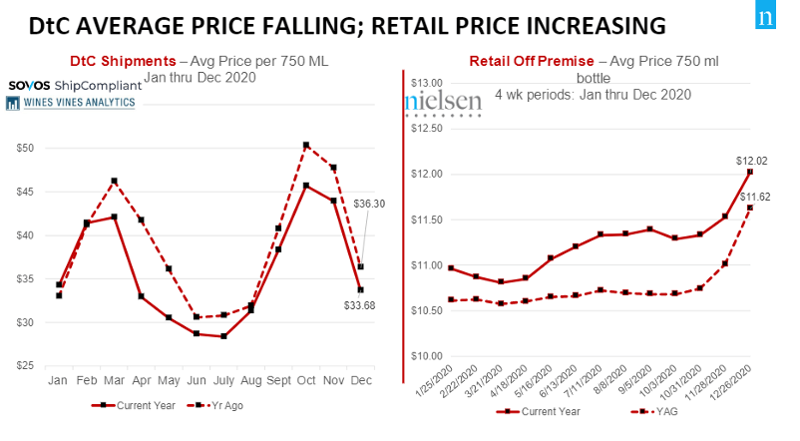 Winery direct-to-consumer (DTC) shipments and retail sales tracked by Nielsen ended 2020 significantly higher than the previous year although retail sales growth is slowing.
According to data by Nielsen, Wines Vines Analytics and Sovos/ShipCompliant sales in the two sectors accounted for more than 219 million cases worth $23.7 billion in the past year.
Compiled by market analyst Danny Brager the most recent data revealed December DTC shipments were up by more than 23% to $334 million. Off-premise sales in the month totaled more than $2 billion and sales growth compared to last year was 6.7%. Growth has slowed to single digits from a high of more than 34% in April.
"At the same time, all price tiers north of $11 continued to grow by double digit levels, so dollar growth is still outpacing volume growth," Brager noted in his report. "Off premise premiumization is alive and well."
Other findings by Brager in the most recent data include:
DtC shipments had a rebound in December, with year-over-year growth increasing 23.3% in value and 32.9% in volume.
Large wineries, those producing more than 500,000 cases annually, continued to have the lowest average price per bottle among DTC shipments and the highest growth.
Limited-production wineries, producing 1,000 or less cases annually, also saw increases, though their average price per bottle significantly decreased.
Among off-premise retail sales, Napa County and Oregon led regional growth and Sauvignon Blanc and Rosé were the two most popular varietals.
The data is part of a new joint report that provides a comprehensive look at the off-premise market. The complete report includes more details such as sales by price tier, varietals, winery location and market location. For more information, contact Danny Brager at danny.brager@nielsen.com