Donniella Winchell Receives the Richard Smith Distinguished Service Award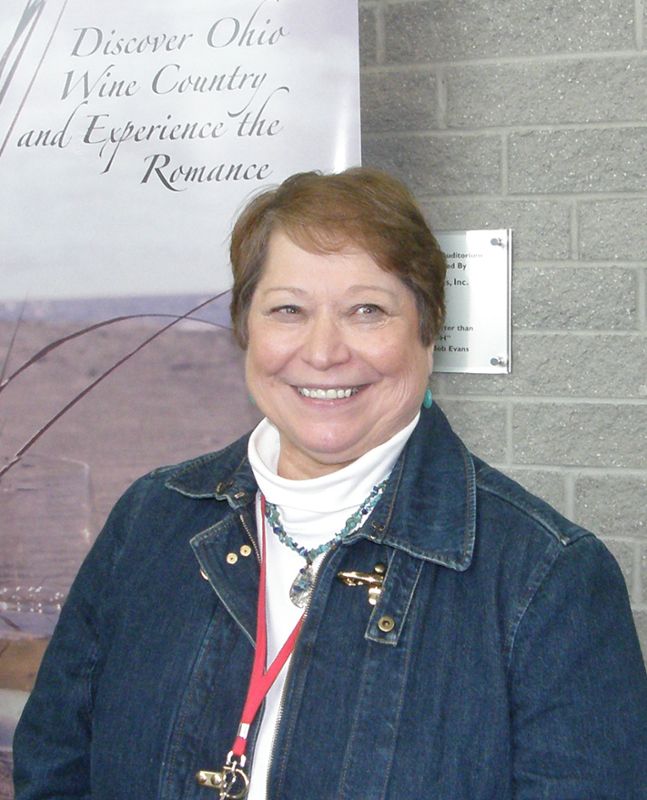 Zoom meetings have become an essential means of conducting events that in previous years have been held in person. That was the case for the presentation of the fifth-annual Richard Smith Distinguished Service Award to Donniella "Donnie" Winchell, executive director of the Ohio Wine Producers Association (OWPA) on January 19. Claudia Alexander Smith, Rich Smith's wife, made the surprise announcement virtually on behalf of the Smith family, the National Grape Research Alliance, WineAmerica, and the Winegrape Growers of America. After that announcement, Winchell's brother, Tony Debevc, owner of Debonne Vineyards in Madison, Ohio and the first chairman of WineAmerica, presented Winchell with the award plaque in person.
In her introduction of Winchell, Smith commented that she and her husband had first met Winchell at a WineAmerica meeting in Washington, DC and had been very impressed by this lady talking about her tiny industry in Ohio. "It was just unbelievable the ideas you had, the enthusiasm you had, involving the legislature and everything! Then we went to Ashtabula [Ohio] and we were just blown away to see what tasting rooms in Ohio were doing." Smith said. She also noted that there were three characteristics of her husband that are the elements of this award: collaboration, passion and commitment. "That's you, Donnie!" she exclaimed.
At that point, Debevc arrived with the Rich Smith plaque. Winchell responded, "Oh my goodness, thank you so much! I say this all the time – my Dad didn't speak English until he was in the second grade; we're an ethnic family, we're Slovenians, and I was the first to go to college. When I left, Dad said, 'Make sure you find a job you really like, and you'll never go to work.' That's what he did with his vineyard." And that is the way Winchell has felt about her job as executive director of the OWPA.
Winchell's career in the wine industry began in 1978 when she was offered the position of part-time executive secretary with OWPA. The organization was established in 1975 and, three years later, it had thirteen members and a budget of $700. They gave her a salary of $3.00 an hour for six hours per month and purchased a used copy machine for $50. Her office was her dining room table, where she revised the OWPA brochure, lined up publicity contacts, and started a communications program both to reach out to the public and to locate grape growers who were interested in opening a winery. Her goal was to find growers who might be interested in being involved in an organization where everyone could share their ideas. By 1984 the association had grown in size and increased its budget, and Winchell was hired as the full-time executive director.
The focus of the OWPA has always been on promotion of the Ohio wine industry, and Winchell developed a strong public relations program. Initially the association conducted hundreds of small wine tastings at service clubs and churches, and in 1995 Winchell started Vintage Ohio, one of the early wine festivals. She always believed that good ideas are worth sharing and, in 2004, she launched the first License to Steal marketing conference. A committee from seven states arranged the program and about 100 people attended. For the last several years, the License to Steal National Marketing Conference has been held in conjunction with the Eastern Winery Exposition.
Winchell is the past chair of the WineAmerica State and Regional Associations Advisory Council. She has served on the boards of the Winegrape Growers of America, the Ohio Travel Association, and the Ashtabula County Convention and Visitors Bureau, as well as on the Ohio Division of Travel and Tourism Advisory Committee. She was elected to the Ohio Wine Wall of Fame in 2002. In addition, Winchell is an adjunct professor at Kent State Ashtabula where she teaches marketing and wine industry-related courses. She writes a weekly wine newspaper column, speaks regularly at regional and national wine and tourism conferences and has contributed to several national wine publications.
The Richard Smith Distinguished Service Award for major contributions to the American grape and wine industry was established five years ago by WineAmerica along with co-sponsors the Winegrape Growers of America and the National Grape Research Alliance. The late Richard Smith and his wife Claudia Alexander Smith were the founders and co-owners of Smith Family Wines and Vineyards in the Monterey region of California. He was an active member of all three sponsoring organizations and was known for his passion for the winegrowing industry, his commitment to enhance its future and for collaboration with colleagues to achieve that goal.
All three organizations and the Smith family submit nominations for the next Rich Smith Distinguished Service Award and then, together with the previous winners, make the final selection. It is not required that the recipient be associated with any of the three organizations, just that he or she has made major contributions to the American grape and wine industry while demonstrating qualities consistent with Rich Smith's memory.
Previous Rich Smith awards have been presented to the following individuals:
2017 - John Martini, Anthony Road Wine Co., Penn Yan, NY
2018 - Pete Downs, Family Winemakers of Calif.
2019 - Jerry Lohr, J. Lohr Vineyards and Wines, Paso Robles, CA
2020 - Jim Trezise, WineAmerica