Preliminary Estimates Indicate Sonoma Pinot Hit Hardest by Smoke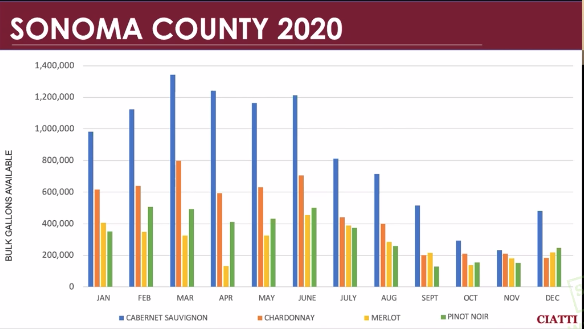 Estimates of the total tons picked in 2020 show what many in the North Coast feared; Sonoma County's Pinot Noir crop appears to have suffered the most.
According to preliminary estimates by the grape and wine brokerage firm Ciatti, the 2020 Sonoma County harvest of Pinot Noir came to roughly 30,000 tons which would be 36% less than in 2019 and just half of what was picked in the bumper harvest of 2018.
While Merlot and Zinfandel may see losses of around 50% compared to 2019, those two varieties account for far fewer tons, which also sell for significantly less than Pinot. Based on the average-price-per ton paid in 2019, the smoke from 2020 may have caused more than $66 million in losses from just the Pinot crop.
Sonoma County's other top variety, Cabernet Sauvignon, appears to have done much better with an estimated crop of 38,000 tons that would be 17% less than in 2019.
Ciatti partner Glenn Proctor shared the estimates during the annual Dollars & Sense forum hosted online by the Sonoma County Winegrowers. Proctor, who owns Puccioni Vineyard, is also a member of the winegrowers' board of directors.
In all, the smoke of 2020 appears to have cost California between 165,000 tons and 325,000 tons. Ciatti is estimating the entire state crop will come in at around 3.35 million tons, which would be the lightest crop since 2011. Losses in just the North Coast are expected to range from 100,000 tons to 200,000 tons. A more definitive picture of the losses won't form until the state releases the preliminary crush report in February.
Rejections from smoke damage resulted in a run on 2018 and 2019 vintage bulk wine that has brought that side of the market much closer to balance. The increased demand also raised prices for bulk wine, but Proctor said there is only so much room for price growth as this wine is destinated for off-premise brands sold primarily through grocery stores. As grocery store brands are expected to continue to see strong demand through the first half of 2021, while the on-premise market remains severely disrupted, Proctor said some brands are moving supply from coastal regions to the interior and California appellation grapes.
Growers should "cast a wide net" to find a buyer for the upcoming vintage and urged them to work closely with wineries to secure a deal. "You really want to look at your options and talk to a lot of people," he said. "Both wineries and growers need to work together."