Grapes, Wine and Smoke Taint: How to deal with the ashtray in your grapes or bottles
The fires that occurred over the past several years in California and other western states have driven home the message that growers and winemakers need to understand how to grow grapes and make wine in a fire-prone environment as this situation is not likely to change any time soon. Fortunately, there are academic research institutions that are working on fire- and smoke-related issues, and there are several companies that have invested heavily in developing treatments for remediation of the smoke taint caused by the fires. These companies offer a variety of processes or amendments that will remove most of the offending smoke taint compounds.
There is not one simple process to accomplish this goal as the mitigation of smoke taint involves a lot of compound physical separations, as well as chemical reactions. Winemakers will need to evaluate their own wines and possibly test those wines with the products or services offered by more than one of these companies.
The wine industry in this country can be grateful that the Australian Wine Research Institute (AWRI) began to investigate this problem almost 20 years ago after large-scale fires occurred in Australia in 2001. More recently, several research institutions in the United States, such as the University of California at Davis, and a number of wine industry companies, including Winesecrets, Enartis, Conetech and VA Filtration, have been working to increase our understanding of the effect of smoke taint on grapes and wine and focusing on the potential remediation methods that could mitigate those problems.
Sensory Thresholds of Smoke Exposure
The challenge is to determine how to remove certain compounds to some level, others completely while, at the same time, leaving others in place that must be retained. For example, many toasted oak flavors rely on the presence of some of these compounds at very low levels. With a history of classic heavily toasted oak in wines that many wine drinkers do enjoy, we must thread the needle to retain those compounds or replace those barreling conditions after removal of the primary offending flavor/aroma profile otherwise found in an ashtray or cigarette disposal unit.
Therefore, the first fact that needs to be evaluated is the threshold level of the primary compounds that comprise a tainted aroma and/or flavor. While not complete, Table 1 shows the threshold of some of the smoky-type compounds that can affect a wine. It is not surprising that the bad-acting compounds are familiar. Some are the same as those found in Brettanomyces infections in wines, which complicate much of the hedonistic evaluation at the lower levels of fire damage.
An AWRI study found that consumers by a wide margin disliked smoke-tainted wine (see Figure 1). Depending on the degree of smoke, one might get away with the cliché "the solution to pollution is dilution."1 However, only 6.25 percent of a tainted Pinot Noir Rosé was all that could be added before strong negative reactions were reported. The study noted that those most sensitive to these aromas were on the younger side and reacted more adversely to these aromas and flavors. On the other side of the spectrum, 21 percent of tasters had little or no reaction to smoke taint, and a significant percentage of these consumers were long-term wine consumers.
Studies such as this one from AWRI present the difficulties the wine industry must face when trying to mitigate the effects of wildfires on grape quality and the resulting wine. There are a number of measures that several companies offer, covering the gamut from removal of offending compounds from the vine before and after harvest, before and after fermentation, as well as process systems for removal of the offending compounds. These techniques and processes will be discussed later in this article.
Smoke taint compounds can be found in the wine environment at widely varying levels on a somewhat regular basis and can enter the winemaking process through multiple pathways. For example, guaiacols can come not only from smoke, but from spoilage yeast and from other pathways through metabolic breakdown products. It is important that all growers and winemakers have an understanding of the baseline levels of these compounds so when something doesn't smell or taste right, there is a basis for action.
The Department of Enology at the University of California, Davis recently published a baseline investigation of the smoke taint compounds in wine.2 They analyzed the ratio of free and total guaiacol levels and presented the changes in the ratios over the course of five years. The free guaiacol levels increased in the bottle over that time (see Figure 2). The guaiacol converted from the non-aromatic glycosylated form into free guaiacol. This information indicates that even if free guaiacols are initially removed to low levels prior to bottling, there can still be bound compounds present in the wine. If smoke had been present, even at low levels, natural acid hydrolysis can change smoke taint from non-aromatic versions, rising above threshold once converted into the aromatic-free versions later in the aging of the wine.
The Tainted Pathway to Wine
There are many paths where the compounds produced by fires get onto and into grapes on the vines or transfer the compounds from the grapes' exterior to the crushed juice. The degree to which this happens has a lot to do with the physiological and phenological status of the vines that are in contact with the smoke taint compounds.
Smoky-type compounds can affect vines at different growth stages, but the potential for uptake by the plant increases significantly as veraison progresses (see Table 2). These smoke taint compounds can be toxic to vines; and if they are present during veraison, the chances for the compounds to enter the vine are significant. To protect itself from toxicity, the vine sequesters the compounds in one to seven days by creating a glycosylated compound.3 The vine simply adds a sugar-type molecule to the offending compound, and that turns it into an innocuous, non-aromatic version. Thus, early season fires can deposit significant ash that can lay dormant until veraison. At that point, the ash can possibly be presented to vines in the fall and get adsorbed into the plant. If unchecked, the compounds can lurk in the wine until the winemaker adds a glycosylase enzyme to release terpenes (as in Sauvignon Blanc), only to create a smoky wine because the smoke taint compounds use the same pathway. The probability of this scenario reaching organoleptically detectible levels is not high. However, this demonstrates that winemakers need to be aware of the potential problems that may arise.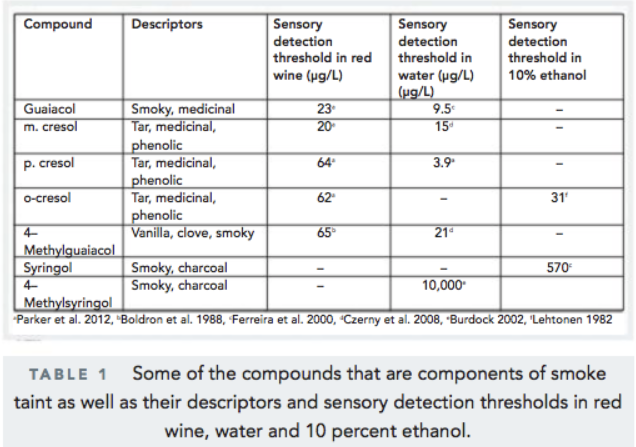 Every vineyardist should go to the AWRI site to review their evaluation procedures for post-fire damage control in their vineyards. That site has detailed information to help growers determine triage for resurrecting a vineyard after a fire. For example, there are steps that can be utilized to evaluate when re-succoring of a trunk partially damaged by fire is possible or if only leaves were damaged. There is also good information about evaluating the signs that a vineyard needs replanting versus those that need significant tender loving care but without the added cost of a replant.
Taint Analysis
Knowing the degree of a problem before grapes are converted into wine is certainly an important part of the management of smoke-tainted wine. For many growers and winemakers, it is not a viable option due to cost, analysis availability, and the decision whether to save the grapes in some way or dump them. The latter decision is the hardest choice as it happens after all the work and cost have been put into the vineyard.
This year, vineyards that had escaped the fires but were close enough to have potential smoke damage were desperate to determine the cost/benefit ratio of harvest. Wineries wanted to know if they should accept the grapes. Wine laboratories are overworked during harvest even in normal years; add on the devastation from the fires this season and it is not surprising that the analytical backlog was significant, on the order of several weeks. UC Davis stepped up and added some extra capacity that was greatly appreciated by the industry, but the need for lab analyses remained high. Some growers and winemakers even contacted laboratories on the East Coast, including mine, to find out if anyone had the analyses available to test for possible smoke taint. The greatest difficulty was getting the appropriate suite of analytical procedures that would correctly provide test results to give the grape grower and the winemaker information about the degree of smoke damage in a timely fashion.
The equipment used to analyze these compounds is some of the most sophisticated analytical tools available, and they come with a price tag to match their sophistication. The cost of these tests is substantial, starting at $150/sample and going up to $250. After years of experimentation and procedure development, companies such as ETS have developed packages of test analyses that return results of both free and bound forms of smoke taint compounds. The analytical backlog for these tests was so extreme that other companies, such as the international laboratory Eurofin, some universities, including UC Davis, and the California Division of Forestry provided services to help deal with the analysis problem.
If a winery can afford the analysis and finds a lab that can do that analysis in a reasonable timeframe, the results will provide a map for possible wine production from affected grapes. However, this is not absolutely necessary–if the grapes are otherwise in good shape.
Minimizing and Removing Smoke Taint
No winemaker wants to make wines that smell or taste like an ashtray, either now or for release in three or four years. On the other hand, no one wants to lose a vintage with otherwise good quality wine that can be saved. Every effort should be taken to minimize the damage caused by fires so the tainted wine can more readily be saved as commercial wine. Fortunately, there is more than one tool available to remove active taint molecules. The triage of smoke-tainted wine involves many steps that can be modified, depending on severity, crop value and expediency of saving the basic wine.
The first group of remediation techniques starts in the vineyard. Every effort should be made to minimize any potentially collateral sources of smoke-affected material. In some cases, Kaolin has been applied to grapes to adsorb smoke taint.5 MOG must be reduced to its absolute minimum. Hand-harvesting should be implemented on knowingly affected grapes, which will maximize skin integrity. AWRI has found that cooled fruit reduces the extraction of smoke-related compounds in the wine, with the target of 10°C (50°F), which was much better than 25°C (77°F).
Once the fruit gets to the winery, there is a whole host of things that the winery can do to minimize and remove smoke compounds. These include different fermentation protocols, separation of fractions, amendments and physical removal of the compounds with equipment.
Finally, those wines with minimal smoke taint can undergo some blending trials, and the resulting wines can be moved into the rapid-sale category. Quick turnover is important since it has been shown that smoke aromas and flavors can increase in organoleptic presentation over time.
Winemakers' Dilemma
Fires present some difficult processing decisions for winemakers. Out of the thousands of compounds that are in wine, there are less than 100 that cause the problems that the fires have laid at our cellar door. The general compound types that evoke smoke taint character, unfortunately, have similar structural elements to compounds winemakers like and want to keep. Whereas this problem is not going to be simple or easy to solve, wine quality demands that it be done.
Glycosides are very common in wine and provide a reservoir of non-aromatic compounds that can release free aromatic compounds and a sugar moite [PW1] over time. Ordinarily, this is a great process and gives wine vitality and a longer life. If the free volatile compound does not release appropriately fresh floral aromas, the wine will not be acceptable.
Unfortunately for winemakers, the grape plant uses its defense system to sequester offending compounds, such as the free aromatic phenols from smoke, so they won't become toxic to the plant.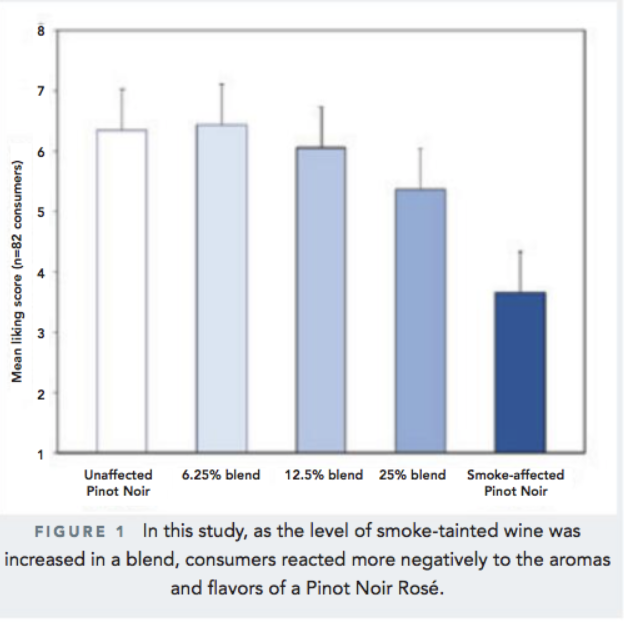 Fermentation Alternatives to Minimize Smoke Taint
One of the simple ways to determine the degree of taint, if any, is to conduct small lot fermentations two weeks prior to expected harvest if there has been any possibility of smoke taint being present. This will provide immediate information about the free volatile phenols in the wine and give sample material for analysis. This technique can also set in motion fermentation strategies for the best mitigation of the taint.
Wines suspected of smoke taint can be processed in several different ways, depending on the degree of potential taint. One of the first treatments is to determine the maximum degree of the wine's exposure. As noted above, the vines may have sequestered smoke taint compounds, but these types of compounds slowly break that bond as the wine ages and, in two to five years, can make the wine smell like a smoky ashtray.
Continue Reading "Grapes, Wine and Smoke Taint: How to deal with the ashtray in your grapes or bottles," in the January 2021 Wine Business Monthly
by Richard Carey
Richard Carey is a wine consultant based in Lancaster, PA, and writes articles for WBM on winemaking practices, challenges, new equipment and laboratory analyses. After receiving his Ph.D. from the University of California Riverside, he opened his first winery in San Leandro, CA, in 1977. He was research enologist at Fresno State University, founded Vitis Research, Inc. to help wineries solve various winemaking problems, and was Illinois state enologist for two years. Richard now offers assistance to Mid-Atlantic wineries both in getting started and learning to make wine, and in improving their wine quality. He also provides laboratory services.