Just in Time Just Isn't Enough: COVID-19 Crisis Strains Supply Chain
Longer Lead Times, Higher Transport Rates, Occasional Disruptions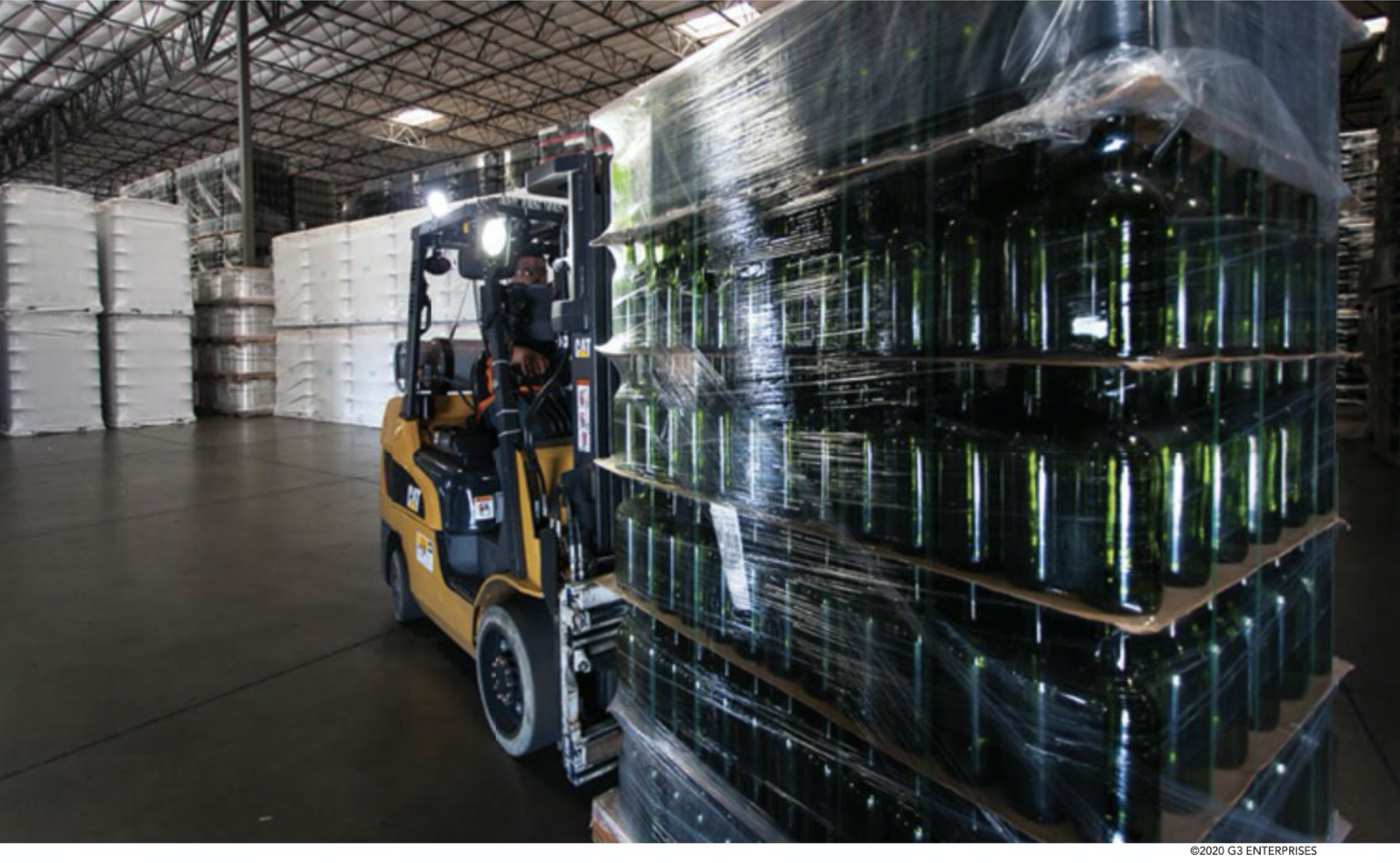 THE WORLD CHANGED IN 2020, affecting the global logistics and supply chain that drives wine and wine related businesses—including shipments of everything from bottles, to boxes and winery equipment— and
hampering fulfillment houses that send out direct-to-consumer shipments. Because of the massive shift to online e-commerce sales, FedEx, UPS and other common carriers grew swamped. Shipping and trucking rates surged
with more demand for trucks than trucks or truckers available. COVID-19-related manufacturing shutdowns caused ripple effects. There were delays at ports and with customs officials. The global ebb and flow of shipping containers was thrown out of whack in the wake of the Trump administration's punitive tariffs on Chinese goods and was further exacerbated by the COVID-19 crisis, which caused additional delays on containers at the ports.
Suppliers adjusted. They were able to meet increased demand while also navigating new workplace protocols and safety strategies. However, many wine industry suppliers reported that they continue to struggle to engage existing customers and new business due to limited in-person exposure. There have been hiccups, but most wine businesses say they've avoided major disruptions.

Overall, the supply chain performed. The big takeaway: Wineries need to plan further ahead in a business environment that's difficult to plan for.

Glass Market Challenging

Shipping and COVID-19-related supply shortages have been most acute when it comes to procuring wine bottles. Creating the glass bottles is already a complex process, and it requires demand planning on the vendor's part
for inventory management. There are six domestic producers and suppliers have limitations on what glass molds they are going to run, based upon customer needs. In some cases, glass was oversold; plants were maxed out on capacity, and one of the big domestic plants had taken some production offline to rebuild a furnace. On top of that, COVID-19 restrictions made it more challenging for suppliers to adjust production runs.

Glass factories typically run at capacity but when there were COVID-19 cases, they were forced to shut down temporarily, affecting manufacturing ability. This occurred as the mass-market wine companies ramped up full throttle to accommodate the pantry-loading surge; and also as demand for 187s for the airline industry waned and demand for larger formats, such as 1.5-liter bottles, surged.
In general, major glass manufacturers do not hold millions of bottles in anticipation of a sale to an unknown buyer. Bottles are produced "just-in-time." If a plant goes down for eight days, the production of those bottles can't be made up. "Every glass supplier around the world has had varying degrees of minor issues but we've made it through," Kathy Brooks, regional vice president and general manager for TricorBraun WinePak, a distributor sourcing glass from the U.S., Mexico, South America, Europe and China, told Wine Business Monthly (WBM). "If you're a winery, the most important thing is communication and flexibility."

Anti-Dumping Duties on Chinese Glass Reversed

Chinese glass was already subject to a 25 percent tariff set by the Trump administration when the American Glass Packaging Coalition (led by Anchor Glass and Ardagh) filed a petition in 2019 that alleged the U.S. glass industry was injured by imports of government-subsidized glass from China, priced at less than fair value. The petition led to the U.S. government enacting additional countervailing, as well as anti-dumping, duties to protect American glass manufacturers and raise the price of Chinese bottles—used by many U.S. wineries and other industries. With additional duties pushing costs on Chinese glass up nearly 65 percent, vendors and customers using Chinese glass made contingency plans. But in October 2020, the anti-dumping duties were invalidated by the International Trade Commission. It remains to be seen if the 25 percent tariffs enacted by the Trump administration will continue under a Biden administration.

International Shipping Chaos

A disruption in the global flow of shipping containers caused by the COVID-19 crisis resulted in an extreme shortage of equipment at origin ports, exacerbating the issues and preventing carriers from meeting transportation demands.

hipping companies told customers that because of increasing demand in trans-Pacific trade routes, they were experiencing delays and service interruptions. With a severe lack of equipment and space onboard vessels, as well
as increased demand, carriers continued to accept bookings with a caveat: "subject to roll," which meant a possibility of delays. Shipping firms worked with carriers to secure equipment and space to minimize delays but, like everyone else, remained under pressure to effectively cope with, and manage, staff illnesses, quarantines and social distancing.

Shipping Costs Out of China More Than Doubled for Each Container

Ships were awaiting berths at major ports. At WBM's deadline, 17 cargo vessels were anchored near the Los Angeles and Long Beach ports waiting for space, according to the Marine Exchange of Southern California. Lars Jensen, chief planner of services for Maersk Line, the world's biggest container ship operator, was quoted in the Financial Times as saying a "perfect storm" was created by rising demand, and reduced capacity.
"This is going to take months to sort out," Erica Harrop, owner of Global Package in Napa, California said. "People think it's because of the coronavirus. It's the fact that there was no international flow of traffic, because of duties and tariffs." Air freight costs also skyrocketed because fewer jets were flying. On top of that, dozens of trans-Pacific freighter and cargo-only flights scheduled to arrive in Los Angeles were canceled in December because of a COVID-19 outbreak.
Not Enough Truck Drivers
Trucking companies have a driver shortage. The average driver is about 50 and many drivers opted for early retirement or careers outside of trucking this year because of COVID-19-related health concerns. The Journal of Commerce reported that the number of truck drivers at carriers with up to 100 trucks fell by more than 150,000 between July and October 2020, a 4.4 percent decline. The transportation market for all products is seriously impacted with increased costs and increased delays, with some suffering more than others.
"The industry has learned from this reality and adjusted by placing their orders earlier than they normally would in the past," G3 Enterprises' vice president of sales, Mihailo Panovich, said. "Yet some markets, like corrugated boxes, PET, and glass, are more tightly constrained. In these instances, constant communication has been the key to success."
Preemptive Ordering
Panovich added that, early in the crisis, uncertainty was a primary motivator driving fear-based purchasing. "For our suppliers, this translated into an initial wave of orders for corks, metal, paper and plastic. No one knew what the impact would be from the pandemic or how long it would last, so the industry's first instinct was
to protect against the possibility of a supplier shutdown," Panovich said.
Continue Reading "Just in Time Just Isn't Enough: COVID-19 Crisis Strains Supply Chain,"
in the January 2021' Wine Business Monthly