2020 Wine Industry Merger & Acquisition Review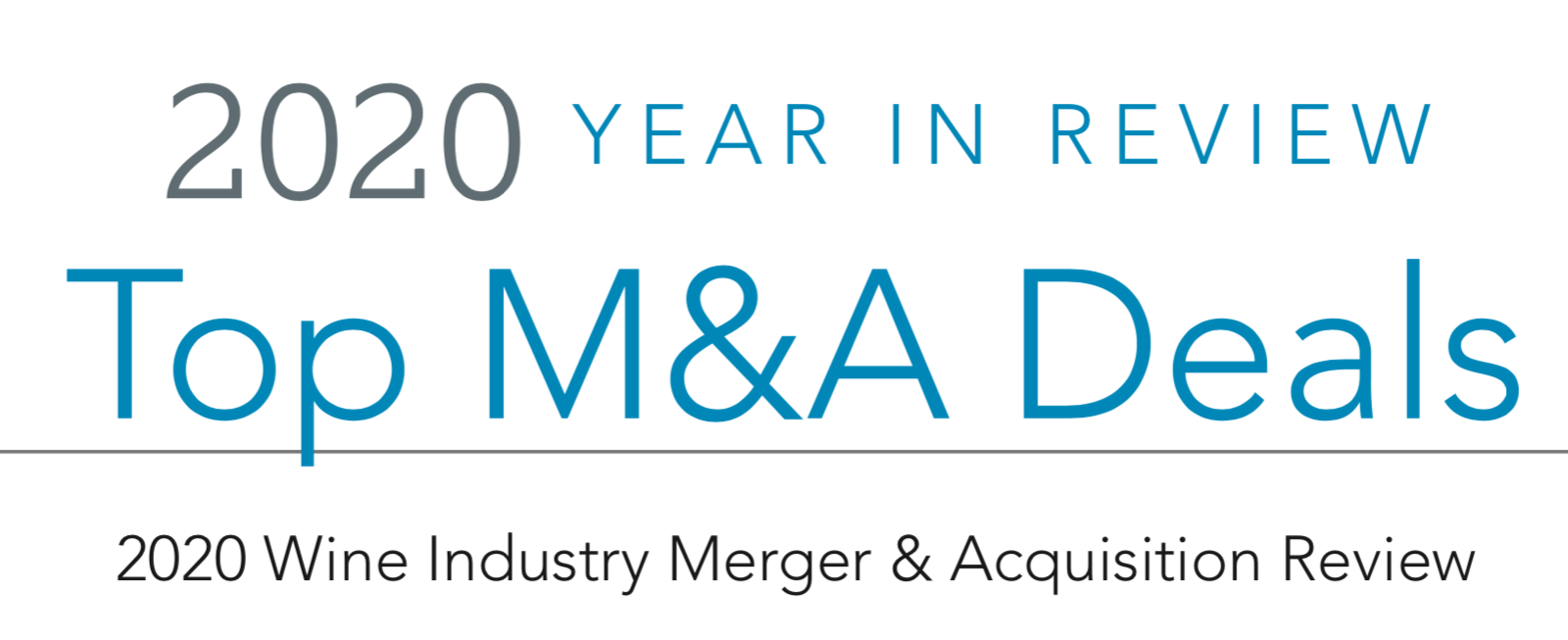 LOOKING BACK to the beginning of 2020, any discussion of the greater U.S. economy would have centered on escalating tariffs threatening to upend a record period of economic expansion. Similarly, the wine industry was facing its own set of troubling, but not terribly acute, market trends: declining per capita consumption, market share attrition to alternative alcohol segments, and a growing backlog of wine inventories compounded by significant oversupply in the grape and bulk wine market. Today, the most pressing challenges facing the wine industry are very different. The impact of the coronavirus pandemic, as well as a devastating year of wildfires across the West Coast, have shaped a dramatically different industry landscape. As we enter the fourth quarter of 2020, it is clear that uncertainties related to COVID-19 will persist into 2021, dictating where and how wine will be able to reach consumers. Robust wine sales within the three-tier system suggest that wineries, retailers, and consumers have adapted well to the initial shock, while wine's relevance has only grown during the pandemic. Yet, lasting damage has likely occurred to the restaurant industry and on-premise wine sales, particularly as some purchase activity may have moved to direct channels for good. The wildfires of 2020, meanwhile, have largely erased oversupply concerns within the grape market but in doing so created a whole different set of operational and supply issues to contend with.
With respect to industry merger and acquisition activity, there is a clear demarcation between pre- and post-COVID-19 activity. Operational disruptions, travel restrictions, and a heightened sense of general uncertainty has had a notable cooling effect in 2020, particularly as producers pause to consider how a post-pandemic environment may look different. The following is an account of 2020's most notable deals, the key trends that have shaped them, and our best guesses for what lies ahead.
Undoubtably the headline transaction of 2020, and one of the last to close before pandemic lockdowns went into effect, was Maison Louis Roederer's acquisition of Diamond Creek Vineyards in March. This acquisition of one of Napa Valley's most iconic and highly coveted legacy brands continued an ongoing trend of French investments in U.S luxury wine brands. Founded by Al and Boots Brounstein in 1968, Diamond Creek Vineyards is perhaps Napa Valley's most storied and acclaimed winery. The acquisition of Diamond Creek Vineyards provided the French Champagne producer with a cult-status Napa Valley Cabernet Sauvignon brand that has worldwide recognition despite its annual production of less than 3,000 cases. This is the second California investment in quick succession for Roederer, following its purchase of Sonoma County Pinot Noir specialist Merry Edwards in 2019.
As is often the case in transactions involving rarified cult status wine brands, the decision to sell Diamond Creek Vineyards emanated from a longstanding relationship between the two family owned organizations and a natural transition point for the brand following the passing of Boots Brounstein earlier in 2019. Given the marquee nature of the brand, it is unsurprising that not even an unprecedented global public health epidemic was able to derail the transaction.
Pre-COVID:
Healthy Portfolio-Building

By the time "shelter-in-place" orders were issued across much of the U.S. in March, the wine industry was otherwise well into what was shaping up to be an active year in sale transactions. Ongoing portfolio-building initiatives among mid- and large- sized wine companies, as well as a strong desire for luxury assets from foreign buyers, contributed to a relatively robust M&A market at the outset of the year.
In the first high-profile transaction of the year, Santa Cruz-based Bonny Doon Vineyard sold a majority interest to San Luis Obispo-based WarRoom Ventures. The sale capped off a series of successful transactions for founder/ winemaker Randall Grahm, whose previous divestures included the sale of the Big House and Cardinal Zin brands to The Wine Group in 2006.
2020 saw another long-term wine producer take a proverbial "second bite of the apple" when WX Brands acquired the Niven Family Wine Estates brand portfolio, including the True Myth, Tangent, Baileyana and Zocker wine brands in January. Anchored by a fast-growing True Myth Cabernet Sauvignon program, the approximately 120,000-case portfolio was the second major brand divesture for the Niven family in less than a decade. They had previously sold their interest in Edna Valley Vineyard & Winery to Gallo in 2011. For WX Brands, the acquisition filled a critical portfolio gap at the $15+ per bottle Cabernet Sauvignon category.
One transaction that largely flew under the radar was the sale of the Valley of the Moon winery to Sonoma's Bundschu family at the end of February. The deal included the historic Glen Ellen winery and vineyards but excluded the Valley of the Moon and Lake Sonoma brands. For the Bundschu family, the acquisition was a strategic fit that will provide signif- icant production capacity for Gundlach-Bundschu, as well as a hospitality center for the recently launched Abbot's Passage brand.
Continue Reading The 2020 Wine Industry Merger & Acquisition Review in the December Wine Business Monthly.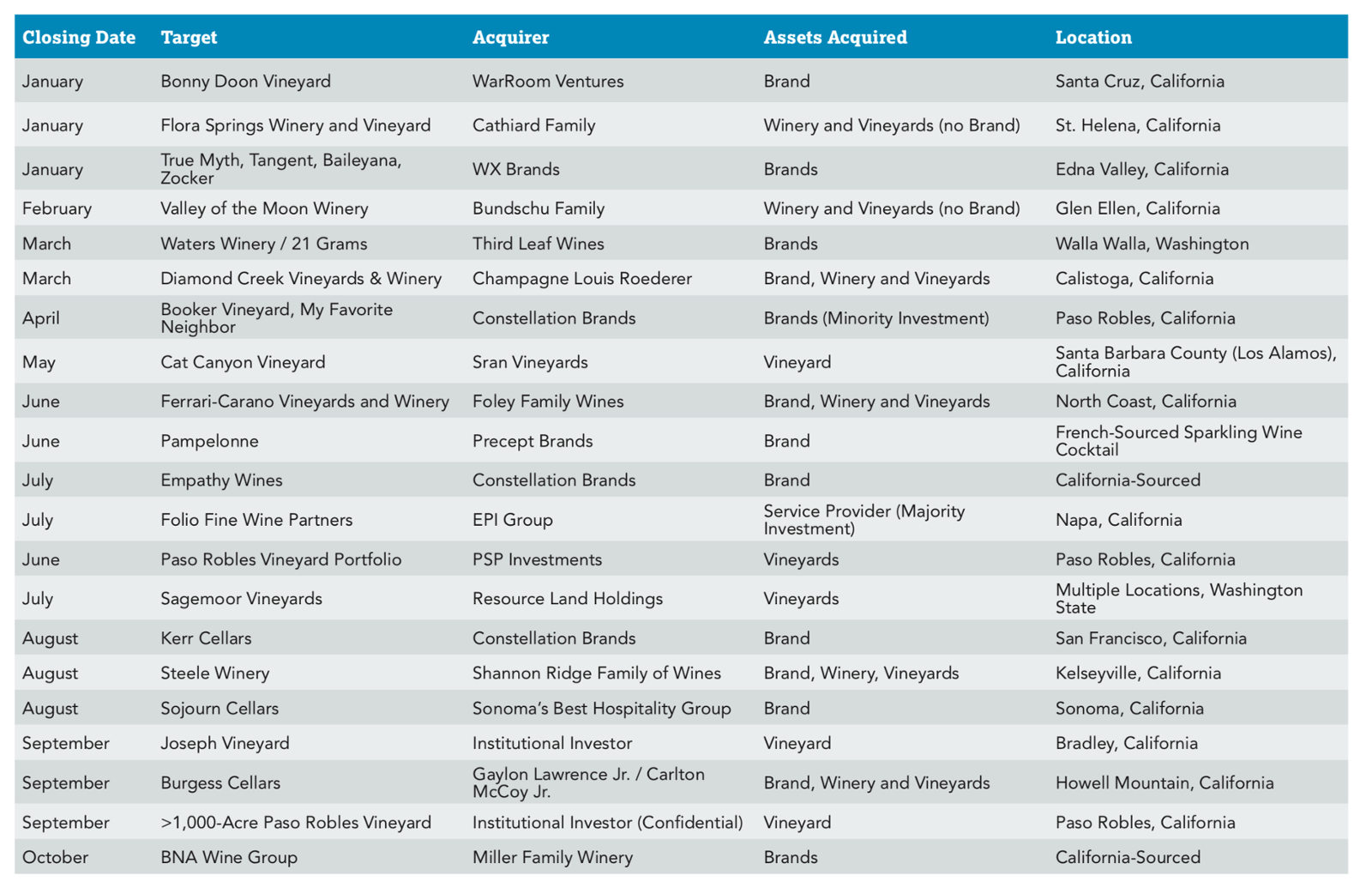 by Cody Jennings, Zepponi & Company
Zepponi & Company is a leading global mergers and acquisitions advisory firm that is dedi- cated to the beverage alcohol industry, and has been the most active advisor in the North American wine sector. The firm has served as the financial advisor on numerous transactions involving ultra-premium and luxury wine brands, estates and vineyards, such as Diamond Creek Vineyard, Pahlmeyer, Ransom Wine & Spirits, Orin Swift, Meiomi, Patz & Hall, Kenwood Vineyards, Penner-Ash, Siduri, WillaKenzie Estate and Stagecoach Vineyard. Zepponi & Company has advised some of the industry's largest beverage alcohol companies, including Constellation Brands, Ste. Michelle Wine Estates, Diageo, Jackson Family Wines, F. Korbel & Bros. and King Estate. The firm has offices in Santa Rosa, California and Portland, Oregon. For more information, please visit www.zepponi.com.