Delicato files trademark lawsuit against a backpack manufacturer over the name "BOTA"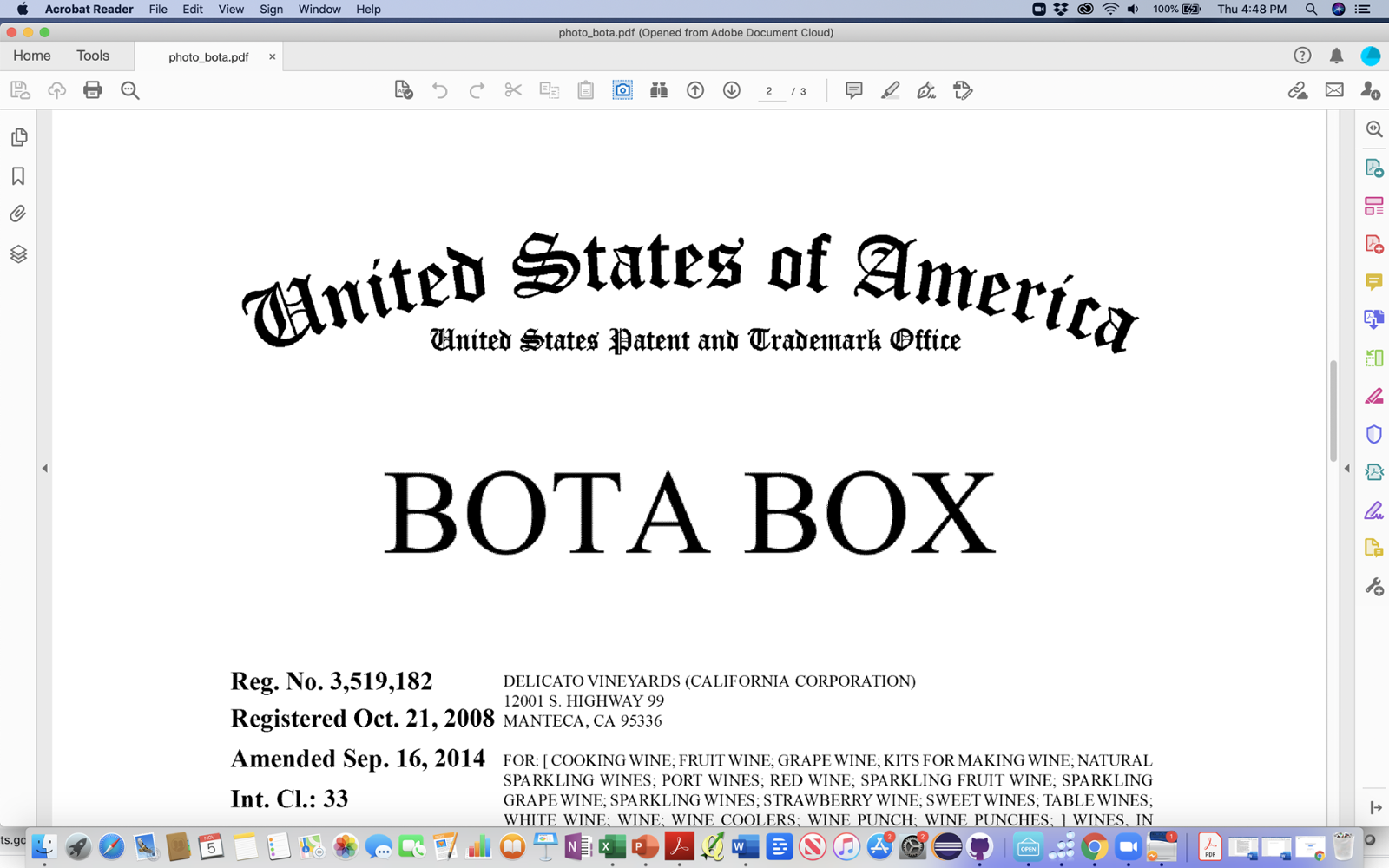 Delicato has filed a trademark lawsuit against a backpack manufacturer over the use of the name "BOTA," according to a federal complaint.
Delicato alleges that the South San Francisco company, BOTA Backpack, is using a name that is confusingly similar to Delicato's "BOTA" wine, according to the complaint filed Oct. 30 in U.S. District Court for the Northern District of California.
Delicato, a family-owned company based in Manteca, Calif., produces more than 5 million cases of BOTA-branded wines every year in the US and internationally, according to the complaint. Delicato has owned the marks "BOTA", "BOTA Box, "BOTA Mini," "BOTA Brick."
The defendants, Alexa Cohn, Katie Barry and Andrew Cohn received in November 2019 their patent for "BOTA Backpack". The company, which promotes its "BOTA" backpacks on social media platforms, produced bags that carry "hydrating fluids," but not alcoholic beverages, according to its trademark registration.
BOTA Backpack has described itself as a company "created for women, by women," according to a 2018 kickstarter.com campaign.
Delicato said in its complaint the public associates "BOTA" with the wine company. "As a result of Delicato's long, continuous, extensive and exclusive use of the BOTA Marks, as well as its marketing, promotion, and sale of products under the marks, the relevant public has come to recognize the BOTA Marks as identifying products that originate from or are otherwise associated exclusively with Delicato," according to the complaint. "Delicato has spent enormous time, effort, and expense to create valuable goodwill in the BOTA Marks."
In a letter sent in May, Delicato urged BOTA Backpack's owners to rebrand their bags, noting that the products sold under the mark "BOTA" were listed as "sold out" on the company's website, according to a letter Delicato filed in federal court.
"Please understand that Delicato's intent is not to disrupt your business," according to Delicato's letter dated May 5, 2020.
BOTA Backpack's various bags and accessories sold through its website botabackpack.com, were still "sold out" this week, according to the company's website.
Delicato noted the company's "social awareness," citing BOTA Backpack's work on the Safe Water Campaign in partnership with water.org as well as for its "socially conscious products," according to the letter.
"Delicato shares BB's commitment to social responsibility and we take great pride in our culture of high standards, ethical integrity, and community service," the document stated.
But in the meantime, Delicato plans to pursue the case, noting among other points in a written statement that BOTA BOX is the "leader in premium 3 L box wine," according to a written statement sent to Wine Business Monthly.
"We have made several earnest attempts to amicably resolve the trademark infringement matter with the owners of the BOTA Backpack beverage backpack but have been unable to do so to date. To further protect Delicato and the BOTA® franchise trademark, Delicato is pursuing legal action against BOTA BACKPACK's trademark infringement through the federal court system," the Delicato spokesperson said.
BOTA Backpack could not be reached to comment on the case.