Sparkling Wine Sales Stay Strong Through Pandemic
The past decade has seen a surge in U.S. sparkling wine production, with 614 domestic producers today versus just 477 in 2010. While the number has pulled back from a peak of 625 in 2018, sparkling wine sales have continued to increase.
Scan data from Nielsen off-premise outlets show domestic sparkling wine sales in the 52 weeks ended Sept. 5 exceeding $789 million, up nearly 12% from a year ago. Growth accelerated during the COVID-19 pandemic, notwithstanding concerns that no one was feeling particularly bubbly during the initial lockdown period.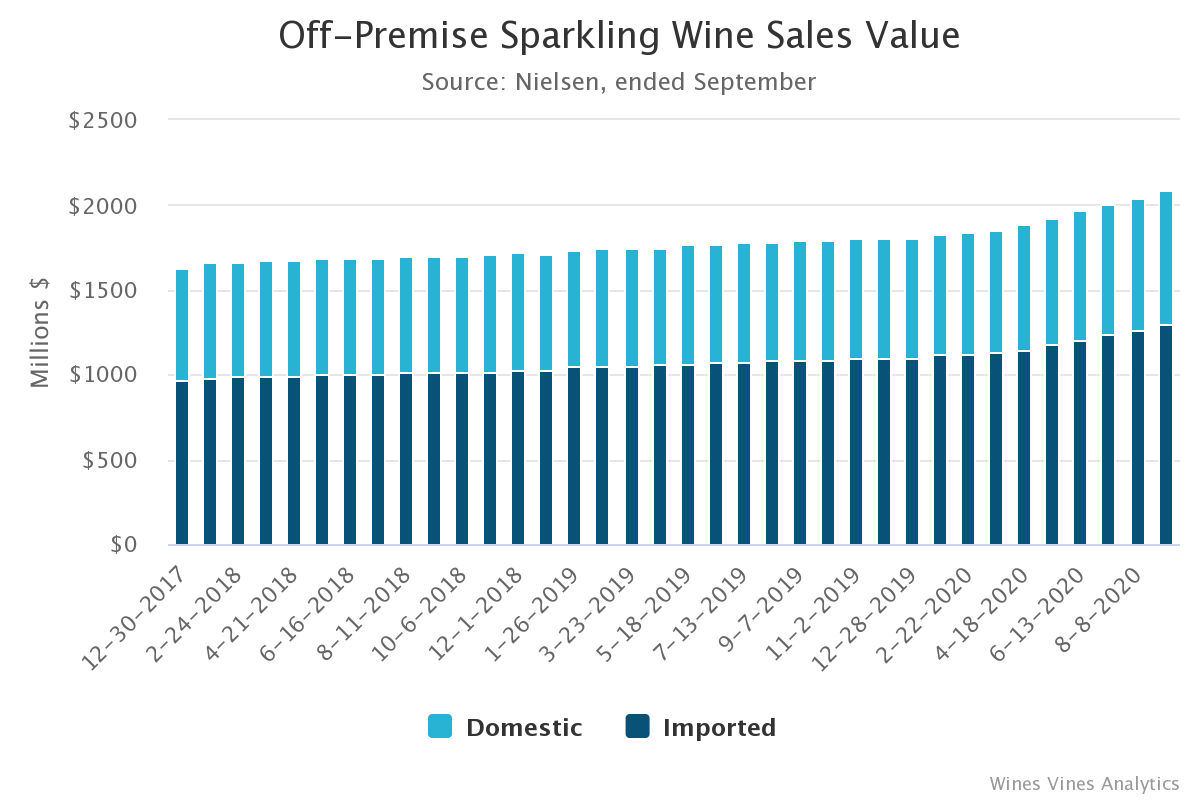 While sparkling wines have enjoyed stronger growth than table wines in recent years, albeit off a smaller base, the recent uptick in growth reflects a mix of phenomena. One is common to all wines: on-premise closures in response to COVID-19, which has shifted consumer spending to off-premise outlets. Nielsen CGA data indicate a drop of nearly 27% in on-premise sales of sparkling wines in the 52 weeks ended Aug. 8, a period that saw a corresponding increase of 11% in off-premise sales. Despite many sparkling wines being available in smaller formats suitable for takeaway service, including cans, the breadth of on-premise closures has been a significant negative impact.
Meanwhile, the increase in the number of domestic producers parallels the rise of alternative sparkling beverages, notably hard seltzers and wine-based cocktails. The latter, with sales worth $216 million — just over a tenth of the $2 billion in sparkling wine (domestic and imported) sold in the period — saw 93% growth in the period and has consistently posted growth in excess of 100% throughout the pandemic.
People may not be feeling bubbly, but they want some bubbles in their lives.
"Amid established routine, consumers are looking for ways to make each day stand out," said Margie Healy, vice president, communications with Korbel Champagne Cellars in Guerneville, Calif., which produces around 1.5 million cases and is one of the state's oldest and best-known sparkling producers. "Consumers do want to celebrate, albeit in a different way."
While the bottomless mimosas that were a standard pre-pandemic brunch option are off the table (for now), consumers are still looking for sparkle on their menus. Korbel, with broad distribution at off-premise outlets, fits the bill. "Shoppers are spending less time in the store browsing and are gravitating towards brands that they know and trust," Healy said.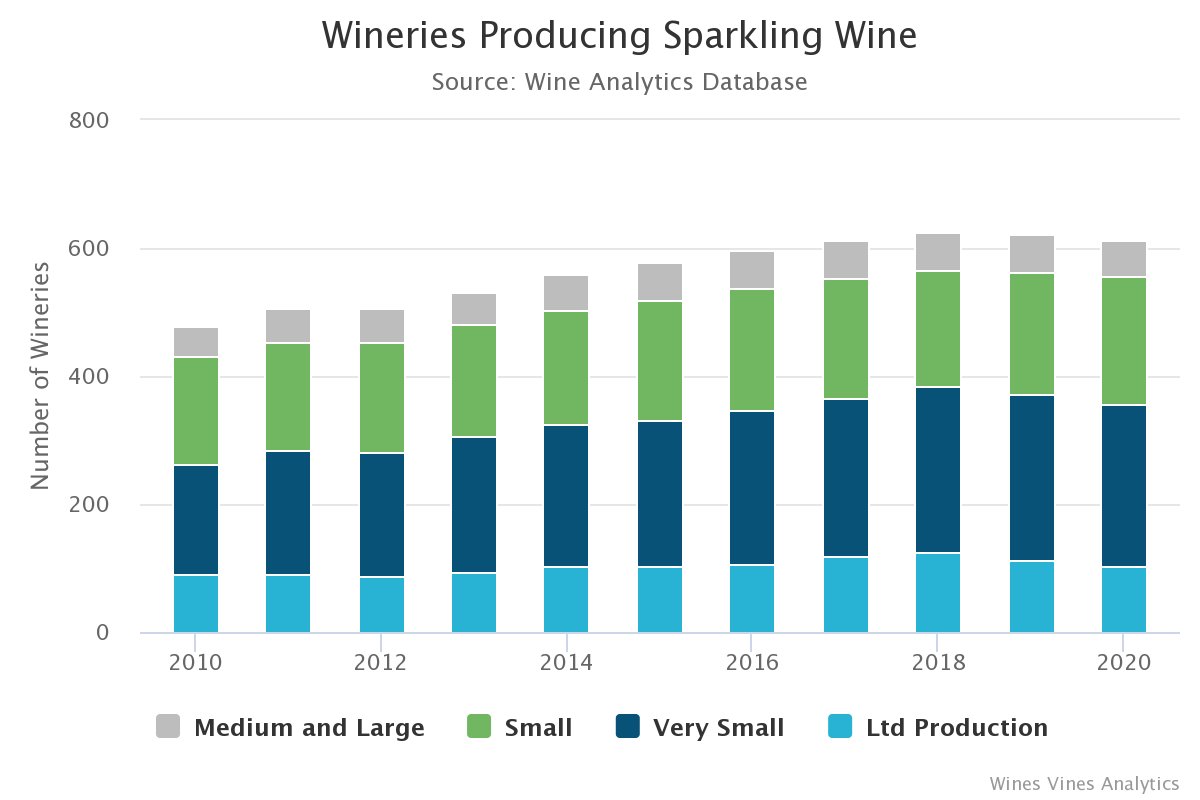 According to the the Wine Analytics Database, smaller wineries account for the largest number of domestic sparkling wine producers. Wineries producing 1,000 to 4,999 cases annually account for 42% of sparkling wine producers, while producers of 5,000 to 49,999 cases annually comprise the sole segment where the number of sparkling producers continues to increase.
One of those small wineries is Treveri Cellars in Wapato, Wash., which produces 30,000 cases annually. While production has been stable, winemaker and senior vice president of sales Christian Grieb said uptake has changed dramatically in recent months. "We have had huge channel shifts," he said. "We used to do about 50% of our wholesale business through restaurants. That sits at around 10% today." Retail sales have surged 50%, however, helping make up the difference.
The curtailment of on-premise activity, particularly at tasting rooms in Yakima County — which ranked among the counties hardest-hit by COVID-19 on the West Coast, and certainly in wine country — also forced Treveri to get creative in terms of reaching out to consumers. This is where direct-to-consumer sales have come into play. "Our DtC numbers have increased marginally year over year," Grieb said, noting that outreach to past consumers and incoming orders via their website contributed to the boost. He looks forward to once again being able to engage directly with buyers, however, because wine is a sensory product and shows best when people can experience it directly.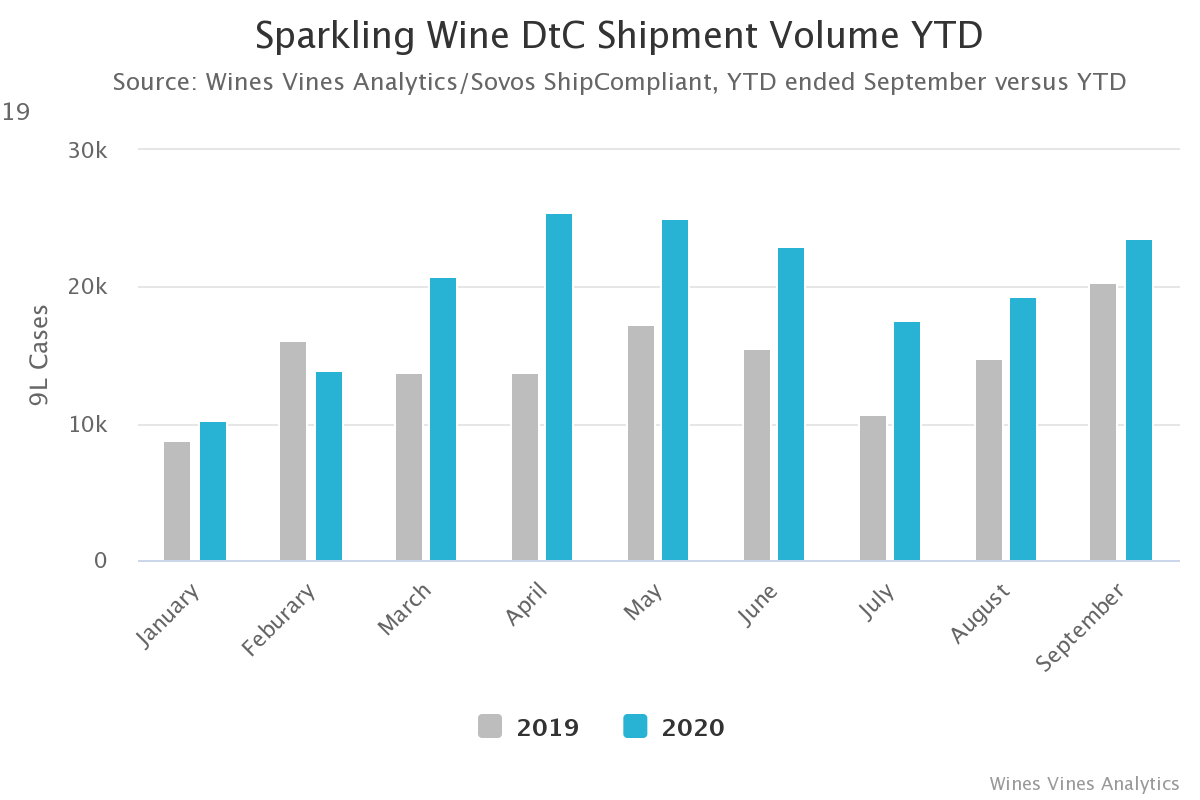 Napa County's Domaine Carneros, with annual production of 60,000 cases, suffered a sharp loss from on-premise closures, but off-premise sales of its sparkling wines rose more than 21%. It also benefitted from a well-established e-commerce platform and phone sales, which were up 99% over last year from March through September. "Our focus starting in March was to meet the customer where they were — quarantined, and unable to have a tasting experience at Domaine Carneros," said Phoebe Ullberg, the winery's director of marketing. "We shifted our messaging and our offerings to include retail products tailored to sheltering in place."
This article first appeared in the October edition of the Wine Analytics Report. https://wineanalyticsreport.com/report/direct-to-consumer-wine-sales/