Pandemic Planning -- Wineries Cut Costs, Some Change Benefits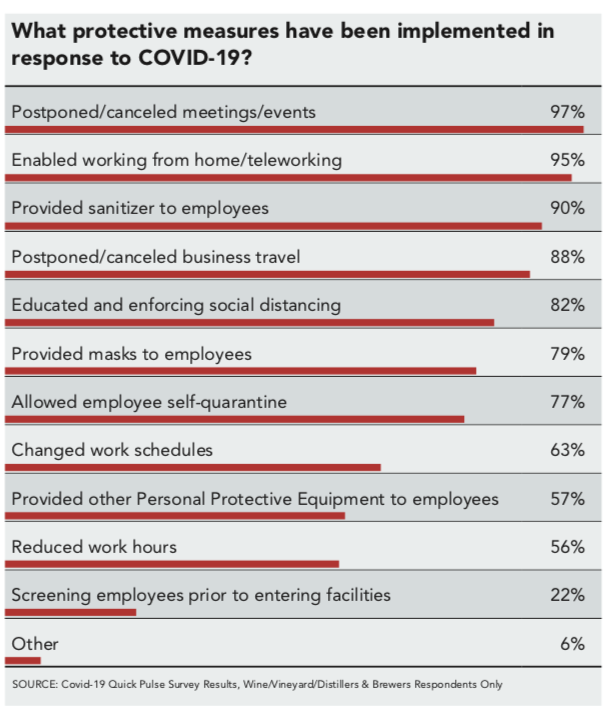 In a survey looking at how 100 wineries—including some large wineries—were responding to the Covid-19 crisis, 93 percent said more of their employees have been working at home since physical distancing measures began.
While 81 percent of these wineries said no employees have become infected with the coronavirus, 7 percent said they don't know if any have been infected and 7 percent said some number of employees have been infected.
The survey was conducted by Western Management Group.
Twenty percent of respondents said they've implemented some sort of COVID-19 hazard pay for employees while 13 percent said it's under consideration.
More than half of these wineries—56 percent—said they've implemented cost reductions of some sort because of business deterioration caused by the crisis, and 22 percent said they're considering cost reductions. Within the group of wineries that said they implemented cost reductions, 80 percent said they postponed or cancelled hiring.
About a quarter of the wineries surveyed said they either have enacted changes to the benefits they offer employees or are considering doing so. Seventeen percent said they'd already changed benefits (within that rela- tively small group of 17 percent, 80 percent changed sick leave or paid time off policy; 54 percent made changes to medical insurance policies; and 64 percent changed leave of absence policies).

From the 2020 Wine Industry Salary Survey Report in the October 2020 Wine Business Montly.

Continue reading the October 2020 Wine Business Montly.