The Gender Pay Gap: How The Wine Industry Stacks Up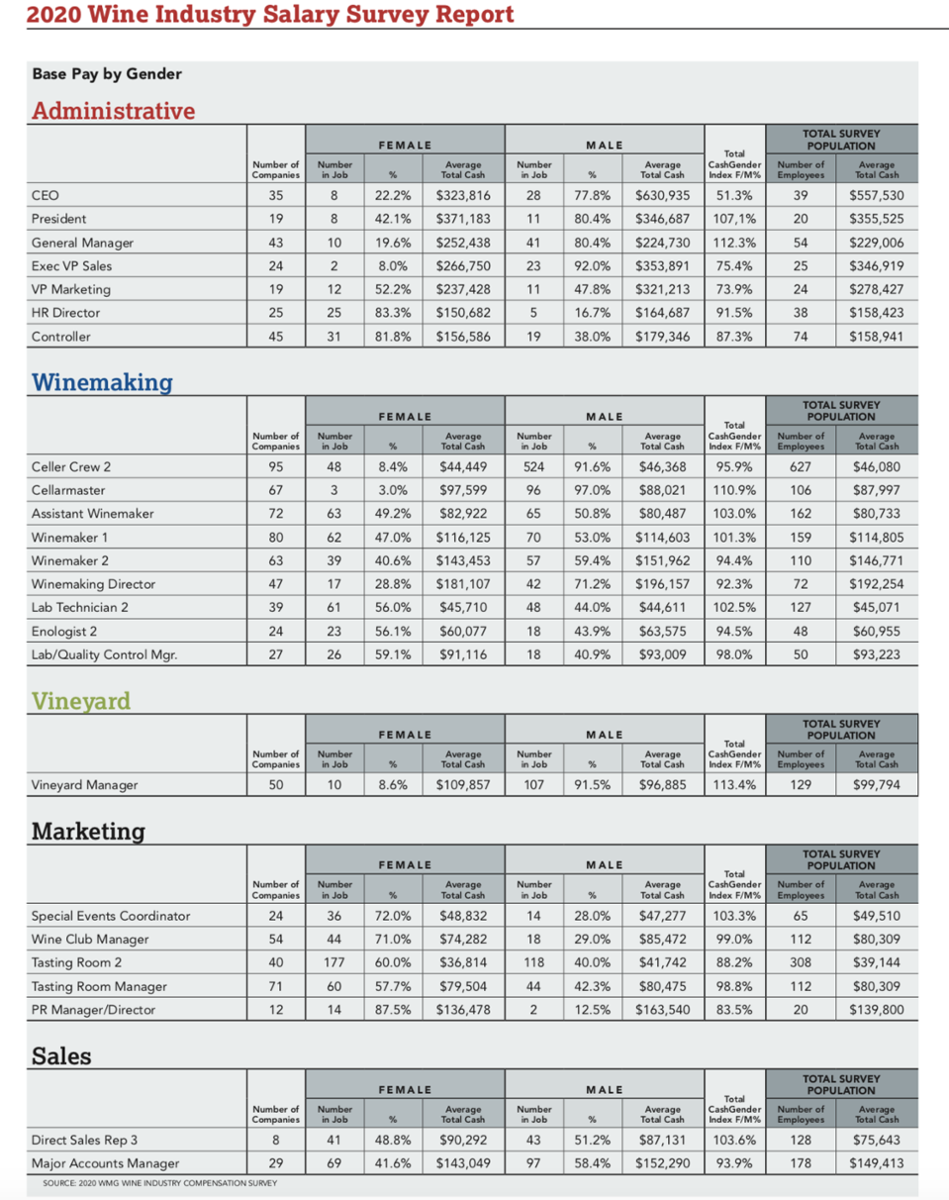 It's well known that working women in the United States are paid less than working men. There's a large body of research about the gender pay gap, or the difference in earnings between women and men. The gap varies and can be calculated in several ways, including by occupation, industry, region or ethnicity. Some reports talk about "adjusted wage gaps" that consider factors such as education or age. Estimates based on 2019 U.S. Census data indicate women who hold full-time, year-round jobs, on average, make 82 cents for every dollar paid to men.
What does the gap look like when it comes to the U.S. wine business?
Donna Bowman, survey director at Western Management Group, has looked at the gender pay gap across a wide range of industries, including high technology, telecommunications, pharmaceuticals, aerospace, financial services, media, entertainment and more. "Wine has the best looking chart of anybody," she said. "It's almost comparable pay. They're really doing a good job as an industry to make sure the pay is comparable. There's still room for improvement, but the wine industry is always a star performer."
Women who hold full-time, year-round jobs in the wine business make 96 cents for every dollar paid to men, according to Western Management Group, compared to an average of 90 cents on a dollar across all industries Western Management Group covers.
That said, pay varies considerably by position, as does the ratio of men to women that are employed in a given job category.
When it comes to vineyard managers, for instance, there are 10 men for every woman and the data shows women make as much, if not more.
In the case of winery chief executives, data indicates women make roughly half what men make, but men make up nearly 80 percent of chief executives, and the sample size is limited (8 women and 28 men).
For the position of winery president, the data indicates women on average earn slightly more than men do. The titles "president" and "CEO" are sometimes used interchangeably, however, and the nomenclature can be a little fuzzy.
When it comes to general managers, there are four times as many men in the data-set, but the women make slightly more. In the executive VP of sales slot men made much more—and there were only two women in the sample.
The survey indicates 83.3 percent of HR directors at wineries are women, which didn't surprise any of the recruiters we contacted.

Read the full report in the October 2020 Wine Business Monthly