Harvest Update: Lighter Yields, Wildfires Upend Supply Picture
Bulk Market Strengthens Amid Chaos - How Many Wine Grapes Will Be Left Unpicked? 
It's a trifecta of incoming oversupply, the coronavirus and wildfires, exacerbated by low yields and uncertainty because of a time lag getting test results for smoke-exposed grapes, that have quickly shifted the state of the bulk wine market.
Just a few weeks ago, the bulk market was slow, and with uncontracted grapes available, some wineries went into harvest intentionally short, thinking they'd pick up what they needed later.
Now that the 2020 harvest is well underway and about half, or more, of California's grapes picked, it's being reported that yields are light. How light won't be known for months--not until California's preliminary crush report is released--but depending on region and variety, some are saying yields are down 20 percent or more.
Low yields initially sparked interest in less expensive wine for supermarket sales as well as for bulk Cabernet Sauvignon. Those dynamics led to increased activity and a tightening bulk market that, coming into the harvest, was awash in wine.
Adding to the uncertainty is the fact that an undetermined number of grapes won't be picked because of concern about smoke exposure. At the same time, early wildfires and elevated concerns about smoke exposure slowed interest in spot market grapes.
Meanwhile, many wineries selling coastal wines came into harvest long because of tepid restaurant and tasting room sales, a result of the coronavirus, in addition to any existing general oversupply because of decelerating sales growth pre-COVID-19.
That there were uncontracted grapes available before the fires started and coastal wineries are long will escalate the number of grapes left on the vine this year. Smoke exposure is a concern as is the uncertainty of how consumers will respond to the 2020 vintage.
A Lighter Harvest
It's often said that a large harvest gets larger and that a short harvest gets shorter. It's too early to speculate but a 3.5 million-ton California harvest wouldn't be surprising. Last year, California crushed 4.1 million tons of winegrapes.
"Just doing a back-of-the-envelope analysis of coastal areas, maybe whites get reduced by 15 percent and reds get reduced by 30 percent," bw166 managing partner Jon Moramarco said. "A 20 to 25 percent drop in coastal areas could help bring supply back to balance at a macro level. The unfortunate thing is the person who was managing his business better is going to be in worse shape than the guy that let his inventory get long."
Moramarco said a short harvest could lead to wineries making adjustments to their supply strategies (moving release dates forward, for example) and, if necessary, importing bulk wines at lower price points for domestic brands that can be switched back quickly, etc.
He doesn't see a short harvest creating a wine shortage that consumers will really see.
"There could be some shortages for specific brands but people will adjust accordingly," Moramarco said. "Safeway will have plenty of California wine to keep on the shelves."
Wineries Reject Fruit
Some wineries have said they won't accept grapes until lab results show they aren't adversely affected by smoke exposure as the result of wildfires, but a backlog of samples has pushed turnaround times out by weeks. Outright rejections are widespread. Some are using sensory testing—not necessarily a quantitative lab analysis—to determine whether grapes are commercially acceptable after they're been made into wine, in which case the wine will be returned to the grower and the grower could be charged processing fees. Many are conducting micro-fermentations to assess grapes.
The testing delay means that results for a given vineyard may not be relevant days later, to the extent that there's been additional smoke exposure. The markers for smoke exposure are also a moving target.
Concern about smoke exposure is an issue all along the West Coast, parts of Oregon and Washington included, with fruit rejections in coastal regions, especially for Pinot Noir. Because of its lighter style and unique nuances, smoke characters that otherwise could add complexity in other varieties will stand out as potential defects in Pinot Noir.
One source who has purchased grapes from Monterey for large wineries for more than two decades said he won't accept any Monterey fruit this year, and continues to monitor the situation in several other regions.
There's speculation about how much fruit will be left hanging in Napa Valley, with areas such as Pope Valley greatly affected. Some sources said half of Napa's winegrape harvest, or more, could be left to hang. Others guessed it could be even more, but there were differences in opinions. Nobody contacted for this article cared to speculate publicly. [Editor's Note: This was before the #GlassFire in Napa County in the eastern hills between Calistoga and St. Helena broke out early Sunday]
"Every reporter I've talked to for the past two weeks wants to put a number on it," Allied Grape Growers president Jeff Bitter said, with respect to how much of the crop will not be harvested. "It's going to be a fair amount, not a majority or anything like that, but with the red grapes that are harvested later in the season that have been exposed to smoke for a longer period of time – there's going be to concern."
Glenn Proctor, a partner with The Ciatti Company, agreed. "We're going to process less fruit. There's no doubt about that. Wineries are concerned about smoke, and in some cases they are rejecting fruit they think is going to be problematic.
"The other thing driving this and I hate to say it: there's probably some buyers going 'I don't want to touch 2020 even if I can make perfect wine, because I'm concerned about the perception,'" added Proctor.
Again, opinions differ. "Some people are bullish that they're not going to have any smoke problem, others are concerned that they won't be able to pick anything," John Moramarco said. "People are talking all extremes."
Napa grower Andy Beckstoffer isn't quick to quantify. "I have absolutely no idea [how much Napa fruit won't be picked]" Beckstoffer said. "There's a whole bunch of rejection going around but we're just getting into harvesting Cabernet."
Bulk Market Reacts
The bulk wine market is typically quiet during harvest, not so much this year. "I don't know if I've ever seen anything so fast in terms of the market, especially at harvest time," Proctor said. "It's never this brisk in the ballpark."
Proctor said part of the challenge is that wineries that thought they had excess inventory and were previously selling ended up pulling wine off the market to hedge in case they need it.
Brian Clements, a partner with Turrentine Brokerage, said the bulk market was "a little manic" after the fires broke out. He said bulk Napa Cabernet prices spiked, prompting more sellers to put Napa wines up for sale before prices stabilized at higher levels.
On Friday, Bozzano & Co, a Central Coast based botique firm specializing in grape and bulk wine sourcing, sent out a client newsletter saying that when wineries concerned about the usability of 2020 winegrapes began to request samples of 2019 wines, chaos ensued. Principal Anthony Bozzano said it resulted in a market correction for bulk wine, with oversupply quickly depleted, with pricing for some categories nearly doubling.
Bozzano predicted that some rejected grapes, if minimally affected, may command good prices "if they are capable of producing a commercially-sound wine."
"This question about supply and pricing is a difficult one, because it really rests on how successful 2020 bulk wine producers, and more specifically, growers who choose to custom crush their grapes and buyers that speculate on available winegrapes, are in producing clean and usable wines," Bozzano wrote. "For example, if Cabernet Sauvignon grapes in Lodi and Paso Robles, that were either unsold or rejected, are processed into large volumes of usable wine, we estimate that the bulk wine market will have normal/below normal supply, and return average to above average pricing. But if clean wines are few and far between, then those wines are going to sell at a tremendous premium."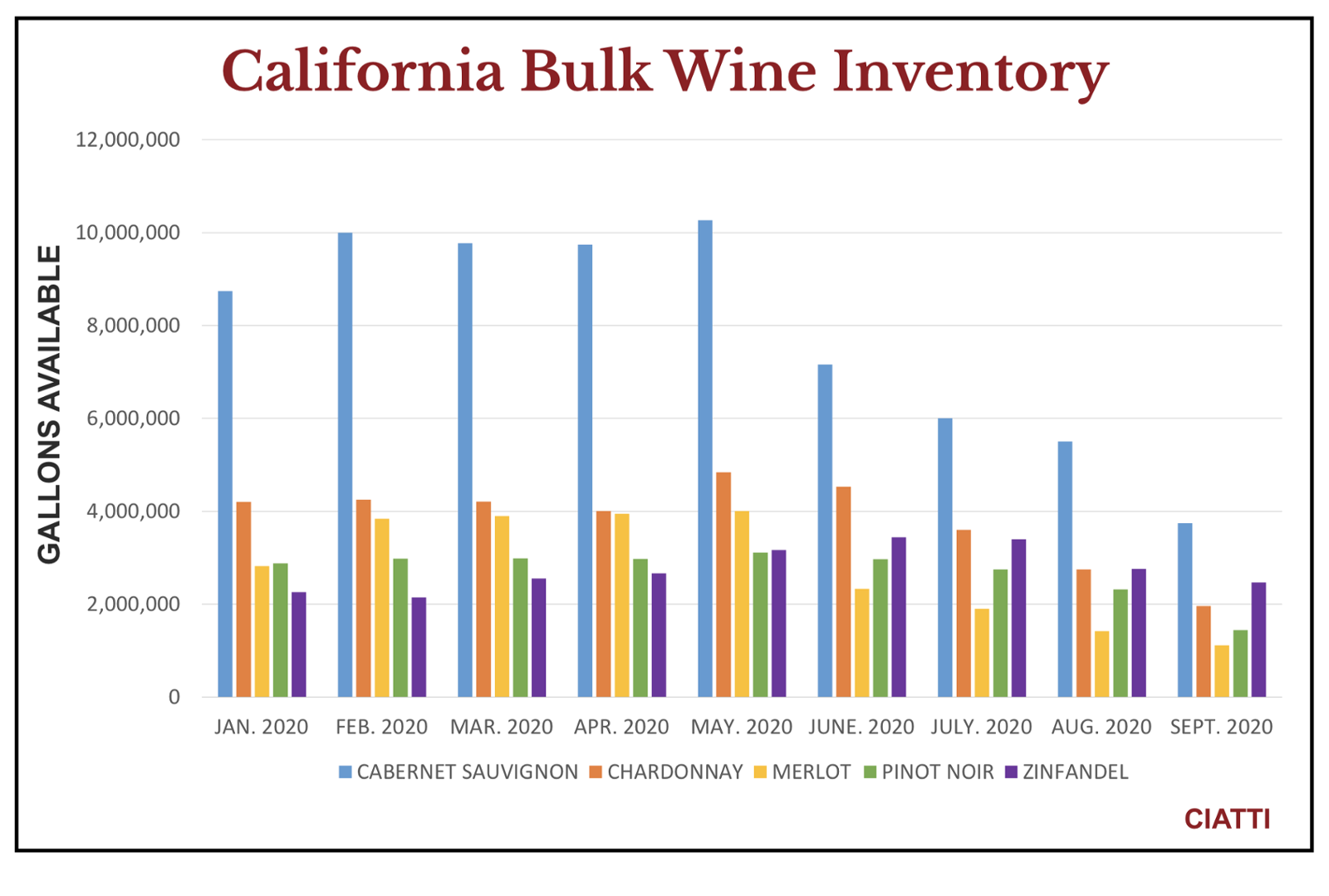 Sharing Risk
While some wineries are rejecting fruit outright, even if testing isn't immediately available, others are trying to work with growers to share the risk should smoke taint turn out to be an issue.
They need to keep grapes and wine separate in the cellar as well as monitor for smoke markers--another complication.
Post-fermentation evaluations will determine if wine ends up being destroyed or cascades down into other programs. In areas where there's demand, Napa among them, a lot of buyers will want to evaluate grapes to see if they have something marketable.
"We're entering into a lot of agreements with wineries to evaluate wine post-ferment, so those grapes are going to get picked," Bitter said. "They will show up in the crush report, and you're not going to see them hanging on the vine, but does that mean they make it to the wine market? That's unknown."
Not Everyone Using the Same Yardstick
One source said if a hypothetical winery needs the grapes, there's usually a way that it works out where winery and grower share costs. However, he said if the winery doesn't want the grapes, there'll be no way they're taking it. "Some wineries were already backed up with inventory before COVID-19 made things worse and the need to work it out really isn't there," he said. "If the need isn't there for whatever reason it's just a blanket rejection."
Beckstoffer downplayed the notion that wineries are rejecting fruit because they're sitting on 2018 and 2019 wines. "That may be true for the really big guys but the average Napa Valley winery? These guys are pretty honest."
Beckstoffer said he's trying to let wineries operate in their own best interest. "You take the fruit, and if it turns into the vineyard designates you pay us the regular price. If you have to downgrade it to your Napa Valley blend, we will downgrade the price accordingly. If you have to bulk it out, we will guarantee you won't lose. We'll make sure you get your processing costs."
Crop Insurance
According to Greg Merrill, executive vice president, director of crop insurance services with Pan American Insurance Services, there are currently 4,000 crop insurance policies for grapes covering 425,000 vineyard acres in California. There are 635,000 acres of winegrapes planted in California, according to the state's grape acreage report.
Merrill's firm is seeing hundreds of claims throughout the state. Merrill said that in 2017, a major fire year, more than $5 million in claims were paid, while in 2018, the number was over $7 million. He said 2020 could shape up to dwarf both years.
"We tell our growers, 'If you even have the potential for damage, open up a claim. It doesn't hurt to open a claim out of an abundance of caution,'" he said.
Policies require a winery rejection letter and testing but don't require results be received prior to harvest. USDA is allowing micro-fermentations as part of the process, which wasn't the case last year. USDA also relaxed its guidelines so wineries with all the right equipment can conduct testing. If a winery doesn't want to test the grapes, the test is the responsibility of the insured.
Crop insurance is paid out by average yields over time, which, this being a light year, will make taking the insurance more attractive to growers' financially than it otherwise would have been.
Crop insurance doesn't cover market conditions, however. If the fruit is good and the winery wants to back out, that can become a legal issue.
Gray Areas and Relationships
When a grower delivers to a winery, the winery takes possession of the grapes as they're weighed at the scale. Now growers own the grapes during the winemaking event, but don't control the winemaking even though they have shared responsibility throughout the winemaking process.
There's a consensus that no winery will risk their reputation by selling a wine with perceptible levels of so-called taint. That said, it's difficult to discern whether wineries are overreacting or not being cautious enough and there's much to learn.
"You find out about relationships, and find out about guys who want to work with you," Beckstoffer said. "There's some very rewarding stories around and there's some pretty callous stories around it. Back when we were doing our vineyard designate pricing, we had to figure out what the winery made on a ton of grapes and what a grower made on the ton of grapes. The thing that you never could quantify was the marketing risk, or the farming risk."
"This year there's a lot of farming risk," he said. "But 2021? You don't know. If the restaurants get back in business and eat up this inventory, it could be a very good year in 2021. This is not a short-term business."