Off Premise Wine Sales Up Nearly 20 Percent in Past 17 Weeks: Sauvignon Blanc and Red Blends Gain Share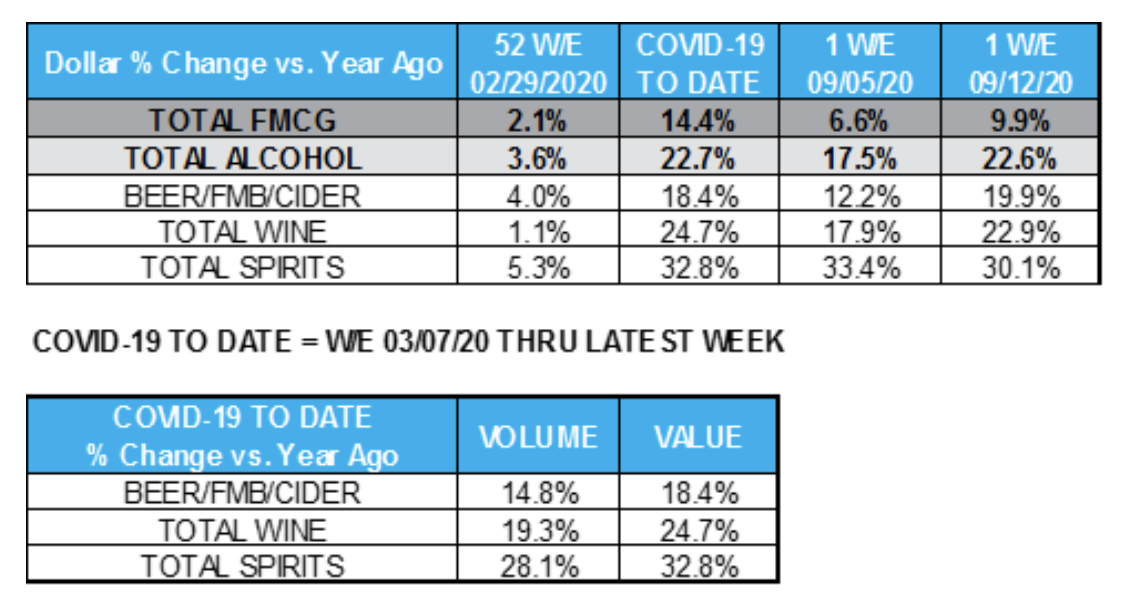 For summer 2020 (17 weeks ending 9/12/20), total wine grew 19.7% in off premise channels compared to the same weeks last year. During the first 3 months of COVID, table wine (+29.0%) slightly outpaced growth of sparkling wine (28.8%). However, that trend shifted for the summer months, with sparkling wine up 33.3% and table wine up 15.9% from Memorial Day week through Labor Day week, compared to that same time period in 2019. Throughout the pandemic, growth of Prosecco has been somewhat consistent, with growth rates earlier in the pandemic up 43% and growth rates for this summer up 34.4%. French champagne experienced different dynamics, with slower growth rates during the first 3 months of the pandemic (+17.0%), followed by an extreme pick up in off premise growth during summer months (+65.1%). The $30-$50 price tier was the strongest contributor to growth in French champagne. Combined, French champagnes ranging from $30-$99 contributed to 81% of growth this summer.
Across varietals, sauvignon blanc (+26.9%), pinot noir (20.0%), rosé (+19.8%), and cabernet sauvignon (+18.4%) led for off premise dollars. Blended table red wines also saw strong growth through the summer period (+21.9%). While growth leaders sauvignon blanc, pinot noir, and cabernet sauvignon peaked in early summer, rosé peaked late in the summer, up 37.2% in the latest week ending 9/12/20 versus the same week year ago.
Despite strong growth across top table wine varietals, sauvignon blanc and red blends are the only ones that grew share, while rosé and pinot noir have maintained share, and the remainder of table wine varietals lost share of total wine as the popularity for sparkling wines and wine based cocktails increased through the summer period.