TWE to Produce BV Bordeaux in Latest Global Move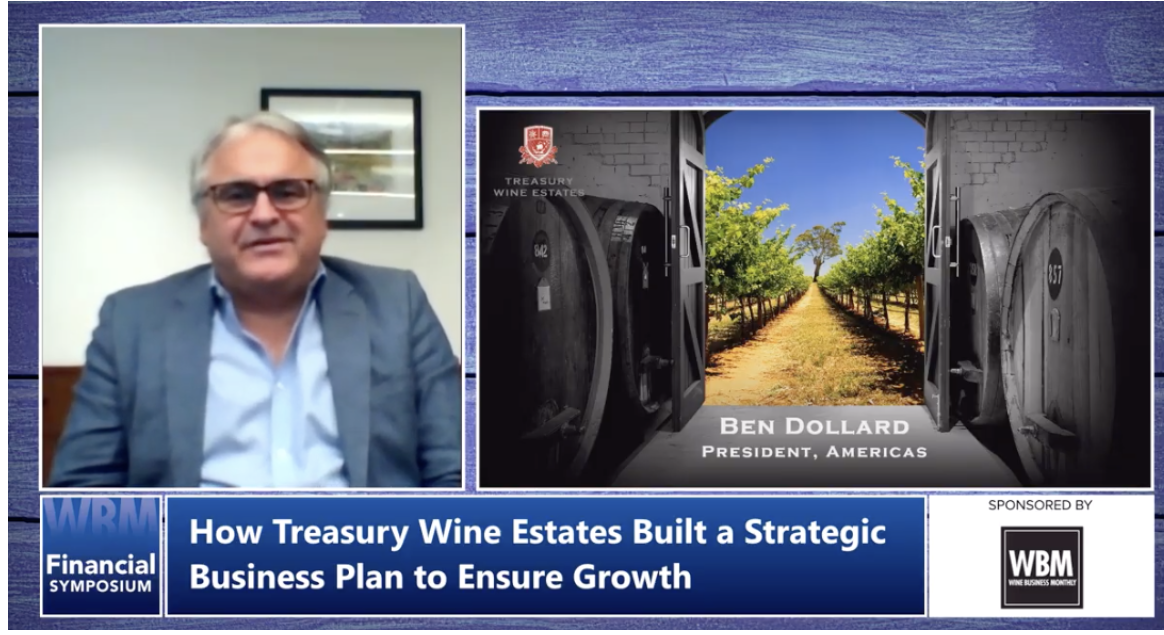 The Australian firm Treasury Wine Estates is planning to release a Bordeaux wine under its iconic Napa Valley Beaulieu Vineyard brand targeted for the Chinese market.
It's a global play by one of the world's largest wine companies and part of a strategy its using to get through wide-ranging disruption in the U.S. and world's wine business.
Treasury, TWE, has an annual production of nearly 40 million cases of wine that is sold in more than 70 countries around the world. But just as most wine businesses, large and small, it's found 2020 challenging with total earnings down 22% to $534 million according to an August investors' report.
In January, Ben Dollard joined the company as president of its Americas division. Dollard has more than 20 years of industry experience including various executive positions at Constellation Brands. Dollard was a keynote speaker during the second day of the annual Wine Industry Financial Symposium that was held online for the first time in the event's 30-year history.
Dollard described the Bordeaux BV project as part of the company's five-year plan that is "laser focused" on the company's luxury and premium brands. The new BV wine follows the 2018 announcement TWE would be producing California wines under the Penfolds label. Dollard said the new BV wine is being produced in Bordeaux by a team that has been making wines for the Chinese market for some time.
The executive turned ebullient when describing the company's partnership with celebrity rapper Snoop Dogg who is promoting TWE's new 19 Crimes California wine. Since its U.S. launch in 2012, 19 Crimes has consistently been one of the strongest import brands in the off-premise market supported by extensive marketing that has included augmented reality label technology.
"The initial reaction has been incredibly positive," Dollard said of the response to the new 19 Crimes "Cali Red," which Snoop Dogg has been an enthusiastic and engaged partner in promoting. He said Snoop has regularly been posting about the wine on his vast social media network, and is not only gaining support for the brand among a new set of wine consumers but getting them excited about the wine category in general.
Dollard — and every other speaker at this year's WIFS conference — said 2020 had been an exceptionally challenging year. "That said with challenges come opportunity and the ability to re-imagine our business," he said.
A key part of that is staying innovative and finding partnerships to connect with a new generation of wine drinkers. He said that has proved particularly true in the past three to four months when people have been seeking some type of reprieve from the onslaught of bad news and are finding it in the simple, communal pleasure of sharing a meal and wine with close friends or family. "I'm an eternal optimist in that regard," Dollard said. "That we'll continue to engage new consumers."
Less optimistic were two experts in beverage alcohol market research who said despite the off-premise sales boon of the spring and stronger than normal sales through the rest of the year, wine is still struggling to find that younger audience, continuing to lose share to other beverages and faces a declining rate of overall alcohol consumption.
Danny Brager, who recently was the senior vice president for beverage alcohol and cannabis for Nielsen, said the industry may be pining for the "normal" times of 2019 but reminded the audience at WIFs that back then "spirits was kicking butt and gaining share while seltzers were exploding."
Several months into an on-going and disruptive pandemic, Brager said spirits are still winning and seltzers are approaching a total market value of nearly $3.5 billion.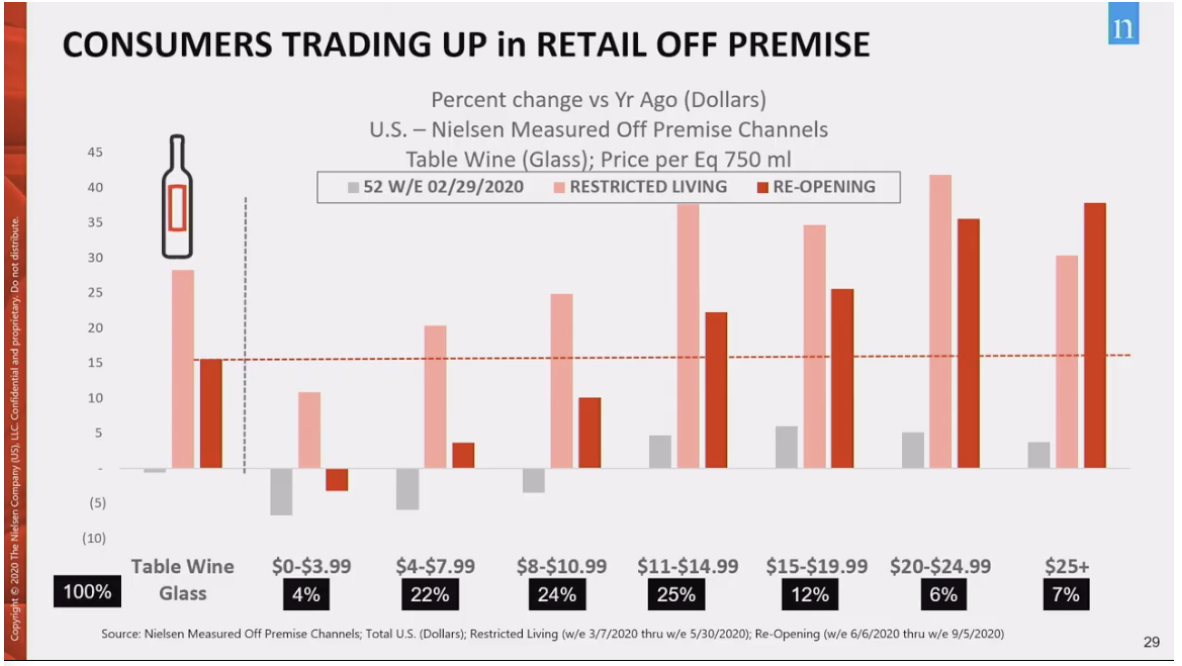 Some of the strongest sales gain in off-premise in recent months have been for higher-priced wines with sales of wines priced between $20 and $24.99 up 35% and those priced $25 and more up by nearly 40%. This two categories represent about 6% and 7% respectively of the total retail market tracked by Nielsen so the gains come from a smaller base compared to the 22% of the market claimed by wines priced $4 to $7.99
Brager said sales at higher prices are likely being driven by shoppers who aren't going out to restaurants and are buying wines they used to enjoy on-premise for home consumption. These shoppers also aren't using disposable income on travel, sporting events or most other types of entertainment so they may be splurging in the wine aisle. "They do have money to spend and people do want to celebrate, albeit in a different way," he said.
Conversely, the average bottle price of winery DTC shipments has declined as overall shipment volume has increased. Brager attributed this to wineries shipping more wine at lower prices for cash flow and new consumers entering the DTC channel. He noted the average bottle price for Napa County shipments has fallen by about $10 since last year.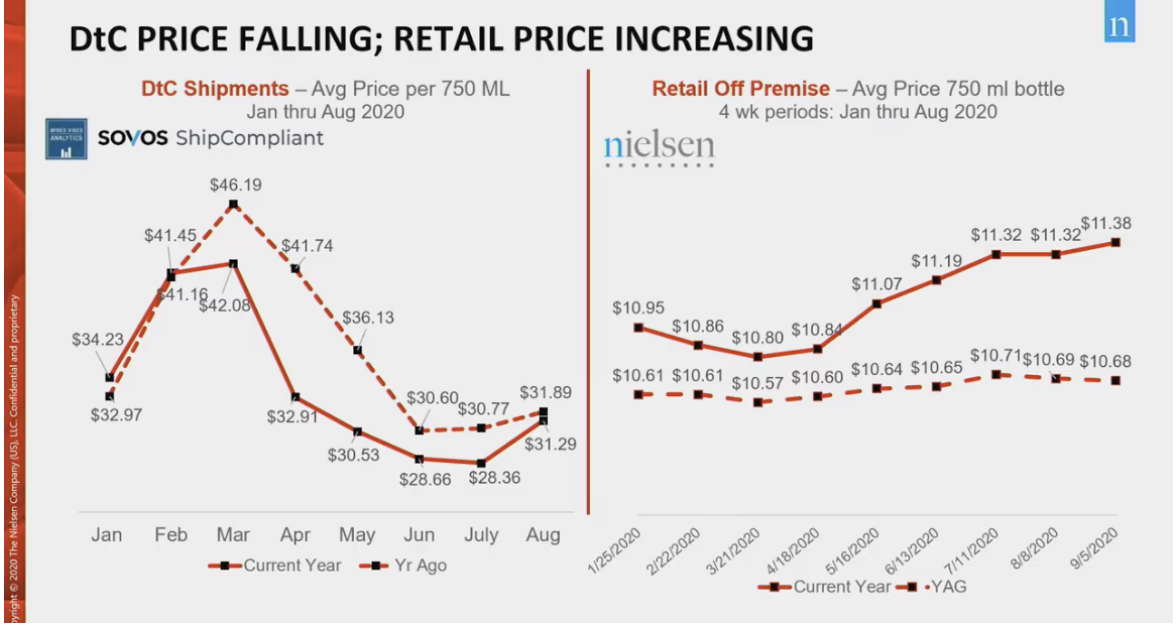 Brager left Nielsen to form his own consultancy, Brager Beverage Alcohol Consulting, but continues to represent a new joint product between Nielsen and Wines Vines Analytics/Sovos ShipCompliant. The new report provides a comprehensive look at the total off-premise market based on Nielsen data and winery DTC shipment data by Wines Vines Analytics/Sovos ShipCompliant.
Sonoma, Calif.-based Wine Communications Group, which publishes Wine Business Monthly, produced WIFS, and Wines Vines Analytics is part of the group's data division.
Kaumil Gajrawala, managing director of equity research in beverages and other consumer packaged goods for Credit Suisse, said overall beverage alcohol volume consumption continues to trend down. "The market seems to be shrinking in terms of total alcohol consumed," he said. "You may never really feel it in any particular year, but the long-term trend is consumers are drinking less."
He pointed to the successful launch and growth of Heineken's "0.0" non-alcoholic beer and a slew of other low or alcohol-free products by some of the world's largest beverage companies as indicative of that trend.
Gajrawala also touched on the continuing success of seltzers and added that about a year ago roughly 60% of seltzer consumers were exchanging it for beer. Now, the breakdown is about 50-50 in terms of seltzer consumers who came to seltzers from beer and those who came from wine and spirits.
He said the economy is actually not showing signs of a recession and it may approach "escape velocity" soon but that won't mean a return to life similar to pre-COVID-19. Changes in consumer behavior wrought by the pandemic won't end soon. Stimulus check-funded home improvement projects conducted over the summer and enhanced beverage and meal delivery have moved the "bar" to people's backyards. "They have spent a summer investing in their homes, and they want to get their money's worth," he said. "I think some of those changes are pretty permanent."