Survey Finds Scant Interest in Wine Ingredients, Grape Growing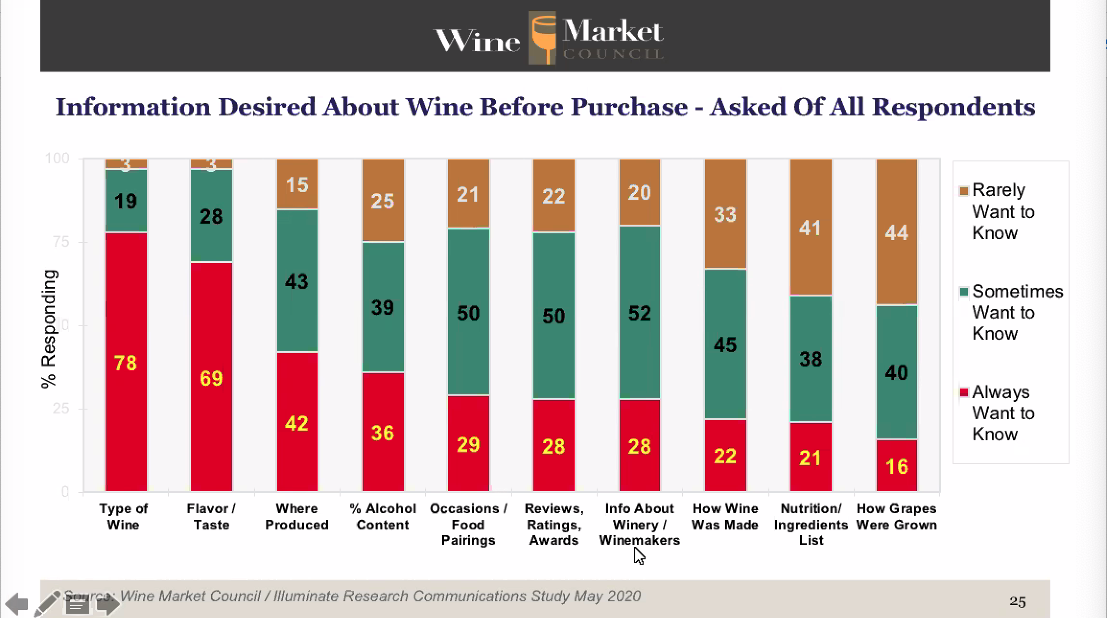 Wine shoppers are looking for variety and flavor information when deciding on purchasing a bottle and most have little interest in learning more about how the wine was made, how the grapes were grown and ingredient labeling.
According to a survey of wine consumers commissioned by the Wine Market Council (WMC), 41% "rarely" want to see an ingredient list for a wine and 44% of those surveyed have a similarly low level of interest in learning more about how the grapes were grown. How a wine is made is a bit more interesting with 33% of those surveyed saying they rarely wanted to know about that.
Of high interest, or what the survey participants described as what they "always want to know," was the type of wine (78%), flavor and taste (69%) and where it was produced (42%).
The results come from an online survey of nearly 1,000 consumers of which about 60% could be described as "core" wine drinkers and 40% marginal. The WMC commissioned the survey to better understand how consumers seek out information on wine and what type of information is important to them.
In discussing the survey in a webinar on Sept. 2, Christian Miller, WMC's director of research, noted said there is abundant research confirming that a memorable and compelling brand story does help sell wine, but the survey shows what consumers prioritize when they are thinking of purchasing wine in general.
Many of those consumers, including high frequency wine drinkers, also feel overwhelmed with 40% responding that choosing and buying a wine is difficult because there are so many choices. More than 80% of those surveyed indicated having some difficulty while buying wine because they're not sure what the wine will taste like, if they will like it or if their friends or guests would like it.
They also reported a high level of unwelcome surprises with 37% of core wine drinkers saying in the past 12 months they had purchased a wine thinking it had a certain flavor or style only to discover it didn't. Twenty eight percent of core wine drinkers also said they had purchased what they thought would be a sweet wine only to find out it was dry.
How consumers research wine
The survey also explored how consumers find more information on wine and provided insights into the differences in their research before shopping and while shopping. Prior to shopping, consumers appear to prefer visiting wine websites that include media such as Wine Spectator, Wine Enthusiast and other publications (33%) winery websites (22%) or the websites of wine regions and appellations (20%).
When in-store, Miller said he was surprised to see a general internet search is the preferred option for the majority of consumers. "I can only guess people are entering a specific wine or variety in a general search," he said. "That was quite unexpected."
Wine apps are nearly twice as popular among consumers while shopping, but the apps are the primary source of information for just 19% of those surveyed.
When asked if they follow the recommendations of an online source of wine information, only 20% of those surveyed said that they did. Among those, general Facebook groups about wine was the leading source of information followed by Instagram and Twitter.
Miller said among high frequency consumers it appears that the search for wine information; learning about brands, appellations and wine styles, appears to be a benefit of itself and not so directly connected to a purchase decision. "They enjoy learning about wine even if they've already made up their minds," he said.
The complete survey results will be available to WMC members next month and Miller said the results raised more questions requiring additional analysis if not more surveys. "This is a study that raises as many questions as it does provide answers," he said.
The WMC is also considering a survey focused on how consumers factor in health and wellness while making purchase decisions. That could provide more insights into how they perceive alcohol or calories.
There was not a clear majority of interest in alcohol levels from the most recent survey with 36% saying they always want to know, 39% reporting they sometimes want to know and 25% rarely wanting to know.
On-premise struggles
Miller's presentation of the survey results was preceded by a market update by the WMC's executive director Dale Stratton who is also an analyst with the market research group SipSource that aggregates depletion data from the leading U.S. distributors.
Based on that data, Stratton said spirits continue to outperform beer and wine with the 12-month rolling total of depletions up 3 percent in June compared to the previous year while wine was down 1.3 percent.
Prior to the pandemic, Stratton noted the on-premise sector accounted for about 14.5% of the total market but by the end of June it had constricted to slightly more than 11 percent and is on track to finish the year at less than 6%. Depletions for wine in on-premise were down nearly 26% in June compared to the previous year, while spirits had fallen by 22%. As more bars and restaurants begin to close permanently , Stratton said the challenges in the on-premise market appear likely to continue. "On-premise will remain challenged for a long time," he said. "We don't anticipate that coming back anytime soon."