If You Can Serve Them, Customers are Eager to Buy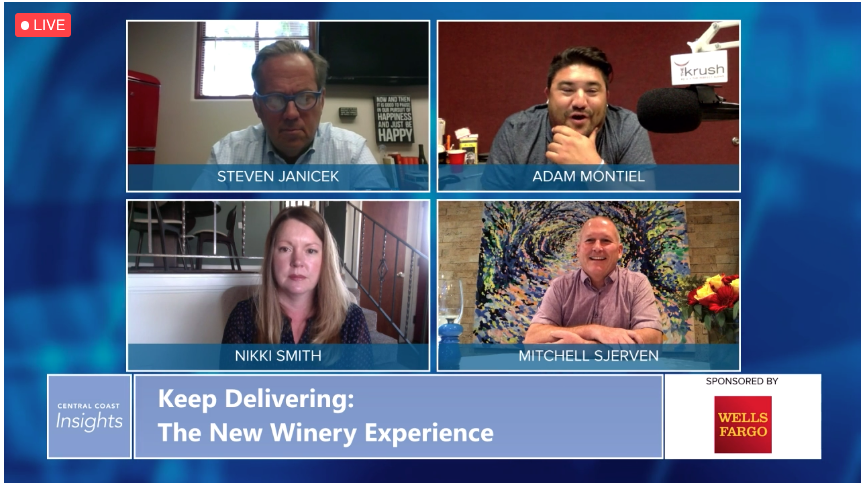 While they are still concerned about their health and safety and maintaining adequate distances, if customers can still visit your tasting room, or restaurant, they are eager to buy wine.
During the second day of the annual Central Coast Insights symposium that was held online because of the ongoing COVID-19 pandemic, speakers from the hospitality business — both regionally and nationally — conceded it's the most challenging environment they've all worked in but there are opportunities to successfully engage customers and make a sale.
The on-premise channel represents just 16% of the total U.S. wine market volume but accounts for 37% of the total value, which came to more than $75 billion in 2019 according to the market research firm bw166. On-premise spending in 2020 is on track to be just half of what it was in 2019.
While it's taken a huge hit, take out, delivery and outdoor dining supported by looser regulations on where and how consumers can be served have helped keep the on-premise market open. If a business can operate within these new parameters, they can attract an enthusiastic customer looking for some return to normalcy.
"We all went outside when we could and we all plan on staying outside as long as we can," said Marcello Cancelli who is the area wine director for Chicago-based Boka Restaurant Group. Cancelli said government assistance has been vital to keep restaurants in business and more will be needed. "Most of us can stay in business but I truly feel we need some help from above if you will."
Mary Melton, beverage program consultant for Trellis Wine Group, said the most painful effect of the pandemic has been the reduction in labor. She noted that restaurants in general do not get the credit for employing more people than many other sectors of the U.S. economy. "The labor is the hardest part because we have seen such a reduction in force," she said. "It's going to be the survival of the fittest for sure."
That has meant fewer staff are doing more jobs and working longer hours to help support delivery or to-go programs just to keep the business running.
Marcello said a huge change for his business, particularly in the steakhouses, has been the loss of business or expense account dining. Those customers could be counted on to order bottles of "big wines" but now a new client base is seeking a variety of wines and typically by the glass. "Now my business has flipped completely, it's 75% by glass," he said.
He said he had expected customers would stick with the brands they know but they have instead been looking for something new and appear to relish the opportunity to visit a restaurant.
Melton said it makes sense that consumers would have opted for familiar, affordable brands when they were initially stuck at home and also uncertain how the pandemic would affect the economy and their jobs. Now she suspects there is a growing pent-up demand to enjoy the recommendations from a bartender or server. "They're not going to pick a wine they never heard of off the shelf, but if it's something someone recommended to them that's totally different," she said. "I think people are going to want to try something new."
Those working in hospitality in the Central Coast all concurred that if customers feel safe, they're ready to buy.
Mitchell Sjerven, owner of the restaurant bouchon Santa Barbara, said he closed the business in March but then reopened a few months later with a revised menu to support to-go and expanded seating for outdoor service. He said right at the start of a reservation his staff assess just where patrons may be best served. Some customers, for example, have not been too comfortable on the outside terrace near pedestrian traffic and have instead opted for a more private terrace.
But once seated, they have generally been willing to spend and Sjerven acknowledged his wine sales have been up in both per order prices and overall volume. Tipping has also been very generous.
The Ritz Carlton Santa Barbara has remained open throughout the pandemic and general manager Steven Janicek said the resort enjoyed a busy summer and is still pretty full. He said the hotel made some immediate changes to enhance cleaning, removed 40% of the chairs from its pool area and closed all in-door dining.
These days, Janicek said guests prefer to be left alone and will instead request amenities such as more towels when needed rather than seek daily housekeeping. "What's really shifted has been the desire for that space to be protected."
In-room dining service has been replaced with what are essentially to-go containers and Janicek said that's been received by just about all customers without complaint. They also are amendable to having to make reservations for pool time. "There's this pent-up demand for people who want to come up and travel," he said.
He also noted he's been pleased to see most of the bellman carts of departing guests are stacked with cases of wine from local wineries.
That was confirmed by Nikki Smith, the tasting room and marketing manager of Brecon Estate winery in Paso Robles, Calif., who said guests are more than happy to sit outside at properly distanced tables for tasting appointments. "The people we have had have just been thrilled to be there," she said.
Those customers have also generally been buying more wine and Smith also attributed that to pent up demand. "They're so happy to be out of their home and experiencing some kind of normalcy."
Keeping service open outdoors will not be so easy in the fall and winter. Janicek, at the Ritz Carlton, said trying to provide in-room dining for all guests is not feasible so he may need to make a significant investment in tents, but he has to make sure such enclosed spaces are a safe and healthy option.
Sjerven noted that even before the pandemic an outdoor table at night in Santa Barbara was often a tough sell and so he may just shut down again, while Smith said she's fully prepared to get a little wet serving outdoor tables. "We already ordered coverings for rain and when it rains, I'm just going to get wet," she said.