Finding Sustainable Efficiencies in Wine Packaging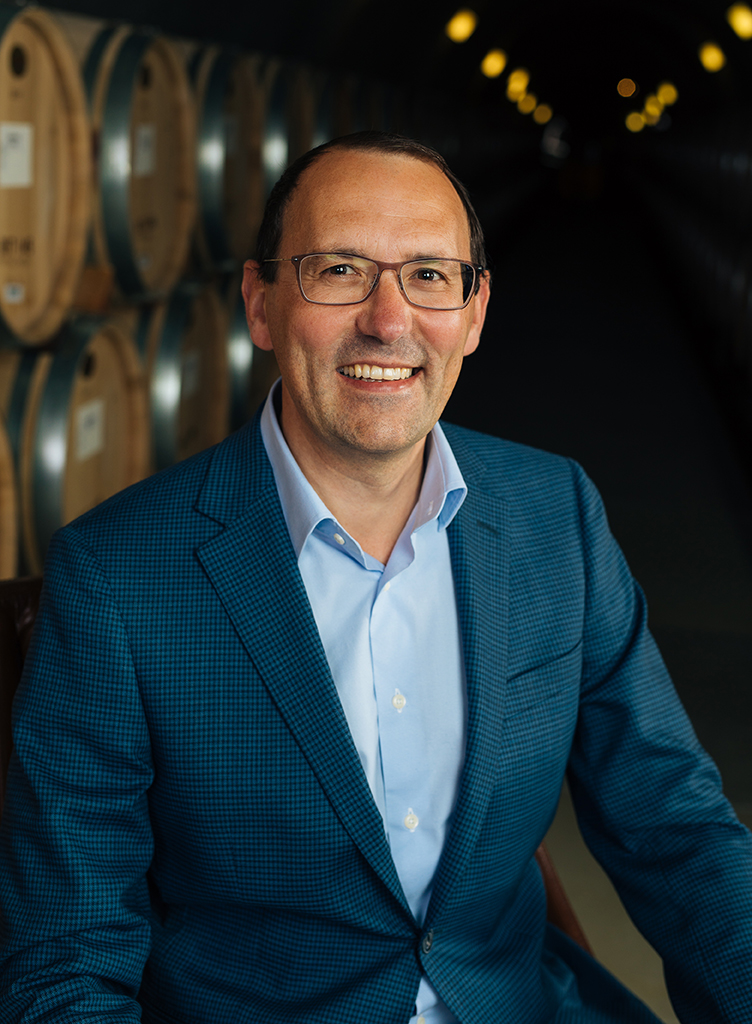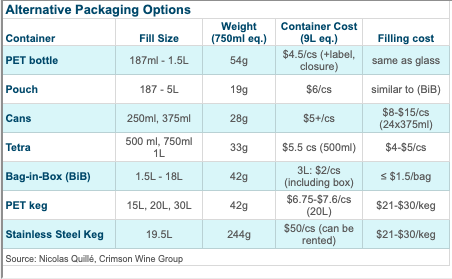 Nicolas Quillé MW was named Crimson Wine Group's chief winemaking and operations officer in April 2018. In this interview that first appeared in the July edition of the Wine Analytics Report, Quillé described how Crimson is coping with the COVID-19 pandemic and the company's packaging strategy for its many brands.
In 2018, Quillé was a speaker at the Pack Conference, in which he broke down the costs of using glass alternatives and a portion of that analysis appears in this article. This year's conference took place as a virtual event.
The winemaker-turned-winery-executive views greater sustainability in packaging as an imperative not just for the industry but also the world and argues that regulation may be the only way to ensure it happens.
Crimson Wine Group (CWGL) is based in Napa, Calif., but owns and operates wineries and tasting rooms in all three western U.S. states. The company's notable properties include Pine Ridge Vineyards in the Stags Leap District of Napa Valley, Archery Summit in the Dundee Hills of Oregon's Willamette Valley and Seven Hills in the Walla Walla Valley of Washington.
Crimson was formed in 1991 with the acquisition of Pine Ridge but was spun off in 2013 after its owner, U.S. investment firm Leucadia, merged with another investment firm, Jefferies. The company produces 320,000 9L cases a year and in January 2019 named Jennifer Locke as its chief executive officer, replacing Pat DeLong. Locke had previously been the senior vice president of U.S. luxury and direct-to-consumer sales at Treasury Wine Estates.
Prior to his current role at Crimson, Quillé was the general manager and head winemaker of Pacific Rim Winemakers, which is owned by Banfi Vintners. Quillé is a native of Lyon, France, and earned a master's degree in winemaking from the University of Burgundy, a master's in sparkling wine production and management from the University of Reims and holds an MBA from the University of Washington. Quillé is also a member of the Institute of Masters of Wine.
Q: How has it been going in dealing with the pandemic? Are you still trying to shift inventory from what had been earmarked for tasting rooms or on-premise to retail?
Quillé: The channel that is the most successful to sell some of those wines that used to go to those two channels is e-commerce. It's hard to go in the market and sell a Napa Cab that used to go on premise by the glass and say: "OK, now we're going to put that as an SKU into large chains." It's a process to introduce a new SKU into a retail chain and convince them they should carry it and convince them to put it on the floor. That's not something you can flip a switch on. But what we have been most successful in doing is ramping up our e-commerce business through our stores online, through our club members or simply by doing more advertising and offers online.
While the e-commerce has grown quite a bit for us, we were already investing into that channel. For the past few years we've been hiring people and ramping that effort and our goals for that channel have already been exceeded. We are pretty happy with the performance of that channel.
Q: How have you dealt with the pandemic in terms of operations from production through to hospitality?
Quillé: As soon as things went down in March, we actively built a protocol for operations to continue. And I'm proud of what we've done. Within five days, we had a very solid protocol to operate with all the social distancing and sanitation procedures that are required during the pandemic. We've deployed that quickly to the winery and the vineyards so that we could keep operating and then obviously we shut down all the tasting rooms and then we shut down offices and sent people home with laptops.
All those folks, you know marketing, sales, finance, HR, any activities like this are still working from home and the wineries are operating in their bubbles.
Right now, the main worry is harvest. And the last thing I want as we're approaching September is one of our facilities to become a cluster of infections of some sort. I tried to keep the production staff as separated from the tasting room staff as possible. They operate independently and don't cross-contaminate one another.
Q: Are you anticipating, or have you made, any changes to the traditional process flow? From crush pad to fermentation to barrel? Is that changing at all?
Quillé: It's actually on our agenda for July to kind of comb through the processes and see what we can do, but that's not going to be easy. What do you do if you have someone that raises their hand and says, "I might have something." We do test the temperature of everybody that comes on the property, guests or employees, even though we understand it's not fail-proof. The thing I worry the most about is an employee's girlfriend, their wife, their kid, whoever, comes in contact with them and has COVID-19. Now that person comes to us and says: "I've been in contact with someone." OK, who have you been working with over the past week? What do we do about those people? How do we keep operating without freaking out every five minutes and shutting down things left and right? Is it OK for us to keep track of it? Not keep track of it?
I think we're going to have to do that somewhat internally and rely on people's good faith and think about when we ask someone to quarantine. If it's someone who can work from home, that's one thing. But if it's someone that cannot work from home that is not a highly compensated employee that maybe doesn't have tons of vacation time, how do we address that special case?
Q: Based on what you're seeing in e-commerce and DtC do you think we're going to see fundamental changes in how people buy wine in the coming year or even beyond?
Quillé: My impression is that people are getting comfortable ordering online. That they are home anyway, so the delivery is possible and they can sign. We don't know how long this is going to last. If it's gone tomorrow, which is quite unlikely, then possibly we go back to normal. But when I look at the news, I think we're into this for another six months at least. And so, I would be surprised if some of those behaviors don't carry over after that. And not even thinking about the other factor of the deeper recession or unemployment. We still have people making money out there, but I think that's going to stop at some point, and it's going to hit the country even harder. I think the changes are going to be pretty significant.
Q: Have you had to make changes? Have you had to reconsider wines that were designed for on-premise that you just don't think you can commit any resources to in the future?
Quillé: We were already on the path of altering our portfolio a little bit here and there before this happened. I think this has just accelerated some of our changes. But when we look at our plans forward, '21, '22, we are definitely being extremely conservative on anything that was going toward on-premise. And we're being a little bit more aggressive on anything that goes through large retail.
Q: Crimson comprises several brands, and each has a distinct identity. Have you tried to find any efficiencies in packaging for the overall group, or is it more important that each brand has a distinct packaging strategy?
Quillé: It's important for me to find the synergies. But not at any cost. It's important to find the synergies because we've seen margin compression over the past few years. We had to find some pennies between the cushions somewhere, to be honest.
I'm going to give you an example. We consolidated our glass with Gallo Glass. And there was some resistance at the beginning, but everybody got comfortable once they understood that that glass supplier had several molds and several options and several weights. Then what we did is we went as a team to visit the glass manufacturer, and then we went to visit the cardboard case manufacturer.
By just knowing that printing the box close to the score line costs 50 cents more, and if you can be half an inch away from the score line, you might save 50 cents. Does it change the design? Not really. And so those little details, the way the flaps fold, are they touching or are they not touching? That changes the cost of that box. All those little details that sometimes we don't pay attention to because it's someone else doing the box, or the design, or whatever. It's helpful when you consolidate because now you can have more time with one supplier digging into how it's made and where are the pennies going.
The reason for Gallo Glass was double for me. First, we had a lot of glass coming from China to different brokers and I don't have any problem with China in particular, but I hated the idea of that carbon footprint. The second one is we wanted to lighten our glass a little bit for the same reason. We wanted to save a little bit of money on glass but we also wanted to save a little bit of glass in the system so we would lower our carbon footprint. We lowered our glass weight by about 13% across the group. And every year we purchase about 300 tons of glass less, and now instead of coming all the way from China the glass comes from Modesto (California).
Q: Wineries often say they want to use lighter glass, but they also claim U.S. consumers continue to equate lighter glass bottles with lesser-quality wine. Did you encounter any resistance on this point?
Quillé: We're all being cute about this and thinking about what the consumer accepts it or not, but I think in 20 years, if there's no more planet who cares? We have to make a difference, and the No. 1 difference we can make is glass. And anybody else that's saying there are other ways to reduce your carbon footprint, they're crazy. The No. 1 carbon footprint of the wine business is glass.
I think there are better options for fast consumption, for wines that are not made to age. I think glass should be reserved for wines that will age and we should switch package for other wines. I don't see how we do that without some regulation. If we just rely on the market, what will happen is the people that switch might not sell as much wine because some consumers will like glass better and therefore they'll fail. And so maybe to change behavior, we need a regulation.
Q: What kind of regulation? Would it be an incentive approach, or higher taxes and fees on heavier packaging?
Quillé: You could have incentives like they do in some provinces in Canada or in Scandinavia, where the weight of the bottle is triggering a different tax level. The tax level is not on the alcohol, it's on the weight of the package. And that's an interesting concept to me. We could change the incentive. Some retailers could also have a major impact. If a large grocery chain would say all wine brands less than $20 has to be 400 grams per bottle or less, that changes behavior instantly in the entire country. You have to level the playing field. You cannot let people decide what they're going to use and have a company's advantage versus others. Either you tax people the same way, or you create an incentive, or you have a rule that just says we don't do it anymore.
Q: Have you made any other major changes to your packaging?
Quillé: On closures, we're more and more interested with technical corks. We still see a high failure rate on cork as far as TCA, at least high enough that we have to think about it. The cost of those 100% natural corks is becoming unsustainable for some wines. We still have 1-inch screwcaps, but they're really more reserved for the primary aromatic-driven white wines because screwcaps are a good closure to preserve those aromatics. I think if we sold a $100 Riesling, I would recommend we put on the screwcap as well.
As far as labels, we're working a little bit on paper stock and understanding the recyclability of the pressure-sensitive labels. There's a lot of PET backing that gets thrown away, and it's two to three times more material than the label. I think we have a few solutions for that backing that are coming. On the capsule side, we're moving away from tin more and more and exploring some of the newer aluminum offerings. We're looking at shorter capsules, too, and how we can save material.