Boxes Popular as Consumers Remain Stuck at Home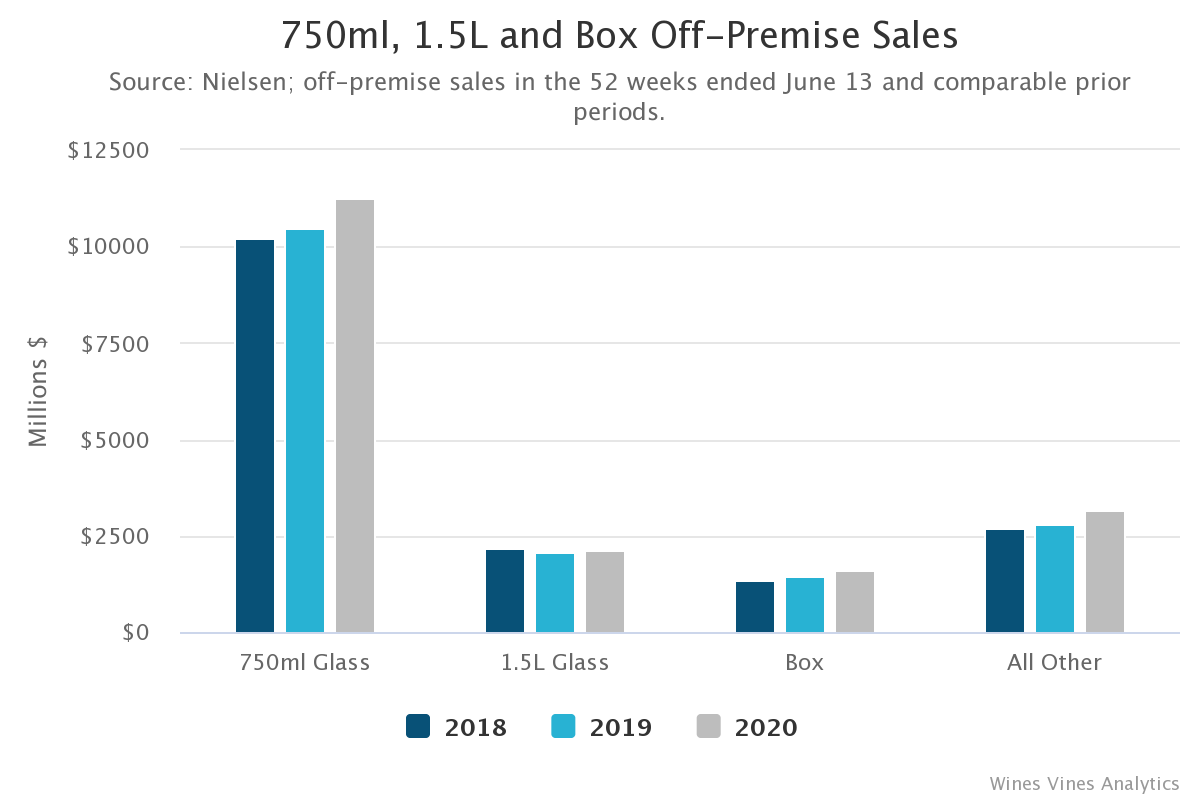 While cans are the hot new alternative to glass packaging, they represent less than 1% of the value of wine sold through Nielsen off-premise outlets. Box wines have posted far stronger growth from a much higher base, accounting for 9% of the value of all wines sold through Nielsen channels. There's a good reason for this: Boxes marry convenience and economy, constituting a portable, non-breakable package that keeps the wine fresher longer than a bottle of the same size could.
The sales numbers speak for themselves. While 3L and 4L bottles have seen sales drop significantly in recent years, Black Box and Bota Box have been among the bestselling brands in the same period. The growth continued during the pandemic, as boxes logged 31% growth in the 13 weeks ended June 13. While sales growth moderated to 24% during the latest four weeks, it remains well above the 52-week average of 14%. "We've seen an uptick in demand for box wines in recent months that is far greater than overall growth for the wine category," said Olivier Kielwasser, wine category lead with BevMo! (Beverages & More Inc.) of Concord, Calif. "This has mostly benefited established brands rather than imports or higher price points due to what customers are after, which is value and convenience."
This week Trinchero Family Estates announced it had expanded its Sutter Home line to include 3L boxes for the first time. The new boxes have a suggested retail price of $18 and will be distributed nationwide. "These unprecedented times have brought with them a need for both convenience and value – especially from brands that consumers trust," said Brie Wohld, vice president marketing for Sutter Home in a press release announcing the new boxes.
Wohld will be speaking about new product development primarily in smaller packaging formats and how wine can compete with hard seltzers at this year's upcoming Pack Conference https://na.eventscloud.com/website/4805/ on Aug. 4.
Yet while the largest wineries continue to dominate the box category, interest in box wines is no longer limited to the major producers. While box wines are often a convenient way to move bulk product, Nielsen data indicates that the average price in the latest 52 weeks was $3.54 per 750ml, up more than 4% from a year ago. This is the lowest of any packaging type Nielsen tracks but the growth led every other packaging type.
Among the smaller producers embracing the box format is Sokol Blosser Winery of Dayton, Ore. The family-run winery produces about 94,600 cases a year and launched a 1.5L box format for its Evolution Pinot Noir in June to take advantage of shifts observed as people sheltered in place early on in response to COVID-19. "The pandemic changed the game in every possible way for us, and as we brainstormed out-of-the-box ways to adapt, we actually landed inside the box!" quipped winery co-president and CEO Alison Sokol Blosser. "We can offer a stellar wine at an even more stellar price point for customers while also offering it in a more convenient package."
She said that while the overall wine market is set to remain flat and on-premise sales down significantly for the foreseeable future, at-home consumption is likely to remain strong. The winery is targeting a 30% price reduction on the boxed wine compared to its glass bottle equivalent. (Before the pandemic, about 70% of Evolution Pinot Noir was sold on-premise as part of by-the-glass pours from glass bottles.) "The boxed wine format is what I believe the market wants right now," she said. "The market is ripe with demand for larger-format wines that offer an excellent value-to-quality ratio. Until now, there hasn't been a nationally available super-premium boxed wine option from Oregon."
While other Oregon wineries, including Stoller Wine Group, also of Dayton, offer wines in cans, Sokol Blosser doesn't anticipate going that route. She doesn't rule out other types of alternative packaging for her wines, however.
Consistent with Sokol Blosser's rejection of cans, Stephen Schiedel, U.S. category manager for the BC Liquor Distribution Branch, recently told a Wine Institute webinar that canned wines have failed to gain traction. "The features and benefits really suggest that seniors would be the best target customer," he said, noting that the controlled portion, lower price per unit and ease of opening make it ideal for older adults.
While the convenience makes cans a great packaging type for lower-alcohol session beers, he said, the alcohol content makes it tough for wine to be a sessionable tipple. By contrast, the strongest growth at British Columbia liquor stores has been among box wines and brands that, like boxed product, can be stacked on the floor rather than requiring valuable shelf space.
The trend is mirrored in Ontario, where the Liquor Control Board of Ontario (LCBO) recently issued its first call for box wines from domestic producers since opening its shelves to premium domestic wines in the format three years ago. "The LCBO is primarily looking for [bag in box] size extensions of popular existing brands and consideration will also be given to new brands with innovative packaging appeal and strong price/quality proposition. Red, white and rose wines are being considered," the board's press office said. Just five producers participated in the initial call, including Fielding Estate Winery of Beamsville, Ontario. LCBO spokespeople did not hint at responses to the latest call, though several wineries have called Fielding sales and marketing director Heidi Fielding to know what her experience has been like.
Fielding boxes less than 5% of its production under its Long Weekend label. It has seen strong demand for the brand as demand for box wines in Ontario increases.
But she said consumer perception of the format has to change in Canada. Sometimes "they just look at it like it's another box of wine as opposed to comparing it to other options that are out there in bottle and are quality wines," she said, adding that there needs to be a better selection for consumers and offerings from recognizable category leaders. "Something from one of the more recognizable wineries that people buy in the bottle and know is good quality. … Start off strong." She's proud of what Fielding offers in the box format and said it should be "a no-brainer," noting, "In the States, you can buy some pretty expensive single-vineyard wines in a box."
British Columbia, where premium domestic wines are declassified if packaged in boxes, is preparing to hold a plebiscite that could give local wineries the option.
However, one opponent of the move is Summerhill Estate Winery of Kelowna. While the winery struck out on its own in 2011 and packaged one of its labels in a 3L box, it ended the experiment after two packaging runs. Summerhill CEO Ezra Cipes said the difficulties in recycling the metal-plastic composite bag undercut Summerhill's commitment to sustainability, and alternative materials reduced the shelf life of the wine to a mere three months.
This article first appeared in the July edition of the Wine Analytics Report. https://wineanalyticsreport.com/