Wine up 18.2% in dollars and up 12.1% in volume for week ending 7/25/20 in Nielsen off premise channels
Nielsen Beverage Alcohol Practice Prepared Highlights - week ending July 25, 2020
We are pleased to provide you with the latest weekly update for beer, wine, and spirits sales in Nielsen measured off premise channels along with our commentary. Again, please note that this represents retail sales in certain key off premise trade channels - not ALL trade channels. As you all know, while the on premise had begun to re-open to varying extents across the country, there have been pauses and/or retreats more recently, and so off premise volume growth will have to still be very significant to offset on premise declines vs year ago. We'll be watching these shifts carefully along with our on premise partners (Nielsen CGA). As always, a reminder that this also represents a total category view - and we recognize that the impacts on individual companies within the alcohol industry are not equal.
Overview: Nielsen COVID-19 insights and analysis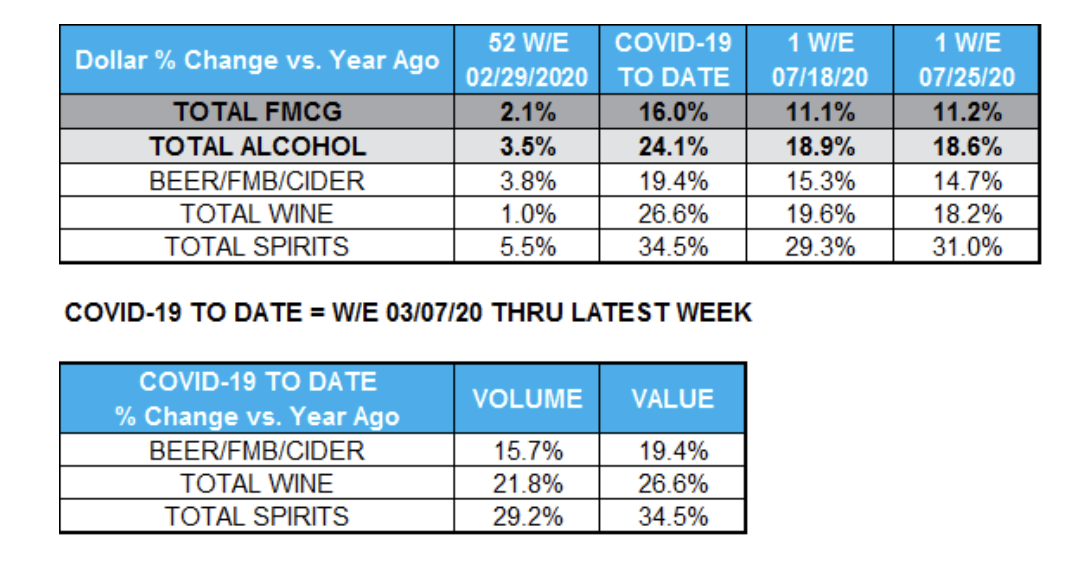 WEEK ENDING JULY 25, 2020
TOTAL ALCOHOL
Unless otherwise noted, all trends below are for Nielsen off premise channels for the week ending 7/25/2020 compared to the same week in 2019. We continue to remind our readers that we are only measuring sales in some specific off premise channels, and that the impact of the health crisis on sales is uneven across companies in the Alcohol industry.
Total fast-moving consumer goods (FMCG) is holding steady, with similar growth rates as last week, up 11.2% for the week ending 7/25/20 compared to the same week last year. Given the volume shift from on premise to off premise, alcohol (+18.6%) continues to be one of the fastest growing categories across consumer goods. Other categories that have been driving growth throughout the pandemic and continue with strong growth rates for the latest week include frozen foods (+21.3%), meat (18.6%), seafood (+37.9%), produce (+16.5%), dairy (+14.5%), and of course household care (+16.1%). Similar to alcohol, many of these categories are experiencing a boost in sales due to closures of restaurants and the shift of eating occasions centered at home. As we continue in this "next normal", which most likely will last for a while, it will be interesting to see how alcohol suppliers begin to leverage this understanding of other categories that are winning in-store and online, due to the obligatory home-body culture. We will need to continue to leverage as many insights and learnings as possible, to balance out the extreme on premise losses for alcohol this year.
For the week ending 7/25/20, total alcohol is up 18.6% in Nielsen off premise channels. The growth gap between spirits, wine and beer continues to widen, with spirits up 31.0%, wine up 18.2% and beer/FMB/cider up 14.7% in off premise channels. Core beer, excluding beyond beer segments (hard seltzers, FMBs, etc.), is up 8.1%.
ON PREMISE
Based on Nielsen CGA RestaurantTrak data (comprised of c15,000 independent restaurant operators and smaller groups), on premise velocity in outlets that are currently operational is down -28% vs last year for the week ending July 25, 2020. This is, however, a +205% increase from March 28 when on premise shutdown commenced. Week on week velocity has increased +3% for the week ending July 25 vs July 18 across the U.S.
BEER/FMB/CIDER
Hard seltzer growth "slowed" a bit, up 132%, but still surpassing $100 million in off premise sales for the latest week. This will be the 10th straight week of $100 million+ in off premise sales for hard seltzer. Throughout COVID, Nielsen has identified and tracked trends that are similar and different to trends that were happening in pre-COVID time periods. For example, in 2019, assorted packs accounted for nearly 2/3 (63%) of hard seltzer dollars. We wondered if that trend has shifted during COVID time periods, and if consumers are settling into specific flavors that they love. However, assorted packs are even more important now, accounting for 68% of hard seltzer off premise dollars for COVID YTD. There has also been a slight shift in share among specific flavors. Cherry and berry flavors, for example, declined in dollar share, while mango, pineapple, and fruit combinations all gained share of hard seltzer dollars. We should also note the importance that larger pack sizes have played during the pandemic, including 12-packs, which are predominantly variety packs in seltzers. If more hard seltzer suppliers begin to launch single flavors in 12 packs, it will be interesting to see if dollars begin to shift towards some individual flavors.
Looking outside of seltzers, there was not a substantial shift in trends for the latest week of off premise data across the beer category. Super premium, led by Mich Ultra, remains strong, up 19.7%. Crafts finished a bit stronger than previous weeks, up 12.8%, led by large national craft brands. The top 5 growth brand extensions for craft for the latest week in off premise were Blue Moon Light Sky, Sierra Nevada Hazy Little Thing, Blue Moon Belgian White, New Belgium Voodoo Ranger Imperial IPA, and Lagunitas IPA. FMBs have slowed over the past few weeks, up 4.0% for the latest week ending 7/25/20. Premium lights are up 6.2%, below premium segment is flat, and non-alcoholic beer experienced a bump, up 40% compared to the same week last year. Are consumers getting back to thoughts around health and wellness and mindful drinking?
SPIRITS
We continue to see the strong shift in volume from on premise to off premise for spirits, up 31% in dollars and 22.2% in volume in Nielsen off premise channels for the week ending 7/25/20 compared to the same week last year. Ready-to-drink cocktails continue to lead spirits growth, up 117%. While still small and accounting for just under 2% of total Spirit dollars, RTD cocktails have grown considerably in share, up from 0.8% from the 52 weeks prior to COVID. Tequila continues as a growth driver, up 68.5% compared to last year, representing 3 of the top 10 growth brands across spirits for the latest week. Tequila is the biggest share gainer among spirit categories, accounting for 12.7% in spirit dollars, up from 9.1% for the 52 weeks prior to COVID in Nielsen off premise channels. Cognac continues with extremely strong performance, up 71% vs year ago. Cordials also continue to outpace total spirits growth, up 36% in dollar sales for the latest week.
While whiskey is growing at a slightly slower pace than total spirits, given the overall size of whiskey, it continues to be the largest contributor of growth, accounting for 31% of off premise spirit growth dollars for the latest week. Four of the top 10 growth brands for spirits in the latest week of Nielsen off premise data are whiskey brands.
WINE
Wine is up 18.2% in dollars and up 12.1% in volume for the latest week ending 7/25/20 in Nielsen off premise channels. Since May, dollar growth of sparkling wine has been outpacing that of table wine, up 34% and 14.3% respectively. French champagne now leads, up 65% for the latest week, and prosecco continues with strong double-digit growth, up 34.7%. Table wine is growing at a much slower pace, up 14.3%. Recall that through the months of March, April, and May, the lower price tier of <$4 experienced positive growth week after week until the end of June, when it started to decline, returning closer to pre-COVID norms. As consumers continue to shift their on premise dollars to off premise, higher price tiers are winning, with table wine in the $25+ range up 32.6% and $20-$25 ranges up 34.3% in off premise channels. While the higher price tiers lead growth rates across wine, the mid-range price tier of $11-$15 is still the largest contributor to growth, accounting for more than 1/3 of total growth dollars for table wine.