Black Wine Executive Discusses Joys and Sorrows of Working in the Wine Industry -- and Some Solutions to Make a Difference
Stephen Sterling's great-grandfather was born in France in the 1800's and immigrated to Louisiana, bringing family recipes for making wine and spirits from fruit. Perhaps it is this heritage that runs in Stephen's veins, creating a strong family passion for crafting such high quality wines that they were served twice at the US White House.
Stephen's story and that of his father and three brothers, of being one of the first African-American families to start a winery in Mendocino, California, along with amassing over 200 acres of some of the finest vineyards in Sonoma County, should be told. Not only because the "Black Lives Matter" movement is making it much more relevant, but because it is a story of the American dream, along with much hard work, many hardships, strong friendships, success and loss. Through all this, Stephen shares insights on what is working well, areas for improvement, and suggestions to make a difference on race relations in the US wine industry.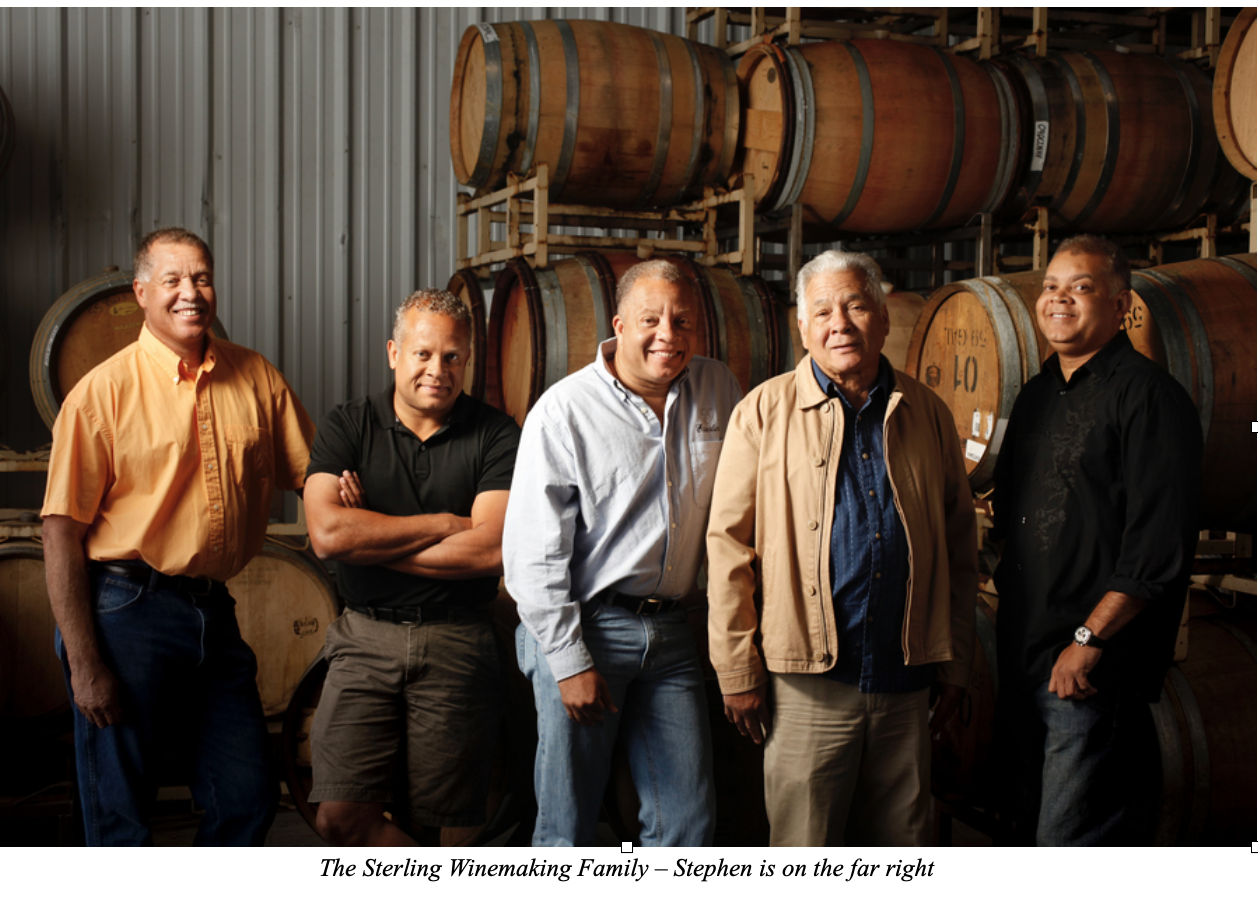 The Founding of Esterlina Winery with Support from Local Winemakers
Stephen's family moved to California because his parents wanted to escape the social climate of the Southern US. In California's Central Valley, the Sterlings grew row crops, and eventually saved enough money to purchase and raise beef cattle. This endeavor brought them to Mendocino's Potter Valley, where there was a more bucolic climate for the cattle. It was there that they encountered very friendly winemakers who encouraged them to enter the wine industry.
"One of the best things about the California wine industry," states Stephen, "is the wonderful support we had from the local winemakers in Mendocino and Sonoma Counties. It was John and Rich Parducci of McNab Ridge that encouraged my dad to plant grapes, which we sold to local wineries in the beginning. Pam and John Bacigalupi, who were friends of my brother Eric , encouraged us to buy vineyard land in Alexander Valley, and Rob Davis at Jordan Winery told us we farmed some of the highest quality grapes in the valley."
Through the years, the Sterlings purchased more vineyard land in the Russian River AVA and other parts of Mendocino County. In 1999, the Sterling Family bought the famous Cole Ranch AVA – the smallest appellation in America, producing cool-climate Riesling, Chardonnay and Pinot Noir. Eventually they decided to make wine themselves and established Esterlina Winery, which means "Sterling" in Spanish.
It was then that all four brothers came back to help their parents run the winery. Eric, who had become an ER physician, assumed the role of part-time winemaker while still working at the hospital; Craig who had obtained a JD from UC Davis and MBA from Univ. of Wisconsin, took over operations; Stephen who had completed his MBA at CSU-East Bay with marketing experience at AT&T, took over the role of Sales & Marketing, and Chris became VP of Vineyard Operations.
Award Winning Wines Served at the White House
"When we started our own wine labels," remembers Stephen, "our mentors jumped in to help us. Our experience with all the iconic industry winemakers and families we met was tremendous. When they saw my father getting up at 2-3am to frost protect in the winter and support our farm team, they recognized the culture of hard work and farming that was handed down in our family, as it was in theirs. There was never a bit of advice or industry insight that any of them hesitated to share when we got together."
Perhaps it was due to this support and the great vineyards they owned that the Sterlings were able to produce many award winning wines. For example, their 1998 Anderson Valley Pinot Noir won a Gold medal in the SF Chronicle Wine Competition in their first commercial vintage, and received very positive scores in the Wine Spectator and Wine Enthusiast. A huge honor occurred when the US White House served their 2005 Esterlina Off-Dry Riesling and 2007 Esterlina Dry Riesling on two separate occasions, under the reign of George Bush, Jr.. "The honor of a White House Menu," explains Stephen, "is they solicit your wine. You cannot lobby or request to be a White House honored wine."
"Winemakers like Justin Meyers, founder of Silver Oak," says Stephen, "who had a similar livestock background in the Central Valley as my father, became a great friend and would buy as many as 10 cases of our wines at one time! For me, that was one of the validations as to the quality of our wines. He often would his send his personal pilot to pick-up our wines when he was not able to come in person. That always wowed me."
Esterlina Wines
White House Menu with Esterlina Wine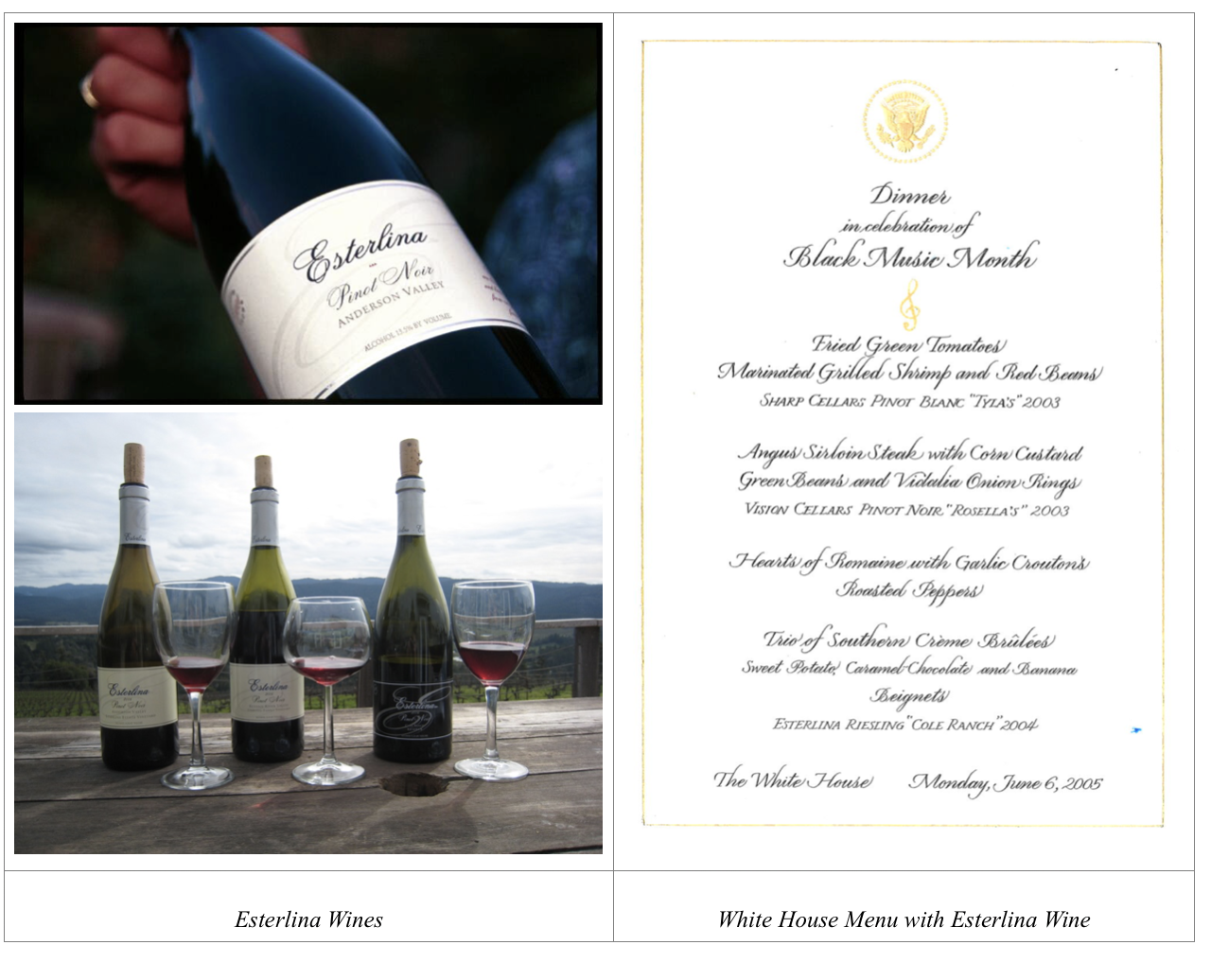 Challenges of Being Black in a White Industry
Stephen provides some examples of challenges he and other African Americans have experienced in the wine industry. As VP of Sales & Marketing, Stephen was traveling across the country to meet with distributors and call on accounts. He remembers the time he met a distributor sales representative in New York for a ride-along for the day. "I waited in the lobby of the hotel at 8am as planned," says Stephen. "But he was late. By the time he showed up I was the only person in the lobby, dressed in a suit and tie and with an obvious wine bag full of wine for sampling for the days visits. The sales rep circled the lobby area three times before stopping to ask me if I was the person from the winery. In his mind, this lone person of color could not be one of the owners of the winery that achieved these accolades or had history in the wine business of 20 plus years. Sadly, particularly in the distribution channels, this was too common of an experience."
Stephen recalls another time when Esterlina Winery was invited to a large consumer tasting because they had won so many medals. "In our early days, the only time we would see people of color at an event was dumping the disposal buckets, providing food services or cleaning. Most of the patrons must have engrained that expectation as well. Therefore, when I came up to talk with them, they would hand me their dirty glass or flatware, assuming my sole purpose was to service them, rather than to be honored for our wines. My fellow black wine industry friends admit they have encountered this type of sad experience many times as well."
These types of experiences also happened occasionally with grape buyers from outside of Sonoma and Mendocino counties. "Since my father loves farming so well," explained Stephen, "he often worked side by side in the vineyards with our workers. We still remember the day when the buyer for a major winery came to the vineyard and asked for the owner. When my father walked forward from the vineyard to shake hands, the buyer said, 'Are you a Mexican or something?' Instead of losing his temper, my father smiled and said, 'No, but that wouldn't be so bad, would it?'" Stephen concludes, "There are so many times you have to swallow your pride in order to make a sale and keep your business going when you are a person of color in the wine industry."
Solutions to Create a More Positive Work Environment for All
During his 20 years working in the wine industry, Stephen also served as President of the Association of African American Vintners (www.aaavintners.org) for several terms. During that time, he not only provided leadership to the organization, but listened to suggestions about what was needed to change the current paradigm to be more inclusive. Following are some of his solutions:
Recruiting: It is very important to actively recruit qualified people of color and women to the top level of wine corporations, and not just token people in non-PL departments such as HR or Marketing. They need to be in Operations, Sales, Finance, Accounting, and other strategic decision-making roles. Also, there should be at least two people of color and women at the table, reflecting the diversity of the target market.
More Consumer Events Celebrating People of Color and Women: Wine businesses need to organize and sponsor more consumer events for women, Hispanics, African Americans, Asian-Americans and other people of color. "Peter Mark, MW used to allow us to host Juneteenth at Copia, and people would flock to it," reports Stephen. "What is also interesting is that people would feel comfortable coming to us and asking questions that they didn't feel comfortable asking at white wineries. We helped to educate many new wine consumers about wine."
Employee Training on Inclusion: Provide inclusion training for all employees at your wine business, and encourage them to speak out if they see a customer, distributor, or anyone else treating someone else badly. Conversely, train them to treat customers who are people of color and women in a respectful manner. "The mainstream perception," says Stephen, "is that people of color do not have the money to buy expensive wines, but you can't make assumptions about the size of their bank book based on the way they look."
University Content, Programs, and Scholarships: Encourage your local university or community college to add educational content to their classes that highlight the important role of minorities and female farmworkers, winemakers and winery owners. Create a class or module on the "History of Farming and Winemaking" that includes all workers. Support diversity programs on campus and contribute to scholarships that support students pursuing wine degrees who are people of color and/or women.
Support Diverse Wine Associations - Become a member or sponsor one of the many wine associations to support people of color and women. Consider Association of African-American Vintners (www.aaavintners.org), Mexican American Vintners ( http://nsmava.org/), Women of the Vine & Spirits (https://www.womenofthevine.com/), amongst others.
A Win-Win for the Wine Industry
Sadly, in 2015 the Sterlings lost their winery and vineyard acreage. Despite this sad fate, Stephen is still positive about the wine industry. "I am personally thankful for the opportunities and support that were provided to us by so many iconic winemaking families. While there is still a lot of work to do to bring more people of color into the industry so that it reflects the demographics of this nation, we are slowly making progress. My hope is that soon more positive steps will be taken so that we create a win-win for all. Wine industry educators, media and industry leaders are called on to lead this effort."
by Dr. Liz Thach, MW
About the Author: Dr. Liz Thach, MW (Liz@lizthach.com) is the first female Master of Wine on the West Coast of the US. She is a Wine Journalist and the Distinguished Professor of Wine and Management at Sonoma State University (SSU). She enjoyed working with Stephen Sterling when he taught for three years as a part-time wine business professor at SSU and served as a member of the Wine Business Institute Advisory Board.