Wine sales off premise grew +19.7% in week ending July 18 - Nielsen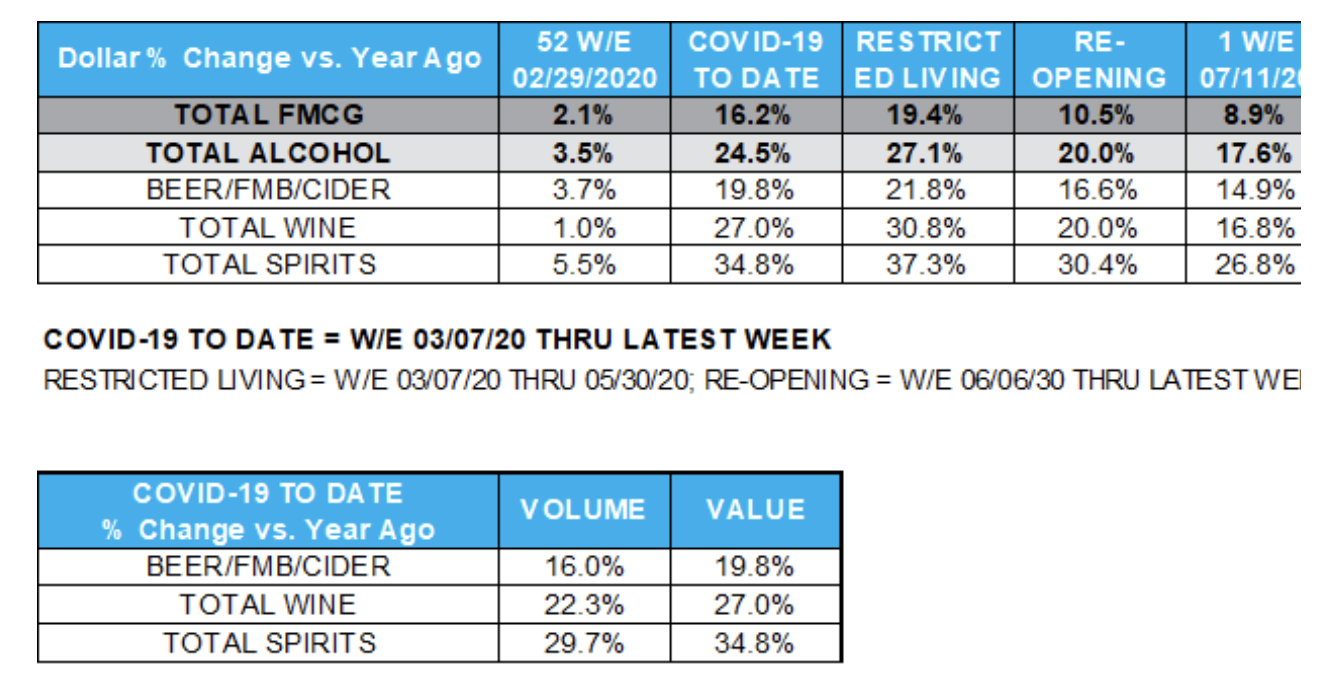 TOTAL BEVERAGE ALCOHOL
Unless otherwise noted, all trends below are for Nielsen off premise channels for the week ending 7/18/2020 compared to the same week in 2019. We continue to remind our readers that we are only measuring sales in some specific off premise channels, and that the impact of the health crisis on sales is uneven across companies in the Alcohol industry.
Total fast-moving consumer goods (FMCG) dollar growth is back in double digits, up 11.2% for the week ending 7/18/20. With renewed on premise restrictions across many parts of the country, off premise alcohol sales were up 19.0%, once again surpassing FMCG growth rates. Spirits off premise dollar growth was 29.3%, far outpacing growth rates of wine and beer categories, which were 19.7% and 15.4% respectively compared to a year ago.
Nielsen has been referring to a couple of different time periods related to COVID impacts: 1) COVID year-to-date, which started the first week of March (now 20 weeks); 2) Restricted Living (first week of March through the end of May); and 3) Re-opening (first week of June through the latest time period). Looking at just those more recent growth rates may be a better indication of what we'll potentially see through the end of the summer, and maybe even into the fall, as consumers settle into their new normal.
While growth rates have ebbed for all three categories, coinciding with on premise re-opening to varying extents, spirits has clung on to its earlier growth better than either beer or wine, while the latter's growth has decelerated the most. That may be attributed to some business moving back to the more wine-friendly restaurant environment which are less impacted than bars by newer closures during the re-opening.
ON PREMISE
Based on Nielsen CGA RestaurantTrak data (comprised of c15,000 independent restaurant operators and smaller groups), overall sales velocity in outlets that are currently operational is down -28% vs last year in the week to July 25. This is, however, a +205% increase on March 28 when On Premise shutdown commenced. Week on week velocity has increased +3% July 25 vs July 18 across the US.
It's worth noting that restaurant sales velocities over the last few weeks are more stable now than what we saw previously, but that these numbers are specific to dining locations, and not the much less stable 'bar' environment.
BEER/FMB/CIDER
Total beer/FMB/cider was up 15.4% in dollars and 12.0% in volume for the latest week ending 7/18/20. Core beer (excluding beyond beer segments) is up 8.6% in dollars. We're back to positive growth rates for every segment in the beer category in off premise channels, likely due to the shift back from on premise with the second round of closures.
Considering the tough comps from the summer of seltzers in 2019, the segment continues to grow at phenomenal rates, up 142% compared to the same week last year. Seltzers accounted for 45% of the total category growth, led by White Claw, Truly, and Bud Light Seltzer. Given the unique circumstances of 2020, it's interesting to see how well new brands are performing this year. Three of the top 6 seltzer brands for the latest week (ranked by off premise dollars) were either new brands or brand extensions launched in 2020.
Growth rates for other key beer segments for the week ending 7/18/20 were: super premium +20.6% with Mich Ultra once again as the top growth brand extension for the category, craft +12.6%, Mexican imports +7.2%, premium light +6.4%, FMBs +5.0%, and below premium +0.4%.
The beer/FMB/cider category had a strong week in the convenience channel, up 18.4%, outpacing growth rates for the grocery channel, which were up 15.4%.
SETTLING INTO THE NEXT NORMAL
For some segments, there were distinct differences in trends during the restricted living time period compared to the re-opening time period. Total beer/FMB/cider growth during the restricted living time period was up 21.8% in dollar growth. That slowed to +16.6% in the re-opening period (to date). Here are segments and channels that saw some of the biggest shifts from the restricted time period to re-opening:
Beer/FMB/cider in grocery channel: +30.1% during restricted vs +18.6% in re-opening
Cider: +18.6% vs +6.7%
FMBs (excluding seltzers): +23.1% vs +11.7%
Kombucha: +70.0% vs +30%
Mexican imports: +20.4% vs +10.5%
Hard seltzer: +312% vs +180%
Segments that haven't shifted as much between the two COVID time periods or phases include super premium, premium light, craft, and non-alcoholic beer.
WINE
Wine dollar sales in Nielsen measured off premise channels grew +19.7% in the most recent week vs year ago, up from last week's +16.8%.
Comparing growth rates between the earlier restricted living period and the more recent re-opening period:
Package size growth rates are showing a very big swing: earlier in the pandemic period, consumers shopped in stores infrequently and sought larger packages, and so we saw larger packages (e.g. 1.5L bottle, 3L and 5L boxes) growing quickly. Those growth rates have subsided significantly, though the 3L box is still up 30% during the past seven weeks vs year ago. Cans and 375 ml bottles are both growing in the 50% range during that same time period.
Within just bottles, growth of the lower price tiers ($11 and under) have receded substantially. Growth rates of price tiers in the $11-$20 range are still substantial, but reduced versus where they were earlier, while growth rates of price tiers $20-$25 and $25+continue to be the highest, and steadiest. A reminder again, consumers moving their product purchase from on to off premise are saving large sums of money when that happens.
Unlike table wine, sparkling wine growth rates have, if anything, accelerated as consumers have settled into their 'new normal' and moved their celebrations from the on premise into or around the home.
By channel, while generally growth rates predictably decelerated moving into the re-opening weeks, the Convenience channel was the only one that maintained consistent high rates of growth across the two time periods suggesting a steadier shopping pattern.
SPIRITS
Spirits' growth of +29.3% continues to lead the other beverage alcohol categories by a wide margin, and continues to gain share within the total beverage alcohol space. Comparing growth rates between the earlier restricted living period and the more recent re-opening period:
Segments where growth has slowed much faster than the total spirits category (but still growing): American Whiskey; Cordials; Gin; Rum; Vodka
Segments where growth has increased moving into Re-opening: Cognac; Scotch; Japanese Whisky
And how about the two clear sub-category winners:
RTD's: +89% in the first three months vs year ago; and +81% over the last seven weeks. Cans now represent around ? of the RTD category over the last 52 weeks, with now triple digit growth
Tequila: +67% in both periods of time
A few other interesting nuggets:
Across the various off premise channels we're tracking, in those selling a large array of fast moving consumer goods as well as alcohol such as the Grocery channel, spirits growth rates decelerated moving into the re-opening period. On the other hand, growth rates are more consistent across the two time periods in more specialized channels, such as the Liquor and Convenience channel. And in fact, growth rates in the Convenience channel are higher than any other.
Package size growth rates are showing a very big swing: earlier on consumers shopped in stores infrequently and sought larger packages, and so we saw the 1.75 Litre grow faster than the 750 ml bottle, but that has now reversed. And smaller sizes (all the way from the 50 ml to 375 ml) are growing faster now than they did in the first three months