Using AR Technology, Siduri Launches the Next Great Innovation in Digital Storytelling for Wine Brands
This holographic, three-dimensional experience educates and engages wine consumers like never before.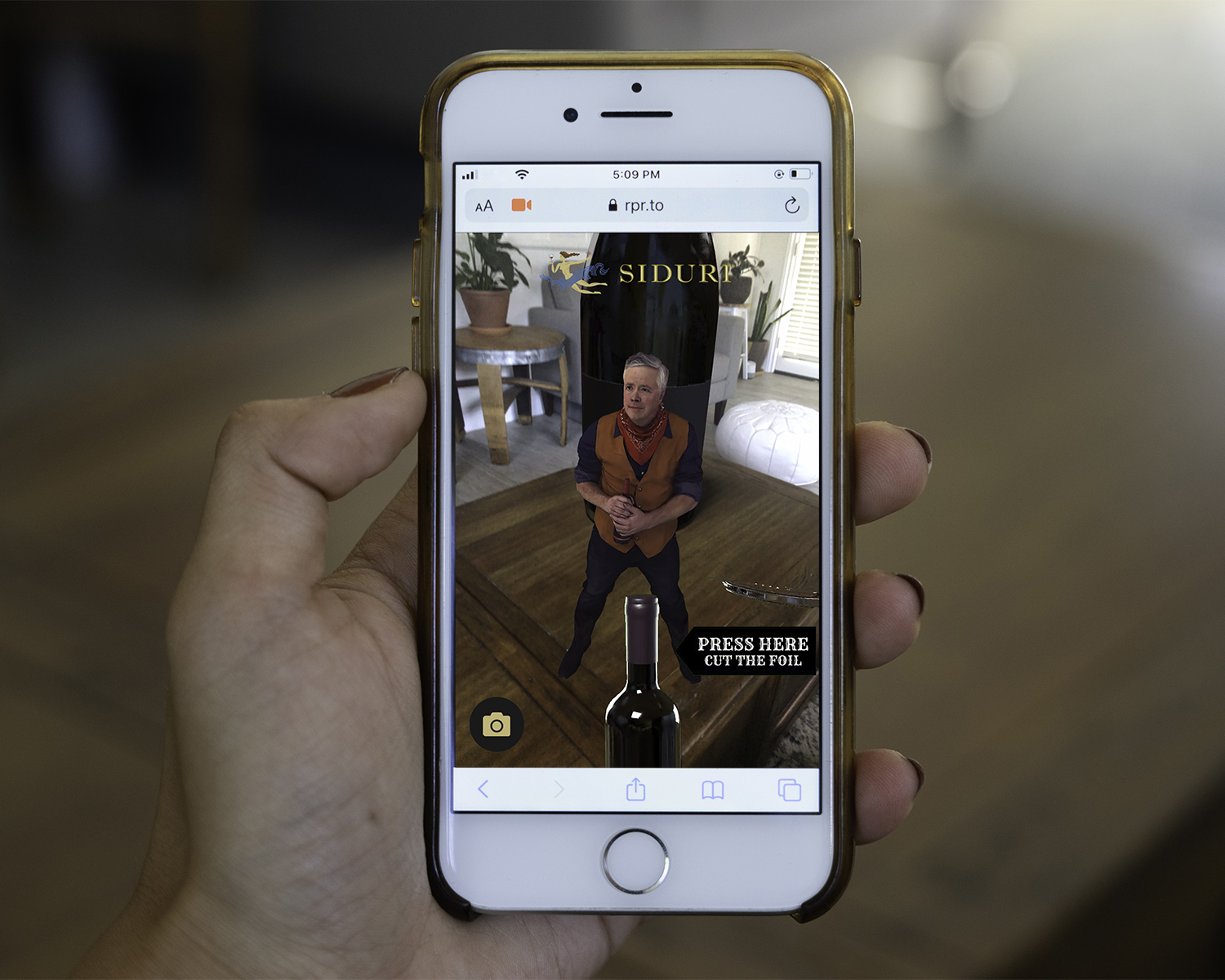 During a time when wine producers are seeking creative ways to engage consumers more than ever before, Pinot Noir producer Siduri is leading the industry into a new era of digital storytelling. The winery has developed a holographic and three-dimensional interactive experience that utilizes augmented reality (AR) technology and launches on consumers' smartphones from a simple scan of a QR code—no app or headset required.
"How you tell wine stories has always been at the heart of wine marketing. We're always trying to recreate the experience of tasting in person with a winemaker," said David Bowman, executive vice president of Jackson Family Wines. "This started with this desire to figure out what's the next frontier for storytelling for wine."
Siduri partnered with Rock Paper Reality and built the Siduri Holographic Experience with volumetric capture technology from Microsoft's Mixed Reality Capture Studios. It's the first time this holographic technology, as seen in films like Star Wars, has become available in Web AR—meaning it doesn't require an app download or headset to operate—and applied to the consumer goods industry.
The idea was to connect wine consumers with not only the brand, but the winemaker as well, and to educate and engage them in an entertaining way. "Very few people at the end of the day get to visit the winery, so your ability to now reach them in a visceral way where there's noise, visuals and interaction is pretty powerful," said Bowman.
With a history of being on the cutting edge, taking risks and not taking himself too seriously, Siduri founder Adam Lee was an ideal choice to test the technology. Siduri then selected three seminal brand stories to tell within the Siduri Holographic Experience: Pinot Noir's expression of site, Lee's use of and longtime advocation for screw caps, and the winery's 500+ 90-point scores.
Once the experience launches—it works best with a WiFi connection and flat surface— consumers will find Lee literally popping out of the bottle. In two of the segments, he's in character as a cowboy and a game show host. "It's like I'm on the dating game and I'm saying, 'This is Ms. Willamette Valley, this is Ms. Russian River and Ms. Santa Barbara, and describing what they're like so the consumer has an idea of what they're getting with those wines," said Lee, who in another segment, looks to make wine scores more exciting with a skit that plays off of Siri, but in this case, it's Siduri. "I could sit there and talk about the great ratings we received, but to have the ratings fall down upon you and almost crush you, that becomes a little more interesting, a little more entertaining."
Consumers also get to interact with the application, touching the screen to initiate actions, like cutting the foil and opening the bottle. At the end, there's a direct link to Siduri's website. "The opportunity to immediately buy the wine I think is going to be really compelling in the future. People are going to go back to restaurants," said Bowman. "They can be sitting at a table, have this great bottle of wine they're really enjoying and click and have that wine delivered to their front door in a couple of days."
The Siduri AR experiences are seamlessly accessed via hyperlink or QR codes placed on neckers at some stores, in POS materials, and on Siduri's website. Next vintage, they'll be on the back label of select bottles, so that drinkers can access it while dining at a restaurant or inside a bottle shop. By then there will also be new videos created that tell the story of those individual wines.
The Covid-19 pandemic has generated an immediate need for wine brands to reach and engage consumers from and while filming took place at the beginning of the year utilizing a 106-camera system at the Microsoft Mixed Reality Capture Studios, Lee said he could never have predicted how vital the technology would be in a few short months. "It's much more valuable during this time, where I'm not able to get out in front of anybody," he said, adding that he anticipates more wineries looking to use this technology in the future. It does, however, require significant investment to film and build the experience.
"This is only the beginning. We're just opening the door and at some point down the road, it's going to be really interesting to see how this is used by different people involved in marketing, selling, and presenting to people a wide range of products."