Off-Premise, DtC Lead Consumer Wine Buying in June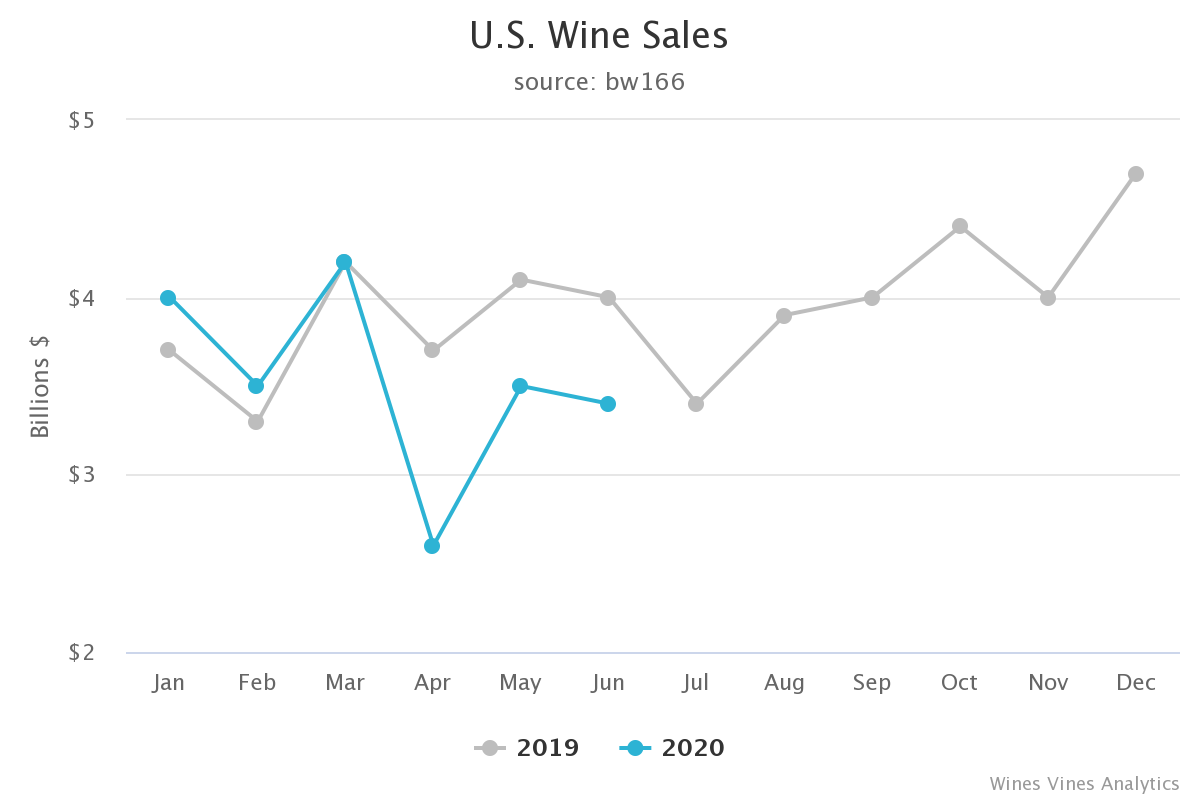 Sonoma, Calif. – The reopening in late May of many businesses, including tasting rooms, restaurants and bars, was seen in June wine sales, though the lingering effects of the COVID-19 closures continued to be felt.
Consumer spending on domestic wine was down 5% to $70 billion in the 12 months ended June and totaled $3.4 billion for the month, reported market research firm bw166. Strong growth in off-premise and direct-to-consumer channels was canceled by ongoing weakness in on-premise activity, which bw166 estimated as being down 69% in June versus a year earlier. While this was a significant improvement over previous months that saw declines in the range of 90%, all signs – including renewed restrictions as infection rates spiked in late June and early July – promise limit on-premise sales for the remainder of the year.
"It will be likely we will continue to see declines of 50% to 75% per month for the balance of the year in on-premise," said bw166 managing partner Jon Moramarco. "The drops will be dependent on the evolving government orders on business activity."
Moramarco's comments and other data and insights on the U.S. wine market were in the July issue of the Wine Analytics Report (https://winesvinesanalytics.com/, which released on July 15.
Off-premise sales
Restrictions at on-premise accounts have buoyed spending through Nielsen off-premise channels, which was up 20% to $974 million in the four weeks ended June 13 versus a year ago. Volumes in the period increased more than 14% to nearly 10.5 million cases.
The July report focused on trends in wine packaging and while glass remains the dominant container type through off-premise channels, holding about 88% worth of dollars spent in the 52 weeks ended June 13, boxed wines ranked second, accounting for $1.6 billion in sales, or 9% of wines sold. While canned wines capture the smallest segment of sales, at just $163 million worth of wine sold, cans are the fastest-growing packaging type with sales increasing 79% in the latest 52 weeks. This compared to a 14% growth rate for boxed wines, which offer the most economical wine to consumers at just $3.54 per 750ml. By contrast, canned wines commanded an average of $8.60 per 750ml, second only to wines in glass packaging which averaged $9.04 per 750ml.
DtC shipments
In addition to off-premise channels, consumers were also spending more on direct-to-consumer (DtC) shipments, which increased 30% in June versus a year ago to $189 million, according to Wines Vines Analytics/Sovos ShipCompliant. Shipment volume for the month increased 40% to 550,355 cases. The activity boosted shipment value in the first six months of 2020 to almost $1.7 billion, 15% above a year ago.
The ongoing growth of volume relative to value resulted in the average bottle price of shipments during the first six months of 2020 sinking 11% versus a year ago to $34.98. Napa remained the source of the most expensive bottles with an average price of $58.55 in the six months ended June while Oregon and Washington bucked the national trend with average bottle price shipment rising 2% and 4%, respectively.
While wineries keep an eye on the market trying to gauge the depth and direction of consumer demand, preparations continue for the upcoming harvest. While hiring in June was down 20% versus a year ago, according to Winejobs.com's Winery Job Index, demand for workers has been strengthening since late March. The strongest subcategory was winemaking and production positions, which saw demand 5% greater than a year ago. It was also the most resilient segment of the market this year to date, with activity just 22% lower than in the same period last year. This compared to 51% lower demand for DtC positions.