Changes for ASEV, ASEV-ES--and now the Unified Symposium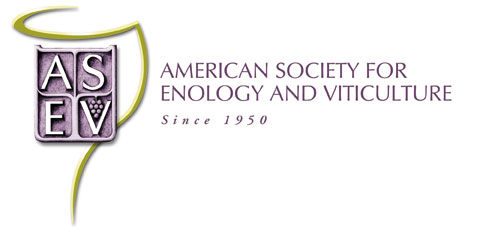 Since its establishment in 1975, the American Society for Enology and Viticulture-Eastern Section (ASEV-ES) has held its annual meeting only once at the same time and place as the national organization, in Austin, Texas in 2014. This summer was to be the second joint meeting in Portland, Oregon, but because of the coronavirus pandemic, that joint conference was cancelled. After that announcement, the ASEV-ES board decided to hold their conference as a Zoom meeting on July 14.
Traditionally, a representative from the American Society for Enology and Viticulture (ASEV) gives a presentation at the Eastern Section conference. This year Dr. Patty Skinkis, associate professor of horticulture at Oregon State University, Corvalis and president of the ASEV board, reported that ASEV had held their annual business meeting and then sent a report via email to members. In addition, a series of webinars was scheduled to offer four talks from the planned seminar on invasive pests, as well as presentations by three of the 2020 award winners.
Perhaps the most important part of Skinkis' report, however, was the announcement that ASEV and its partner, the California Association of Winegrape Growers (CAWG), have decided to cancel the on-site Unified Wine & Grape Symposium that was scheduled to be held at the Cal Expo grounds in Sacramento, CA on January 12 to 14, 2021. Instead, Unified will take place online as a virtual conference and trade show on January 26 to 28, with the trade show continuing on January 29 from 8:00 a.m. to 11:00 a.m. (PST).
Two hours later, the 2021 Unified Wine & Grape Symposium, LLC Managing Committee (composed of representatives of ASEV and CAWG) announced that they had "determined there was significant uncertainty whether public health officials would permit the Unified to occur as an in-person event, which meant unacceptable financial risks for exhibitors, sponsors, attendees and show management." With Unified hosting the event online, "Industry members will be able to access vital business, research and marketing information, while avoiding the many challenges associated with the current COVID-19 pandemic."
ASEV-ES meeting online
Dr. Renee Threlfall, research scientist in enology and viticulture at the University of Arkansas and executive director of ASEV-ES, noted that ASEV-ES had been very lucky this year to raise $10,000 to fund the organization's scholarship program. The main fund-raising activities each year are the silent and live auctions of vineyard and winery items at the Eastern Winery Exposition (EWE). This year's EWE took place in Lancaster, Pa. on March 10-12, and the next day many parts of the country shut down on account of the Covid-19 pandemic.
Because of the fortuitous timing, ASEV-ES was able to award seven student scholarships. Recipients included Ryan Fifield and Demetra Perry from Cornell University; Suzanne Fleishman and Andrew Harner both from Penn State University; Alex Fredrickson, University of Missouri-Columbia; Andreanne Hebert-Hache, Brock University; and Laise Moreira, from the University of Minnesota.
As of this meeting, Dr. Amy Bowen, director of consumer insights at the Vineland Research and Innovation Centre at Brock University, took over the chairman's role from out-going chair, Dr. Paul Read, professor of viticulture at the University of Nebraska. She noted that one goal for ASEV-ES this year is to create webinars on different viticultural and enological topics that will be relevant to members. Another important task is to look for other ways to raise money for scholarships, possibly by establishing an endowment account that could be funded by donations.
Dr. Andrew Reynolds, Section Representative, announced the election results for officers and board members of Eastern Section for 2020-2021:
Chair-elect: Dr. James Willwerth, Brock University's Cool Climate Oenology and Viticulture Institute;
Secretary (2020-2023): Dr. Justin Scheiner, Texas A&M Agrilife;
Treasurer (2020 to 2023: Dr. Elizabeth Chang, Virginia Tech;
Section Representative: Dr. Anna Katharine Mansfield; Cornell University's College of Agriculture and Life Sciences,
Directors for 2020-2021: Dr. Andreea Botezatu, Texas A&M University; Dr. Michela Centinari, Penn State University; and Lisa Smiley, owner of Cannon Valley Vineyards in Cannon Falls, Minnesota.
Other directors currently on the board include Cain Hickey, Penn State University; Karine Pedneault, Université Sainte-Anne, Nova Scotia; and Tony Wolf, Virginia Tech.
The ASEV-Eastern Section Conference in 2021 is scheduled to be held at the Hilton Minneapolis/Bloomington in Bloomington, Minn. from July 7 to July 9, 2021. The conference in 2022 will tentatively take place in Austin, Texas.
ASEV's annual conference in 2021 will be held at the Portola Hotel & Monterey Conference Center in Monterey, California. The 2022 conference will be in Temecula, California; 2023 in Napa, California; and 2024 in Portland, Oregon.
ASEV shifts conference special programs and award lectures to webinars
Because their annual conference was canceled on account of the Covid-19 pandemic, ASEV has scheduled a series of webinars via Zoom. All webinars are available free to members of ASEV and to non-members for a registration fee of $50 per webinar.
A full-day seminar on invasive pests was planned for the 2020 conference in Portland, Instead, ASEV is presenting a series of four webinars by symposium speakers. Heather Leach, Spotted Lanternfly Extension Associate at Penn State University, gave a talk on June 3 on the spotted lanternfly, an invasive planthopper from China and South Korea that has now been found in six states in the East, and Dr. Megan Hall, Assistant Research Professor in Plant Sciences at the University of Missouri-Columbia, conducted a webinar about fruit flies and their role in sour rot on July 2.
Two additional invasive pest webinars are on the calendar for this coming fall:
October 22 from noon to 1:00 p.m. (PDT):
Gwen-Alyn Hoheisel, Regional Extension Specialist at Washington State University, Prosser, will talk about "Lifecycle Modeling and the Impacts of Climate Change;"
November 12 from noon to 1:00 p.m. (PST):
Dr. Monica Cooper, Viticulture Farm Adviser and County Director of the University of California Cooperative Extension, Napa Valley, will discuss "Invasive Species Response: Lessons from the European Grapevine Moth Collaborative Program."
Three other webinars will be presented by ASEV award winners:
July 30, 2020 from 9:00 a.m. to 9:45 a.m. (PDT):
Dr. Marc Fuchs, professor of plant pathology at Cornell University, will present the 2020 Best Viticulture Paper, titled "Elimination of the Crown Gall Pathogen, Agrobacterium vitis, from Systematically Infected Grapevines by Tissue Culture." The paper was written by Luz Marcela Yepes, Tom Burr, Cherie Reid and Marc Fuchs from Cornell University's School of integrative Plant Science. The study concluded that the elimination of Agrobacterium vitis, a serious global grapevine disease, was achieved from severely infected Vitis vinifera cv. Riesling vines by culturing buds and meristems from shoot tips of greenhouse-grown plants followed by micropropagation in tissue culture.
August 5, 2020 from 9:00 a.m. to 10:00 a.m. (PDT):
The 2020 recipient of ASEV's Extension Distinction Award, Dr. Michelle Moyer, associate professor and extension viticulturist at Washington State University, Prosser, will give a webinar talk on "Land Grants and Grapes: Traditional Approaches for Modern Extension Programs." ASEV gives this award each year to recognize an extension educator for his or her outstanding contribution to an extension program or the advanced translation of novel research findings into commercially applicable tools for enologists or viticulturists.
August 19, 2020 from 9:00 a.m. to 9:45 a.m. (PDT):
The Best Enology Paper, titled "Distribution of Yeast Cells, Temperature and Fermentation By-Products in White Wine Fermentations" will be presented by Dr. Dominik Durner, of Dienstleistungszentrum Ländlicher Raum (DLR) in Rheinpfalz, Germany. Durner and the other authors of the paper – Mira Schwinn, Antonio Delgado and Ulrich Fischer, all from the DLR –concluded that the practice of yeast inoculation from the top of the fermentation tank without stirring had a larger-than-expected effect on fermentation kinetics in low turbidity juice.
Three other award winners in 2020 will present their talks at the 2021 conference:
2020 Keynote Speaker: Dr. Gavin Sacks, professor of food science at Cornell University;
2020 Merit Award Recipient: Dr. Hildegarde Heymann, professor of enology, University of California, Davis,
2020 Honorary Research Lecture: Dr. Hans Schultz, president of Geisenheim University, Geisenheim, Germany.