2020 Tasting Room Study: Results Show Opportunities for Growth
While most DTC dollars are made through wine clubs, the forced closures of tasting rooms have shown that e-commerce and phone sales should also play an important role in the DTC line-up.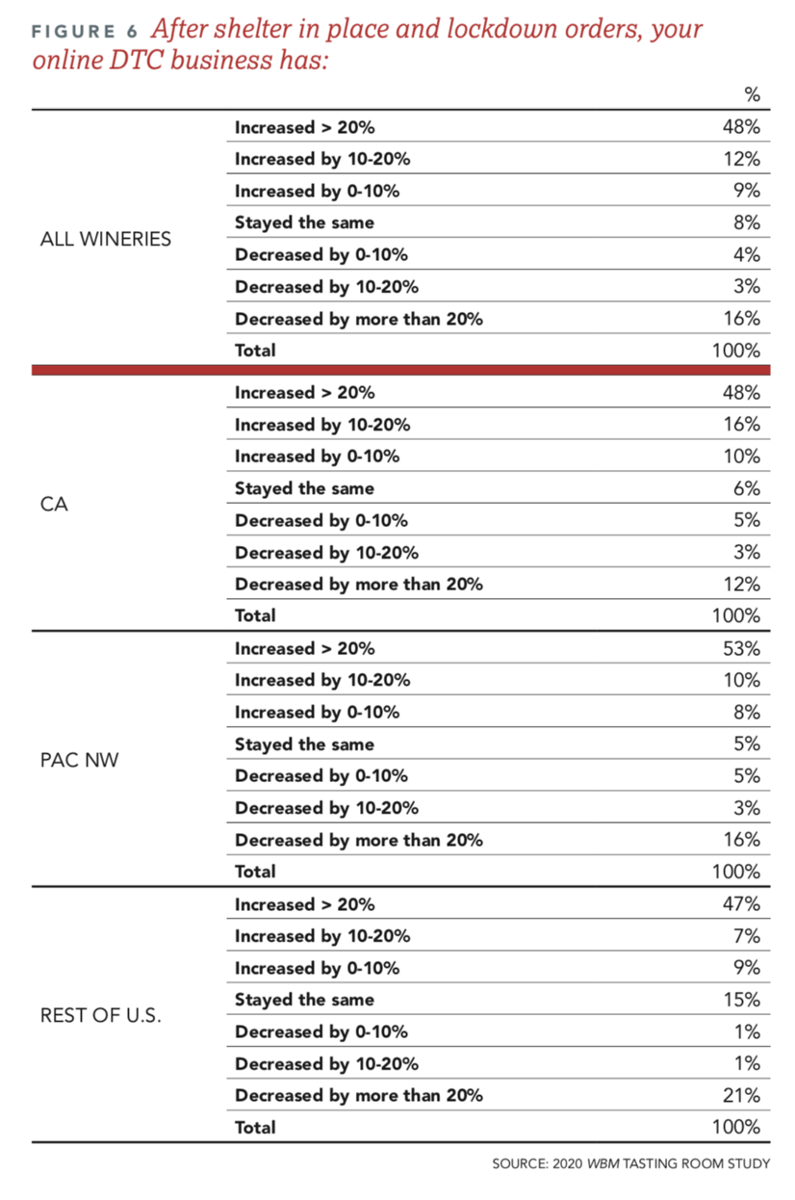 As this article went off to press, many tasting rooms across the country were just beginning to re-open but, today, many of them are being forced to close again.
The last few months have presented an interesting opportunity to evaluate the effectiveness of any given tasting room as part of a larger direct-to-consumer sales effort. With the 2020 Wine Business Monthly Tasting Room Study, we hoped to create a baseline for discussions about tasting rooms, both before and during COVID-19, as well as show opportunities for growth.
The results presented a few different takeaways. First, that tasting room business was healthy last year, with modest or appropriate growth in some of the more established regions, and robust growth in others. Results also showed that those wineries who pivoted quickly to a re-engagement or service model were able to maintain loyal, local consumer bases throughout shelter-in-place (SIP) and the brands with strong e-commerce presences were able to see incredible gains. Finally, it showed that there are a few areas where tasting rooms and DTC programs are falling behind or, with a little work, have room to grow.
Many of the results reflected areas where tasting rooms have a real need to adapt. In one of the more obvious instances, our second question asked wineries whether their primary tasting room was open to walk-ins, is open by appointment only, or is open by some combination of walk-in and reservation. In any other year, this question on its own might have seemed irrelevant and only useful when taken in context of tasting room sales or visitation.
But in 2020, when tasting rooms on the West Coast are now being pushed to take reservations, and wineries across the country are being asked to monitor and manage smaller capacities in addition to 6-foot distances between parties and accelerated sanitation protocols, the ability to take and manage appointments has turned out to be essential. In this survey, only 16 percent of tasting rooms operated by appointment only and a further 25 percent offered both walk-in and reserved tastings. That left a majority (59 percent) of tasting rooms with likely no reservation software, and a need to build reservations into standard operating practices if they wished to reopen earlier in the lockdown easement.
Data Shows DTC Industry Still Healthy
Visitor Numbers
Prior to the pandemic-related forced closures of tasting rooms around the country, many had already suffered forced operational closures due to natural disasters. As a result, much of the conversation, particularly in regions that had experienced multiple wildfires, flooding, and outages over the last four years, centered around decreased visitation. The July 2019 WBM/SVB Tasting Room Survey Report showed that average monthly tasting room visitation was down in Napa County between 2017 and 2019, and Sonoma saw a bit of a slump from 2016 to 2018.
That continued in 2019 in the North Coast. In February 2019, the Russian River area experienced severe flooding which deterred visits. In October, a combination of fires and Pacific Gas & Electric "Public Safety Power Shutoffs" curtailed interest in tasting rooms again. If it weren't for these events, Chris Puppione, director of sales and hospitality at Passalacqua Winery in Sonoma, Calif., said, their visitor numbers would likely have been on par with the prior year; but it's not all bad news.
"We had a great 2019," he said. "Even with the rolling blackouts, with the flooding at the beginning of the year, with the fire at the end of the year, we still had a very strong 2019. We managed to do really well in the tasting room all the same. Plenty of people had really good years in 2019 also."
California wineries reported that visitation was up 6.5 percent on average in 2019, an increase fueled by growth in tasting room visitation on the Central Coast, according to WISE Academy founder Lesley Berglund.
"If you talk to local tourism offices, overall, tourism is up," Berglund said. "Pre-COVID, what was happening was that as the escalation of the guest experience has occurred—meaning longer experiences, more expensive, the addition of food and wine pairings—people were no longer cramming in six winery visits in a day. They might only visit three, but they're still spending a lot. It's more competitive for sure, but this trend doesn't mean death of the tasting room, it doesn't mean death of tourism."
Over the last few years, the Tasting Room Survey has shown a move toward more casual and formal seated tastings, rather than a more traditional bar format—a move that encourages guests to remain on property longer and provides the potential for greater brand engagement. While, yes, this means that the number of visitors is lower, it has also resulted in higher average order values (AOV) and higher wine club conversion rates. This has allowed highly attentive and individualized hospitality, something Puppione has attributed to the growth at the winery.
Continue Reading 2020 Tasting Room Study: Results Show Opportunities for Growth in the July 2020 Wine Business Monthly