Legislative Update: DTC Efforts Paused by Pandemic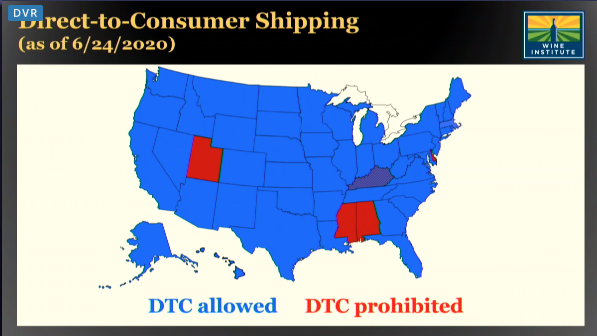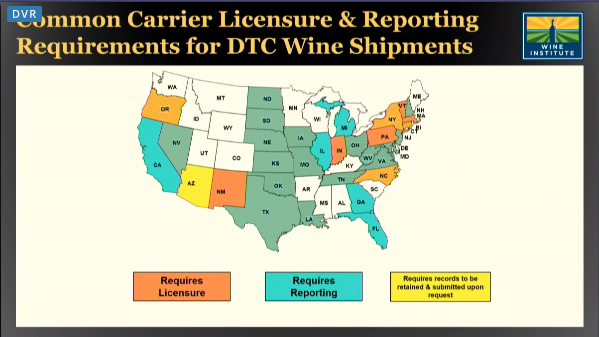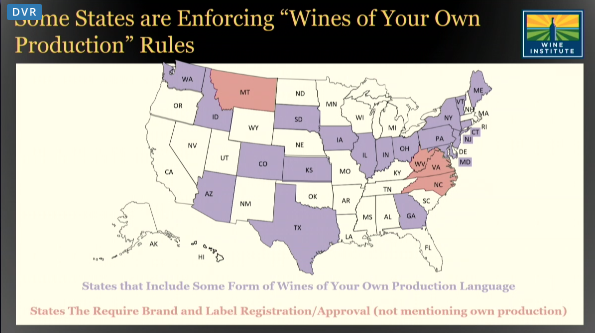 The list of states still closed to winery direct-to-consumer shipments has dwindled to just four — Utah, Delaware, Alabama and Mississippi — but efforts to open those hit a novel roadblock this year as state capitols were shut down during the initial closures related to the ongoing pandemic.
In his annual update on efforts by himself and other lobbyists working for Wine Institute to pass or change laws to allow DTC shipments, Steve Gross said he and his team ran bills in the four remaining states only to see the legislation stall or die because of the shutdowns or as legislators had to turn to more pressing matters.
In Mississippi, Gross was disappointed to report that legislators there opted not to consider a Wine Institute backed bill but instead passed what he called a "special order" law that allows wineries to ship to consumer through a complex, inefficient and expensive process.
He said consumers will have to order through one of the state's wholesale package store retailers that are responsible for taxes and retail markups and can charge the consumer a service fee. The consumer would also have to pick up at the retailer and total shipments are limited to 10 cases per year.
Special order is not DTC
Gross said state lawmakers called the bill, which awaits the governor's signature, as a first-step toward DTC. "We don't really agree," he said.
The update came during a virtual summit held by SOVOS ShipCompliant. In previous years, the event has been held in Napa, Calif., where Gross has often joked that he'll be able to retire (he started working on DTC laws in 1986) when he opens up Utah.
While Utah lawmakers did approve a law that allows for some winery shipments, "I still can't retire because I don't think this is direct shipping either."
Gross said the new law is really a special-order allowance similar to Mississippi's new law. In Utah, consumers are required to sign up to a wine subscription service through one of the Utah Department of Alcoholic Beverage Control (DABC) stores. The DABC then will contact the winery to arrange a shipment to a state warehouse, which collects an 88% mark up and changes a handling fee before shipping to a designated state store for consumer pickup. "The logistics of this, we think, are unworkable," he said.
A DTC bill that would have replaced an onerous special-order provision in Alabama did make it to a second reading in March but the legislative session ended soon after. Gross said he's still waiting to see if a DtC bill in Delaware will move forward.
He was happy to report that Kentucky replaced a law that had been billed as a DTC law but really was not ideal and had been opposed by the Wine Institute. Out-of-state wineries can now ship Kentucky consumers up to 10 cases per month after securing a $100 permit.
Removing capacity caps, 'wholesaler' exclusion
Gross said work also continues on lifting prohibitions on wineries that produce more than 250,000 gallons making shipments to residents in New Jersey and Ohio.
He said Free the Grapes has begun a campaign in New Jersey and Gross called on any people in the online audience who worked for wineries that either had production grow past the limit or where acquired by a larger company thus closing New Jersey to shipments to rally their customers to contact lawmakers. "We would love to work with you to have you contact your former patrons and customers in New Jersey because they are the best advocates," he said.
Wine Institute also continues to try and repeal the "wholesaler exclusion" law in Indiana where any winery with an in-state wholesaler is barred from shipping wine to consumers. Gross said he's run multiple bills to get this changed and he was optimistic this year only to see the session adjourn with lawmakers not addressing any policy bills.
Gross also stressed that age verification in deliveries is receiving heightened attention by regulatory agencies across the U.S. and that regulators are also ramping up efforts to ensure all shipping laws and regulations are being followed. This includes greater scrutiny on third-party fulfillment companies which are being subject to more regulations in a greater number of states.

New York has aggressively investigated shipments by retailers, Texas has launched a new audit program for DTC shipments, Michigan is also taking steps to ensure all shipments are made by the producer and Virginia has doubled the cost of its permit to fund additional staff to conduct audits and ensure compliance.
"We're victims of our own success," Gross said noting winery shipments were worth $3.2 billion in 2019 and when state officials see a number that big, they want to make sure they're getting what they're due.