New Study Explores Motivations and Behaviors of U.S. Wine Consumers Before and During COVID-19 Lockdown
The advent of the COVID-19 pandemic caught the world off-guard, creating intense panic in food and beverage hoarding in nations around the world. This natural survivalist response also extended to wine purchases, with a 66 percent increase in U.S. off-premise sales at the end of March 21, 2020—the first major week of lockdown, according to Nielsen. Once the panic died down, wine still showed strength with sales up 30.8 percent the week ending May 16, compared to the previous year.
An important question now is how much will off-premise wine sales decrease (if at all) given that the country is opening back-up, with restaurants and winery tasting rooms slowly coming online? Another equally important question is how did wine consumer purchase behavior and motivation change during the height of the COVID-19 lockdown compared to before the pandemic, and will it create lasting changes in how consumers think about and purchase wine? With this in mind, a joint study was developed by researchers at Sonoma State University Wine Business Institute and the Texas Wine Marketing Research Institute at Texas Tech University to explore these issues.
Research Methodology – Online Survey
The study is part of a larger global effort coordinated by the Academy of Wine Business Research, which is an international organization of academic researchers focused on wine business. An online survey was developed jointly and distributed to consumers in the U.S., Europe and Australia. This article provides high-level of results of the U.S. based survey designed to assess consumer wine behaviors and motivations before and during COVID-19. It was launched the week of May 4, 2020, and a total of 886 U.S. consumers completed the survey.
Wine Consumer Demographics of U.S. Survey
Of the 886 U.S. consumers who completed the survey, 55 percent were male, 44 percent were female, and 1 percent preferred not to state gender. Respondents were geographically dispersed throughout the country, with 30 percent from Western states, 20 percent from the Midwest, 30 percent from the Northeast, and 20 percent from Southern states. Age demographics, based on year segmentation provided by the American Generations Report, included 8.2 percent Matures (born 1945 and earlier), 36 percent Baby Boomers (born 1946 – 1964), 21.7 percent Gen X (born 1965 – 1980), 19.83 percent Millennials (born 1981 – 1994), and 14.22 percent Gen Z (born 1995 and later). The sample was representative of people in all ranges of personal annual income, with a quarter of the respondents indicating that they make over $170,000. Education level showed that 77 percent of the sample had obtained a university degree of bachelor's level or higher. The sample demographics are similar to other studies illustrating U.S. wine drinker characteristics, with the exception that more men completed the survey than women. In general, 55 percent of wine drinkers in the U.S. are women, so this sample skews a little higher for men, as well as for income.
Wine Type & Consumption Frequency Before and During COVID Lockdown
When consumers were asked about the type of wine and the frequency of consumption (Table 1) before and during lockdown measures in the US, results show that red wine was not only the most preferred wine before, but 27 percent of consumers reported increasing red wine consumption during COVID lockdown. White wine, the second most popular before COVID also showed 22 percent increase in consumption during the pandemic. However, the majority of consumers reported that their consumption patterns didn't change, and a small percentage (12 percent of red drinkers and 14 percent of white wine drinkers) reported lower consumption. Rosé, sparkling, and dessert wines showed less variation. These results are consistent with prior research indicating a slight increase in general wine consumption during times of crisis, such as an economic downturn.

Motivations for Drinking Wine During COVID Lockdown
When asked "Which of the following reasons describe why you are drinking wine now? Please select ALL that apply," respondents identified enjoying the taste of wine and linkage to food as their first and second choice motivations (Figure 1). These are similar responses that US consumers provide during non-COVID times, however the third and fourth reasons of relaxation and indulging are higher than usual, and could indicate that respondents were seeking a means to deal with the stress of the situation. More concerning were the motivations of relieving boredom and drinking as distraction from problems, which are negative reasons for drinking alcohol, but do occur during times of crisis. Sadly, romantic motivations for wine consumption seem to have decreased during COVID.
Figure 1: Motivations for Drinking Wine During COVID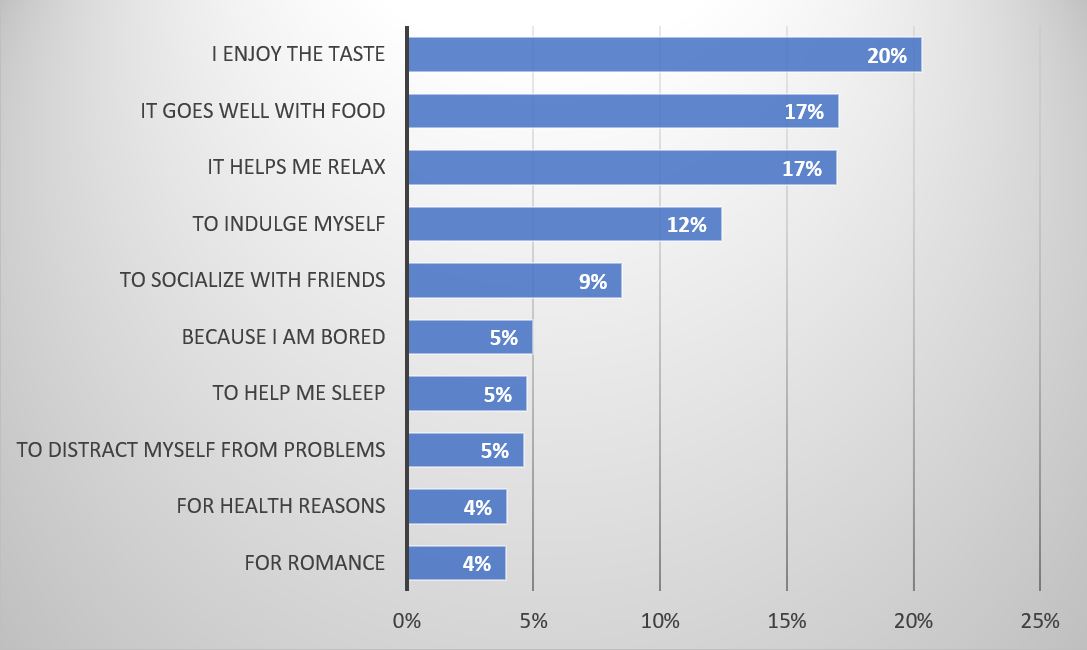 Wine Drinking Occasions Before and During COVID Lockdown
Respondents were asked about wine drinking occasions before and during lockdown restrictions (Table 2). Here the results are not surprising in that having a relaxing drink at home was a common event once a week or more frequently for 40 percent of consumers, and this trend increased by 24 percent during COVID. Wine with an informal meal at home, the second most common wine drinking occasion on a weekly basis for 30 percent of respondents, also increased by 18 percent, given credence to many reports stating that Americans were incorporating more wine with dinners at home. Naturally having wine with guests at home or in restaurants did not occur during COVID. Surprisingly, 31 percent of consumers reported that they occasionally were already having wine during online meetings with friends before COVID and 5 percent were even having online wine tastings at least once a week. Online tastings increased by 15 percent with the growing trend of virtual happy hours that took place during the pandemic. The question is, will this trend continue post-COVID?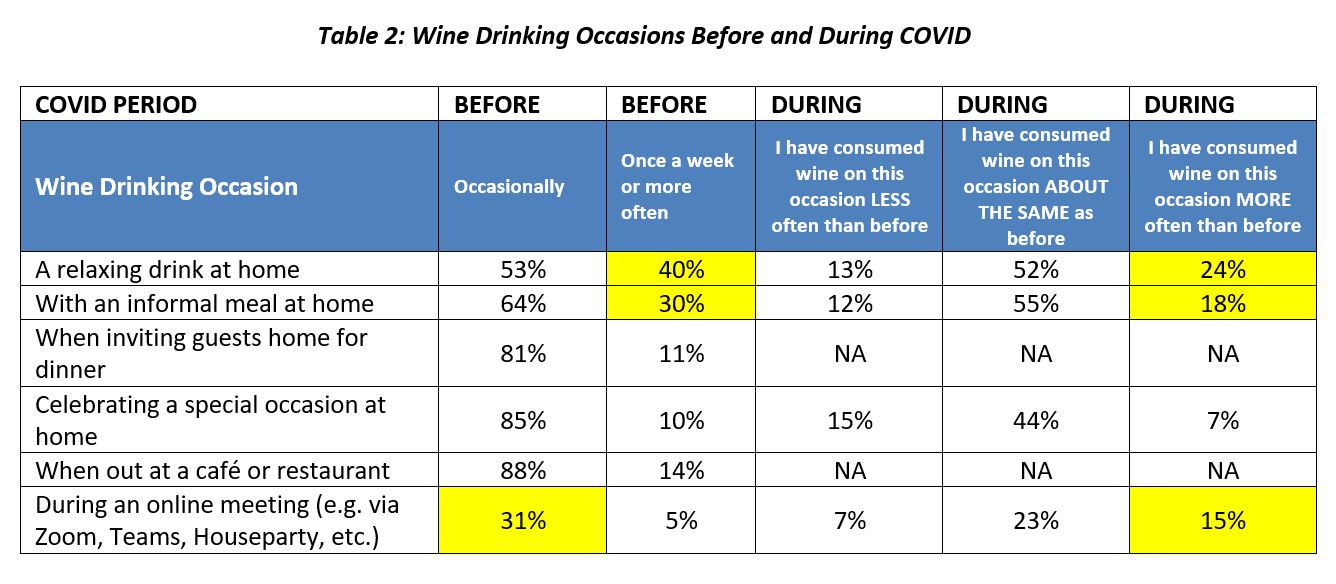 Wine Purchase Outlets Before and During COVID Lockdown
Respondents were asked, "Before lockdown measures were implemented in the US, how often did you buy wine from each of the following types of retail outlets?" A 6 point scale was used as follows: 0 = Never, 1 = Less than Once Per Year, 2 = About Once Per Year, 3 = 2 to 5 times per year, 4 = About once every 2 months, 5 = 1 to 3 times per month, 6 = Once a week or more often. Results are illustrated in Table 3.
The results show that the majority of US consumers purchased wine at wine shops, supermarkets and grocery stores before the COVID period. This is consistent with prior American wine consumer research findings. When examining how much more wine consumers purchased through these channels during COVID, there was a clear difference between the buying patterns of High Frequency wine consumers (those who drink wine once a week or more) and Occasional wine consumers (those who drink wine less than once per week). High Frequency consumers reported increases of 30 to 35 percent in brick and mortar establishments, but nearly a 50 percent rise in purchasing more wine online. Even Occasional drinkers reported 15 percent and 18 percent growth in purchasing wine from a winery's website and online wine retailer, respectively. This trend is supported by other sources, such as Nielson reporting large increases in online wine retail sales during the first phases of COVID lockdown. Many wineries also reported upturns in their online sales during COVID when they adopted virtual tastings and online advertising to reach consumers. Some also offered curbside pick-up that allowed consumers to drive to winery to collect wine at the cellar door, thus accounting for the 47 percent increase in this purchase location by High Frequency consumers who were most likely trying to support their local wineries.

Wine Price Paid During COVID Lockdown
Some previous reports indicated that consumers were drinking more expensive wines during lockdown. Therefore, the survey included this question: "Thinking about the prices at which you purchased wines since the beginning of lockdown measures, do you feel that the wines you bought are…" Our study shows that while 15 percent did purchase more expensive wines during lockdown, the vast majority (79 percent) paid about the same as before COVID (Figure 2).
Figure 2: Price Paid for Wine During COVID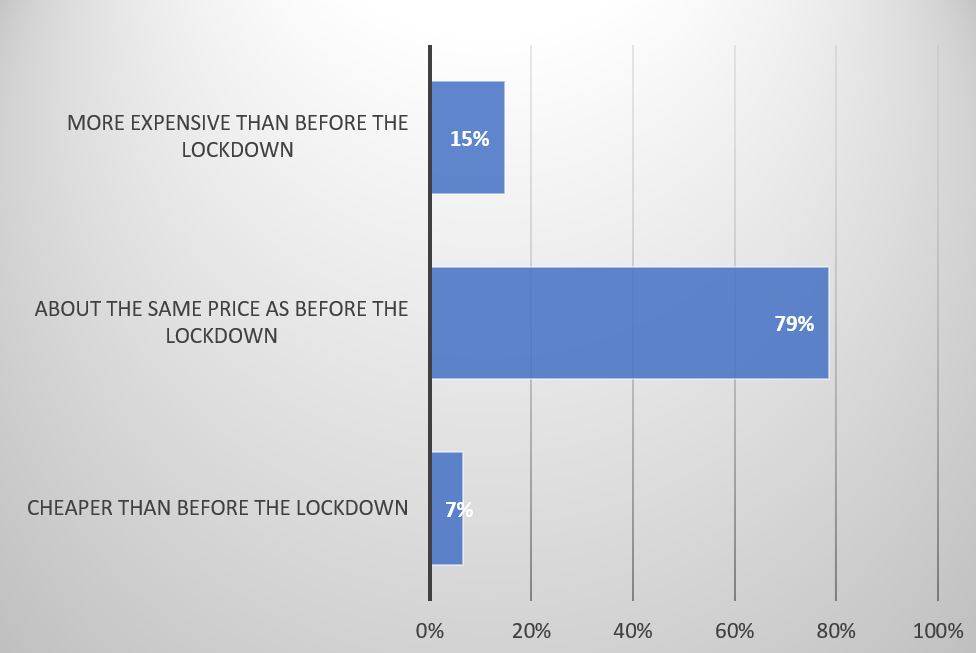 Implications & Next Steps
This survey of American wine consumer behavior provides some glimpses into the types of wines, occasions, motivations, purchase locations, and wine prices that US consumers engaged in before and during the COVID crisis. The findings illustrate that American wine drinkers did increase their consumption and spending to some extent, as well as adopt new motivations for consuming wine during lockdown.
It will be interesting to see if these changes in behavior continue post-COVID and into the following year. Will people continue to enjoy drinking wine at home with dinner more often now, or will they revert to dining out at restaurants at the same frequency they did in the past? Will the concept of virtual happy hours with friends and family continue, or was this just a fad made popular due to the lockdown? Of most interest is the change in purchase location, with nearly 50 percent of High Frequency wine consumers reporting they purchased more wine from online venues during the crisis. Will American consumers continue to purchase wine online and eventually catch up with other countries with higher online wine sales, such as China, the UK and France? These are all questions that can only be answered over time, but it is interesting to see how a crisis can drive changes in consumer behavior.
References
American Generations: Who They Are and How They Live, 9th edition. New Strategist Press. Available at:
https://www.newstrategist.com/books/american-generations-who-they-are-and-how-they-live-9th-edition/
Wine Market Council (2018). 2018 Wine Market Council Wine Consumer Segmentation Handbook.
Winemarketcouncil.com
.
De Goeij, M.C., Suhrcke, M., Toffolutti, V., van de Mheen, D., Schoenmakers, T.M. and Kunst, A.E., 2015. How economic crises affect alcohol consumption and alcohol-related health problems: a realist systematic review.
Social Science & Medicine
, 131, pp.131-146.
Nielsen. (2020, March 28) Nielsen Beverage Alcohol update: Week ending March 21, 2020. Report by Danny Brager.
Nielsen. (2020,May 28) Nielsen Beverage Alcohol update: Week ending May 16, 2020. Report by Danny Brager.
Kedge Business School (2017) e-Performance Barometer 6th edition: Analysis of Global Online Wine Sales. Available at:
https://student.kedge.edu/about-kedge/press-release/6-th-edition-of-the-e-performance-barometer/
by Liz Thach, MW and Natalia Velikova
Dr. Liz Thach, MW is the Distinguished Professor of Wine and Management at Sonoma State University in the Wine Business Institute, and Dr. Natalia Velikova is Associate Professor of Hospitality and Retail Management at Texas Tech University as well as Associate Director of the Texas Wine Marketing Research Institute. They can be contacted at Liz.Thach@sonoma.edu and natalia.velikova@ttu.edu.