First ASEV Invasive Pest Webinar Focuses on the Spotted Lanternfly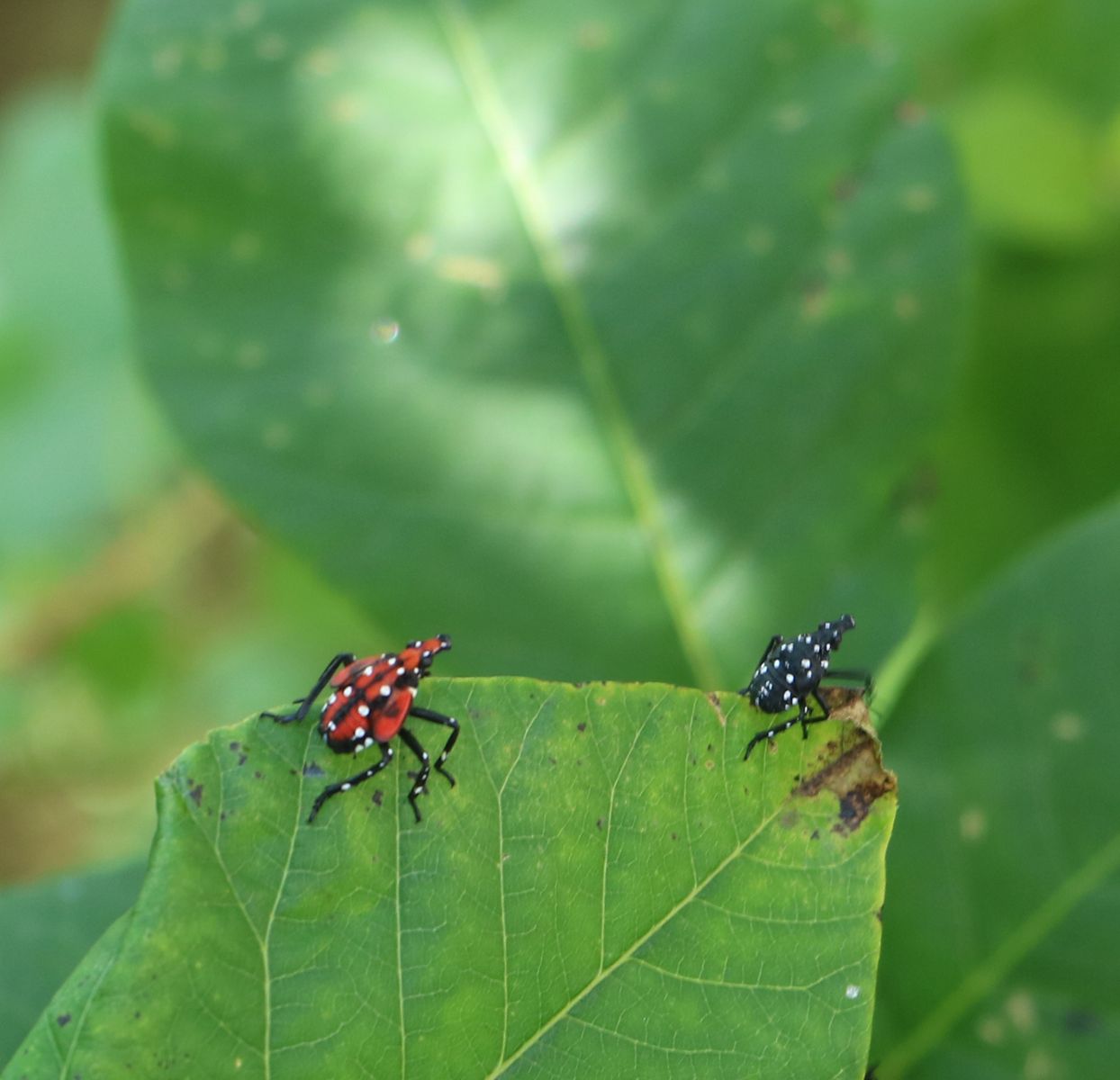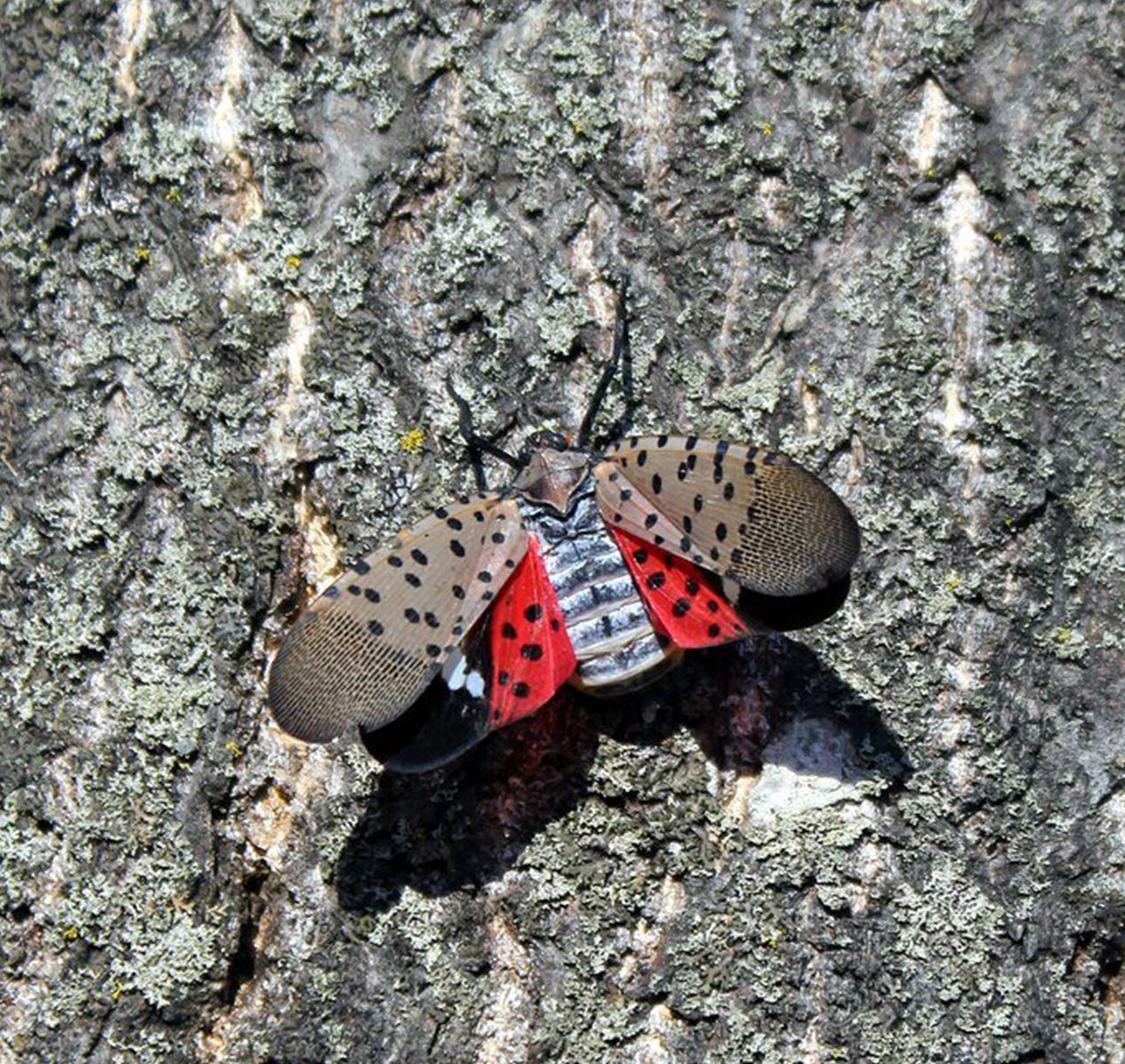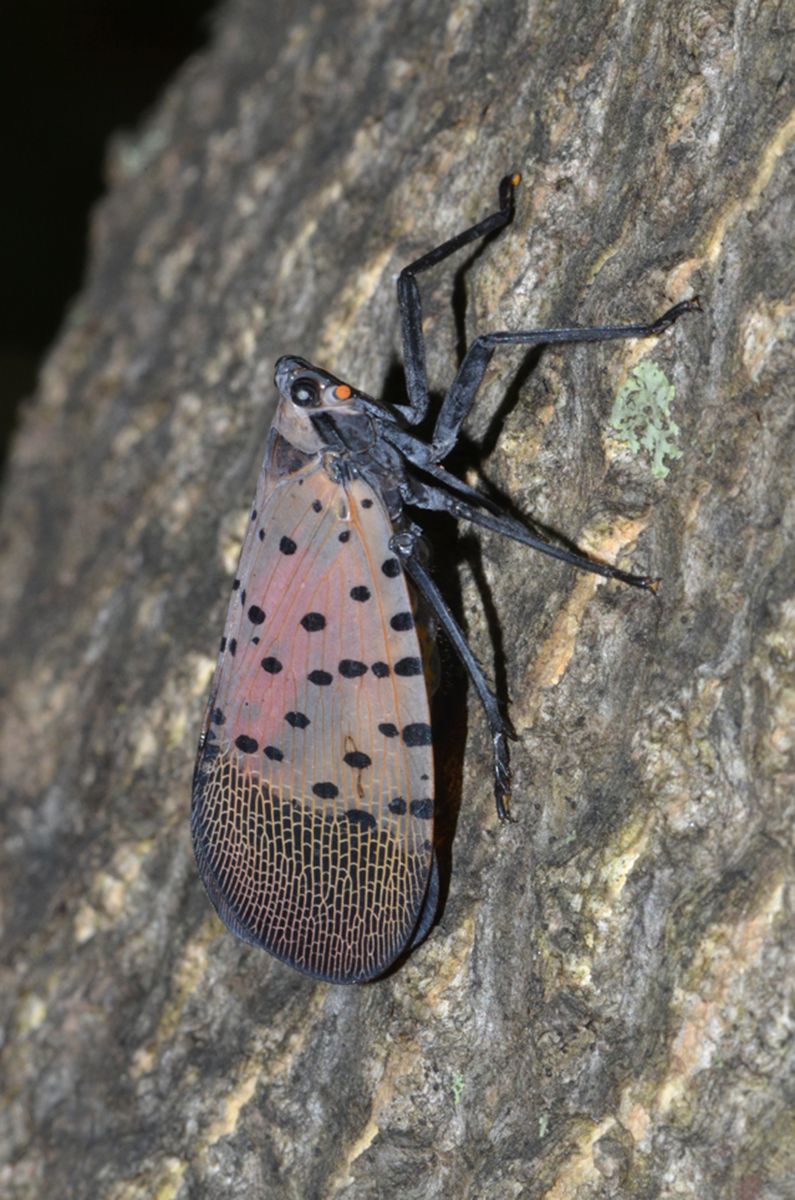 In introducing the speaker for the first ASEV webinar on invasive pests on June 3, moderator Michelle Moyer, a board member of the American Society for Enology and Viticulture and associate professor of viticulture and extension specialist at Washington State University, commented that grape growers on the East Coast are very concerned about the problems presented by the spotted lanternfly (SLF) and that those on the West Coast should be. She then introduced the webinar presenter, Heather Leach, extension associate in entomology at Penn State's College of Agriculture Sciences, who focuses specifically on the SLF.
This invasive insect was first discovered in Berks County in southeastern Pennsylvania in 2014. Today, 26 counties in PA are under quarantine for the SLF and established populations of the insect have been found in six states – Pennsylvania, New Jersey, Delaware, Maryland, Virginia and West Virginia – while individual SLFs have been found in four other states. Dead SLFs have been found in California on planes that originated in PA. Leach stated, "This bug is a really good hitchhiker. For most of us out there, it's not about if, but when it's going to be establishing in the rest of the U.S., especially in our grape producing regions."
The SLF is actually not a fly, but a planthopper. It lays its eggs in the fall on smooth surfaces such as trees, outdoor equipment, concrete, rocks and stone, and the nymphs hatch in May and June. The first three nymph stages are small, no more than ¼ inch, and are black with white spots. The fourth instar is red with white spots and black stripes and is slightly larger, about ½ inch. The adult SLF emerge in July and measure ~ 1 inch long with black bodies and red hindwings. The peak population of adults occurs between late August and early October.
All stages feed on a wide variety of plants – more than 70 species are hosts – although their preference is for the sap of stone fruit trees, hardwood trees such as black walnuts, red or silver maples, the invasive "tree of heaven" and especially grapevines. Leach noted that the population of SLF was not high on tree fruit, and that most orchards are not spraying for them. The most "dramatic" damage has been done on grapevines; she reported counting 474 SLF on a single grapevine in a vineyard in PA. The insect uses its piercing-sucking mouthparts to feed on the sap, then excretes a honeydew, which attracts other insects and causes a sooty mold to form on the grape leaves.
When the SLF were first found in PA, little was known about any behavioral aspects of the SLF. Research in the past six years has increased the knowledge about the SLF. Researchers have observed that the distribution of SLF in a vineyard is not even; the concentration of SLF is higher on the edges of a vineyard, especially near woods. Consequently, growers can use more sprays near the borders of their vineyards and use full vineyard sprays only when needed. Removing tree of heaven (and treating their roots and stumps with an effective herbicide), wild grapevines and other wild vines may reduce the population of SLF.
Originally, it was thought that the SLF moved either by hopping (a nymph can jump four feet high and four feet away from the observer) or hitchhiking on trucks, trains, cars, and products such as slabs of stone. However, research showed that SLF will climb up trees or poles, and then use air currents/wind to "fly" farther out into a vineyard. The SLF flight activity is greatest in September, especially in the afternoon on a nice warm day with a breeze to carry them a greater distance. Adult SLF feed first on vine shoots, and then move to the trunks; they seem to be less active in the morning and in the evening.
Grape growers have several options for managing a vineyard under pressure from SLF. First, they can remove any tree of heaven near the vineyard or use one or two as a "trap tree" by banding the tree with sticky tape to capture the insects as they crawl upwards. This step is more useful with the nymph stages than with the adults that can avoid the tape. Tall trees surrounding a vineyard can be removed; egg masses can be scraped off trees during the winter; and growers can postpone planting new vineyards.
Currently, biological control measures have not worked well. Some spiders and praying mantises will eat SLF, and a parasitic wasp was found that attacked SLF in low numbers. Two native fungal pathogens, Batkoa major and Beauveria bassiana, were identified as effective against the SLF. Several common insecticides have provided some control of both nymphs and adults, including Scorpion, Brigade, Carbaryl, and Mustang Maxx. One Ovicide trial with Lorsban showed that it reduced egg hatch, but that there were some problems with it, and it doesn't seem to help later in the season with adult SLF.
Leach noted that growers who used sprays went from four applications prior to the SLF to 14 applications in the two years 2016 to 2018, and the average cost per acre went from $54 to $147.
Other methods of control include exclusion netting, which is supposed to keep the SLF away from the vines. Researchers found that if the shoots touch the netting, the SLF will feed on those shoots. Insecticidal netting, where poles were wrapped with netting soaked with insecticide, seemed to have some success.
Projection models show that if the SLF were to spread, most grape growing regions, not only in the United States but world-wide, could have SLF problems.
Leach concluded her presentation by noting that in October, 2019, the U.S. Department of Agriculture's National Institute of Food and Agriculture awarded a $7.3 million grant to support an interdisciplinary, multi-institutional 37-member team of researchers to learn more about the SLF and to develop strategies for the long-term management of the pest. The four-year grant covers research at ten institutions: Penn State University, Cornell University, Virginia Tech, the University of Delaware, the University of Rhode Island, Temple University, Rutgers University, the Northeastern IPM Center, the USDA-Agricultural Research Service and the USDA-Animal and Plant Health Inspection Service.
The ASEV originally planned a symposium on invasive pests that was to take place at the joint 71st ASEV National Conference and 45th ASEV Eastern Section Annual Meeting on June 15-18 in Portland, Oregon. When the conference was canceled because of the Covid-19 pandemic, the ASEV board decided to change the format from a one-day symposium to a four-part webinar series. The next three webinars will include:
July 2: Fruit Flies and Their Role in Causing Sour Rot, by Megan Hall (University of Missouri, Columbia) at noon-1:00 p.m. (PDT);
October 22: Lifecycle Modeling and the Impacts of Climate Change, by Gwen-Alyn Hoheisel (Washington State University, Prosser) at noon-1:00 p.m. (PDT);
November 12: Invasive Species Response: Lessons Learned from the European Grapevine Moth Collaboration Program, by Monica Cooper (University of California, Cooperative Extension, Napa County) at noon-1:00 p.m. (PDT).