What Growers Are Thinking: Results from Vineyard Survey
As growers prepared for another vintage this year, top concerns were the oversupply of grapes, grape prices and declining wine sales and consumption.
According to the annual Wine Business Monthly survey of growers, grape prices topped even labor shortages and costs as the No. 1 worry. Labor was still high on the list at No. 3, and it's where most growers expect to lay out the most capital in the next three years.
While everything is uncertain as the world pushes through the COVID-19 crisis, the immediate effects of increased wine sales and consumption could put a dent in bulk wine inventories, and that could bring good news for growers this fall.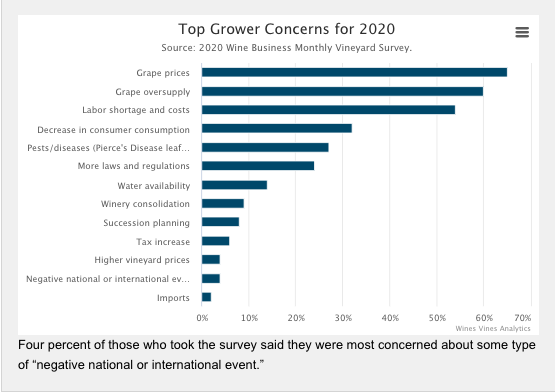 The survey was conducted earlier this year and included responses from 210 participants. Of those who responded, about two-thirds own only vineyards and a third own wineries and vineyards. Full results of the annual survey will be presented at the Vineyard Economics Symposium, which this year will be a webcast conference held over two half-day sessions May 6-7. Click here to register for the virtual conference. The survey will also be covered in depth in the May edition of Wine Business Monthly.
Growers in the Lodi AVA have seen their average grape prices languish for years, and 2019 was particularly painful as low prices were accompanied by weak demand. The oversupply and grape prices a top concern of 85% and 69% of survey participants in Lodi, while only 50% of participants in Napa County were most worried about grape prices. An equal number of growers in Napa were most concerned about pests and disease.