Heidi Scheid on Coping with Oversupply and a Pandemic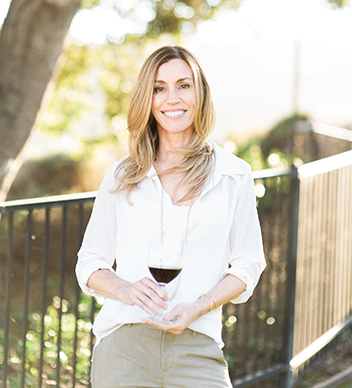 One of the largest vertically integrated wine and grape growing operations in California has changed operations to keep its business running while also keeping its employees safe.
Heidi Scheid joined her family's vineyard and winery business in 1992, five years before it went public (OTC: SVIN) and served as CFO before taking the executive vice president role in 2001, in which sales and marketing are key responsibilities. She and her brother Scott Scheid are second-generation grape growers and vintners in Monterey County, Calif., following in the footsteps of their father, Alfred Scheid, who retains the chairman title at age 88.
During Heidi Scheid's tenure, Scheid Family Wines' holdings have expanded to 12 properties, and the company has become vertically integrated from grape to glass, as wine production grew from almost zero to 600,000 cases. Scheid produces dozens of brands for exclusive retail clients as well as its own national lines. The company employs 170 people full time and hires 125 more during harvest.
Scheid's share price had dropped to a seven-year low when this interview was conducted. Heidi Scheid said they try not to overly focus on share price but instead stay focused on long-term success, not short-term valuation.
Scheid has been a director of the Wine Market Council since 1996 and is currently its chair. She served on the California Association of Winegrape Growers board for nine years. Before entering the wine business, she earned an MBA in finance from the University of Southern California and worked for Ernst & Young in the valuation consulting practice.
A longer version of this interview is in the latest edition of the Wine Analytics Report (wineanalyticsreport.com).
Q: How are you and your family and staff coping with COVID-19, and to what extent has it affected your lives and business?
Heidi Scheid: Well, I'd say we're coping really, really well, because we took a proactive approach for all of our people that could work at home. Even before we really had to, all of our marketing people picked up their laptops and got set up in their home offices. Salespeople, of course, are not getting out on the road anymore, but they're used to using technology to stay in contact with people.
On the production side, that's obviously where it gets a little more difficult. But our winery is BRC certified, which is the British Retail Consortium. It's the highest level of food-safety standards in the world. BRC really forces you to document all your processes and to have very stringent standards in place. So you need to know if anybody enters your winery campus, and you need to be able to trace every product that comes onto your property and trace people, trace property, trace your product.
Because we already had BRC in place, it really gave us a lot of structure to keep people safe in this time. The adjustments we'd have to make are, obviously, in our production facility. Winemakers need to not all be huddled together around a table. They need to be spread apart. On the bottling line, that's probably the most challenging part, where we have to keep people six feet apart, but we had just gotten new warehouse space and moved a lot of our cases out, and so we just happen to have ample room right now to spread out the bottling line and spread out people.
Q: Are cellar employees wearing masks and gloves?
Scheid: Yep. They already wear gloves and protective eyewear as part of our safety standards. So they do have masks as well, and they're staying apart. We have, of course, all the normal things like hand sanitizer all over the place and same thing in the warehouse. The new things that we put into place are just little things, but from what we have read and from what the CDC (Centers for Disease Control) has said, these little things can make a big difference. There's a box of sanitizing wipes by the keypad, because employees key in their number when they come in to start their shift. So that's a touch point. When we have delivery people drop off deliveries, they either use their own pens or they are handed a pen, and we don't take it back. We're going through a lot of pens.
Q: What about precautions for vineyard employees?
Scheid: We do a lot of mechanization in the vineyard, including mechanized pruning. So we have a relatively low reliance on labor versus some vineyard operations, and that's twofold. The labor shortage in Salinas Valley is nothing new. We're competing against a lot of other crops as well. Converting to mechanization is something we've been working on for the last 10 years. It allows us to get a higher level of employee and to be able to pay them more. We try to keep full-time people to the extent that we can and just use seasonal labor when we really need to.
Q: From your point of view, how well-balanced is the California grape supply for 2020 versus winery and consumer demand?
Scheid: I would say we are still long in supply. We weren't a year or two ago. Whether or not that answer has changed due to the current situation, I think a lot more people are drinking wine. It definitely has affected our ability to sell bulk wine. It's really interesting, though, what's going on in off-premise right now and how much the additional sales in off-premise are going to offset on-premise sales. I've read that it will offset it. I think it's going to do more than offset it. I think people are drinking a lot more at home than they were drinking in restaurants. But maybe that's just me.
Q: Are you targeting any new products at perceived gaps in the marketplace right now?
Scheid: Something that we have had in the works are some entries into the low-alcohol category. Were seeing this trend toward active lifestyle, health and wellness, mindful drinking, all the different buzzwords. So we're doing a couple of low-alcohol brands. A couple of them are exclusive brands, but we actually have a national brand that well be launching in the early summer. It's called Sunny with a Chance of Flowers. It is a brand that is female-focused with millennial appeal. And it is about the power of positivity and about how we can choose to see every glass as half full, and it actually goes perfectly with whats going on in the world today. Sunny is 9% alcohol, 85 calories per 5-ounce serving.