New York's Wine Industry Meets the New State Plant Pathologist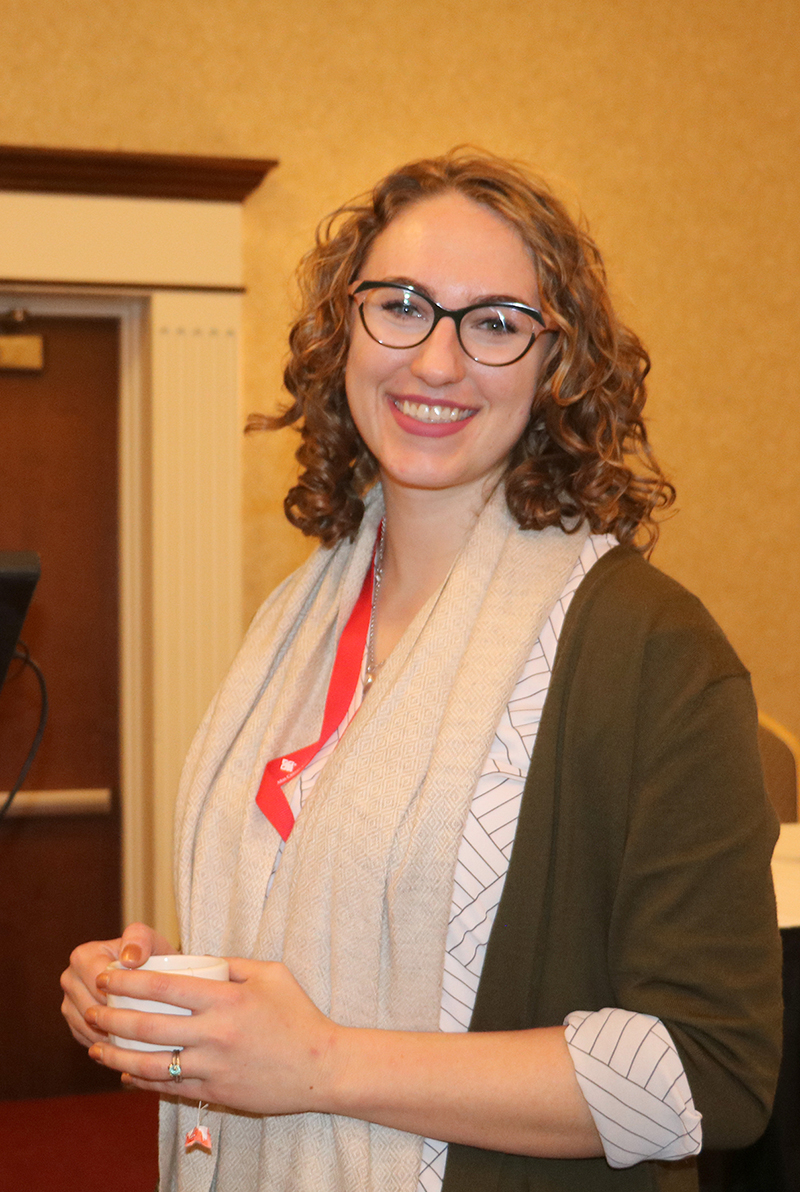 B.E.V. NY is a three-day grape and wine conference that is organized by Cornell University's Finger Lakes Grape Program and the Enology Extension Laboratory. Each day of the conference focuses on a specific aspect of the wine industry: day one is for Business topics, day two for Enology and day three for Viticulture. At this year's Viticulture day, February 28, the New York wine community had the opportunity to meet Dr. Katie Gold, the new assistant professor of plant pathology at Cornell AgriTech, to learn about her plans for the plant pathology department and laboratory and to hear a talk about her vision of the "Emerging Tools for Integrated Grape Disease Management."
Gold is now in the position previously held by Dr. Wayne Wilcox, professor of plant pathology who retired on January 1, 2018 after 34 years at Cornell and 24 years as head of the grape plant pathology program. In addition to his laboratory and extension work, as an author and the senior editor of the second edition of the widely used Compendium of Grapevine Diseases, Disorders and Pests, Wilcox left behind big shoes for the next grape pathologist to fill. It took two years for the University to find the right person, but in February, Gold officially became an assistant professor of grape disease ecology and epidemiology and head of the Grape Sensing, Pathology and Extension laboratory at Cornell AgriTech (GrapeSPEC).
After graduating from Rutgers with a degree in plant and agricultural science, Gold attended the University of Wisconsin-Madison and in 2019 received her Masters in Applied Statistics (Biometry) concurrently with her PhD in Plant Pathology. Before joining Cornell AgriTech, she was a visiting Cornell Faculty Fellow at the Jet Propulsion Laboratory in Pasadena, CA, where she worked with NASA hyperspectral and thermal imagery for grape disease mapping in California's Central Valley.
The grape pathology program under Wilcox
Gold began her talk on new tools for integrated grape pest management with a review of the three basic pillars that formed the basis of grape disease management under Wilcox, and which will continue to be important in the grape plant pathology laboratory going forward:
Understanding the biology of pathogens;
Knowing the susceptibility of different grapevine to major diseases; and
Knowing how fungicides work (or don't work) on different diseases.
Gold looked at each "pillar" from the standpoint of understanding and controlling downy mildew. She noted, for example, that severe downy mildew pressure in the prior season can result in an abundance of primary inoculum to control early in the season the following year; that warm, humid nights with rain shortly thereafter can trigger the release of secondary inoculum; and that spores will die when exposed to strong light but can be viable for days during cloudy weather. Susceptibility to downy mildew varies across species and varieties, with some vines such as Marquette and Concord having a low susceptibility, Chambourcin and Vidal have a low to moderate susceptibility, while most V. vinifera have a very high infection rate. According to Gold, a robust and durable spray program "will include both contact fungicides for protection and systemic fungicides for post-infection activity." An effective spray program would start with cultural control and should be simple, using simultaneous control of the most important diseases while considering fungicide management and economic sustainability. She stated, "Use the best fungicides, higher rates and follow all the rules during the period" of peak susceptibility.
Wilcox acknowledged in an article several years ago that these targets of grape pest management haven't "changed very much in terms of the need to understand and manage important diseases, but the research tools available for doing so have changed enormously…There's no question that creative people are finding ways to use these new tools to understand and manage plant diseases to a degree that would not have been possible a generation ago without them." [from Appellation Cornell, Issue 16, "Five Questions for Wayne Wilcox."] Gold plans to start with Wilcox's work and move integrated pest management onto a different level with the use of a number of the new tools.
The new plant pathology program under Gold
In a more recent issue of Appellation Cornell (Issue 40, "Five Questions for Katie Gold"), Gold stated, "The overarching goal of my program is to improve the three pillars of integrated grape disease management, which are understanding pathogen biology, vine susceptibility, and fungicide efficacy." As head of the GrapeSPEC laboratory, she noted that the lab's forthcoming research projects fall within these three categories. The research mission of the lab will be to combine fundamental plant pathology, data science, and vegetative spectroscopy to improve integrated grape pest management.
During her talk at B.E.V. NY, Gold said that pathogen biology would include proximal and remote host-microbe interaction sensing and also spectrally-derived, comparative disease physiology as a foundation for disease diagnosis and differentiation. Vine susceptibility will include unraveling cultivar and genetic variation related to disease resistance with hyperspectral sensing and high-throughput phenotyping; and fungicide efficacy will look at proximal and remote sensing for pesticide weathering and efficacy, as well as digital scouting with integrated detection to management systems. She sees her extension mission to be providing robust and reliable early intervention decision support for New York grape growers to support sustainable disease management.
Gold's goals for 2020 include:
Continuing the powdery mildew and botrytis efficacy trials begun by Wilcox;
Expanding the sour rot trial at Cornell, including insecticide efficacy with Dr. Gregory Loeb's entomology laboratory and UV control with Dr. David Gadoury's plant pathology laboratory, as well as the early warning study with hyperspectral sensing and volatile sensing with Dr. Denis Willett's entomology laboratory;
Expanding the downy mildew efficacy trial, including testing new synthetic MoA's and biopesticides in the downy mildew trials, and expanding the FRAC 40 (Revus) resistance survey with Dr. Tim Miles' plant pathology laboratory at Michigan State University and Hans Walter-Peterson, viticulture specialist at Cornell Cooperative Extension;
Establishing pesticide weathering and digital scouting, including the evaluation of miniature weather stations, high-resolution satellite imagery, and hyperspectral sensing for integration into augmented reality assisted scouting;
Summarizing and releasing the results from the final years of the Wilcox program; and
Getting to know the New York grape community!